The 79th Venice Film Festival will take place between 31 August and 10 September with a programme that has aroused the greatest interest in its three main sections: Competition, Out of Competition and Orizzonti. But not only in these, as the 37th Critics' Week and the Giornate degli Autori, in its 19th edition, have some highly anticipated screenings in store. The Biennale di Venezia is an event that is open to new audiovisual media, committed to contemporary reality, as its artistic director Alberto Barbera stated, and which knows how to combine the presence of local productions with an exquisitely selected sample of international filmography.
Este año, la política tampoco puede estar ausente y el conflicto con el arte ha afectado especialmente a Ucrania y a Irán, con prestigiosos directores encarcelados enfrentándose a un castigo justificado únicamente por la voluntad de acallar su libertad creativa. Jafar Panahi, Mohammad Rasoulof y Mostafa Al-Ahmad no están solos en su represión, puesto que desgraciadamente el productor turco Cigdem Mater, también ha sido encarcelado en su país por protestar contra el gobierno. Precisamente, dos directores iraníes estarán presentes en Competición, Panahi con No Bears y Vahid Jalilband con Beyond the Wall. La primera de ellas, rodada secretamente en Irán, describe dos historias paralelas de amores imposibles a causa de la superstición y la burocracia y su director tiene muchas posibilidades de repetir premio, tras su León de oro en 2000 por The Circle y el premio especial a El acordeón en 2010. Por su parte, Beyond the Wall es una metáfora sobre la política iraní y los conflictos sociales, rodada por el director que ya participó en la sección Horizontes en dos ocasiones anteriores, con sendos premios.
The jury for the films in competition this year will be integrated by the Argentinian director Mariano Cohn, the Italian screenwriter and director Leonardo di Costanzo, the Iranian actress Leila Hatami, the Japanese writer and screenwriter Kazuo Ishiguro, the French filmmaker who won last year with L'événement, Audrey Diwan, and the Spanish director, Rodrigo Sorogoyen, who received a standing ovation at the last Cannes Film Festival with As Bestas. The president of this exquisite jury will be the ultra-cool American actress Julianne Moore.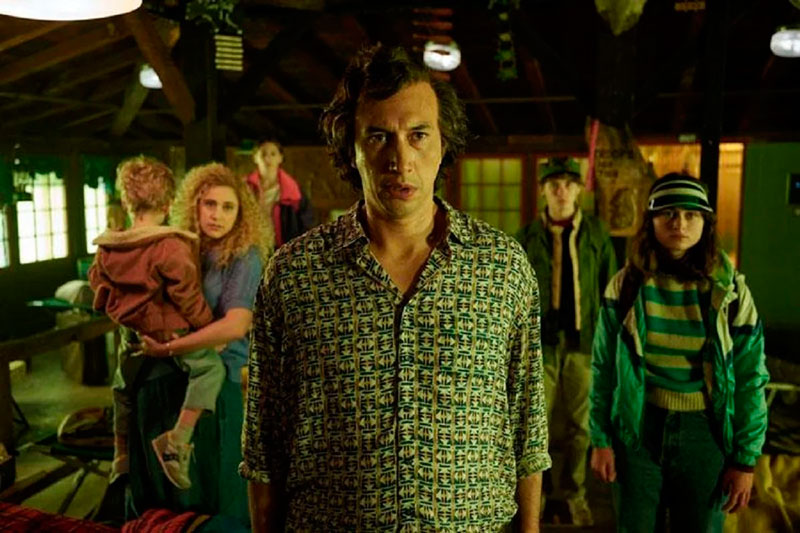 The film opening the competition will be White Noise (Noah Baumbach), which adapts the novel of the same name by Don DeLillo. The director's previous participation dates back to 2019, when he premiered Marriage Story in Venice. This time he brings together Adam Driver and Greta Gerwig, Don Cheadle and Alessandro Nivola in a story that tells the consequences of the pollution caused by an industrial accident in an American town.  This is one of three productions that Netflix is presenting in Venice, the other being Alejandro G. Iñárritu's Bardo. The Mexican director participated in the 2003 Biennale with 21 Grams and swept four awards in 2014 with Birdman. This time he presents a film in which a Mexican journalist, played by Daniel Giménez Cacho, returns to his country to confront the past and himself. It seems that he also uses surrealism to satirize himself.  Another production brought by the platform is the television series directed by Nicholas Winding Refn, entitled Copenhagen Cowboy, which will not be the only one, as this year will also see the premiere of the third and final season of the trilogy The Kingdom, by Lars von Trier —who has just been informed that he suffers from Parkinson's disease—, which takes place in the neurosurgery area of a Danish hospital.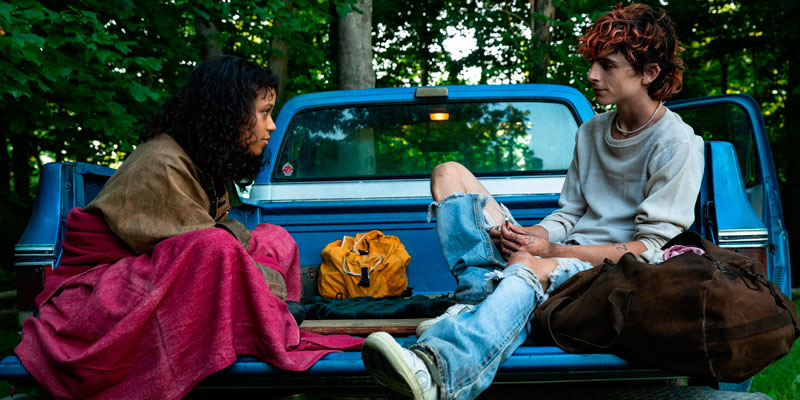 Continuing with the competition section, we will be able to see the work of five Italian directors. Luca Guadagnino will premiere the Amazon-produced Bones and All – to be released in cinemas in November – in which he reunites with Thimotée Chalamet, star of Call Me By Your Name, and is joined in the cast by Mark Rylance, Chloe Sevigny, Michael Stuhlbarg, Andre Holland and David Gordon Greene. This is Guadagnino's fifth film at the Lido since 1999's The Leading Men, which featured his fetish actress Tilda Swinton. Interestingly, Bones and All is a road trip shrouded in cannibalism, an artful accusation that has knocked Call Me By Your Name co-star Armie Hammer out of the running. Director Andrea Pallaoro also sets his film in the United States (Ohio), Monica is his third Venice Film Festival entry and stars Transparent transgender actress Tracy Lisette as a woman who returns to her broken family home to care for her mother, played by Patricia Clarkson.
Chiara, by Susanna Nicchiarelli, which is back in competition, will hopefully once again be a success. With this film starring Margherita Mazzucco, the director completes her trilogy of female biopics (Miss Marx and Nico, 1988), in the role of Saint Clare of Assisi. Gianni Amelio's Il signore delle formiche, a film produced by Marco Bellocchio, about the gay poet and communist Aldo Braibanti, imprisoned in 1968, who belonged to the entourage of Pasolini and Bertolucci, will also compete. The director of Le chiavi di casa (2004), who has won several awards at the Biennale, returns to the competition after a ten-year absence. The film stars biopic specialist Elio Germano and Luigi Lo Cascio. Finally, Spanish actress Penélope Cruz will be present at the Venice festival starring in Emanuele Crialese's film, L'immensità, in which she plays a mother in 1970s Rome, struggling with the problems of marriage and the illness of her eldest son. The director, who won a Silver Lion in 2006 for Nuovomondo, here tackles the problems of a teenager in search of his gender identity. Also Italian, but out of competition is the closing film, Francesco Carrozzini's The Hanging Sun, which adapts Jo Nesbo's thriller.
France is also presenting five films in competition, equalling the host country, including the only debut feature in the section, Saint Omer, by Alice Diop – who already won the Berlinale Encounters section prize for her documentary We in 2021 – this film, which narrates the parricide trial of the protagonist, accused of leaving her 15-month-old daughter to die on a beach in the north of France, is her first fiction film. Another eagerly awaited film is Romain Gavras' collaboration with Cannes award-winner Ladj Ly, Athena, a thriller about the grief of three siblings after the death of the youngest. Costa Gavras' son comes to Venice for the first time with a film that will also be distributed by Netflix. On the other hand, Roschdy Zem, known as an actor, will premiere Our Ties, also a family drama of Maghrebi origin, in which the humanitarian and the merciless will be confronted with the presence of the actress and director Maïwen (Mon roi). Zem, who is also making his Venice debut, albeit with his sixth feature film, will do double duty as an actor in Rebecca Zlotowski's Les enfants des autres, in which he co-stars with actress Virginie Efira and Chiara Mastroianni, about communicating with children who are not your own. The fifth French film in competition is director Frederick Wiseman's first foray into fiction, Un couple, in collaboration with Nathalie Boutefeu, in which he explores the relationship between the Russian writer Tolstoy and his wife.
The competition entries are completed by Kôji Fukada's Love Life, a co-production between Japan and France, and Oscar-winner Laura Poitras' sixth documentary, All the Beauty and the Bloodshed, about photographer Nan Goldin's battle against the powerful Sackler pharmaceutical family. The other US films taking part are the highly publicised Blonde, produced by Netflix, with the added anticipation of seeing Ana de Armas become Marilyn Monroe directed by Andrew Dominik. The Cuban actress is joined by Bobby Cannavale and Adrien Brody, in the adaptation of Joyce Carol Oates' bestseller; Darren Aronofsky's The Whale, shot during the pandemic and marking the return of Brendan Fraser, accompanied by Samantha Morton, has also raised expectations. This film is the fifth visit to Venice for the director, who in 2008 won the Golden Lion for The Wrestler. Another production we are eagerly awaiting, which will be released in cinemas in October, is Todd Field's Tár, in which Cate Blanchett plays an orchestra conductor, alongside Mark Strong and Julian Glover. This is the third film by its director, author of In the Bedroom (2001) and Secret Games (2006), who returns to the screen after 16 years.
British produced and co-produced The Son, from acclaimed director of The Father, Florian Zeller, will be released respectively, with Anthony Hopkins returning alongside Hugh Jackman, Vanessa Kirby and Laura Dern in what promises to be another intense family drama and, on the other hand, Martin McDonagh – winner of a special award in 20017 – reuniting his In Bruges cast, Brendan Gleeson and Colin Farrell, on a remote Irish island for what is expected to be an intimate drama of friendship, to be released commercially in October, entitled The Banshees of Inisherin. The third production to arrive from the UK, this time in co-production with the US, is The Eternal Daughter, from the acclaimed Joanna Hogg, who continues to count on Tilda Swinton to participate for the first time in Venice, following her coming-of-age diptych The Souvenir. Latin America will have a double presence on the Lido, with Santiago Mitre's Argentina 1985, the first time Amazon has presented a film of this nationality at the Venice Film Festival. We look forward to seeing the story of two prosecutors who accused the commanders of the last military dictatorship, starring Ricardo Darín, from a director who has enjoyed success at other festivals with Paulina (2015).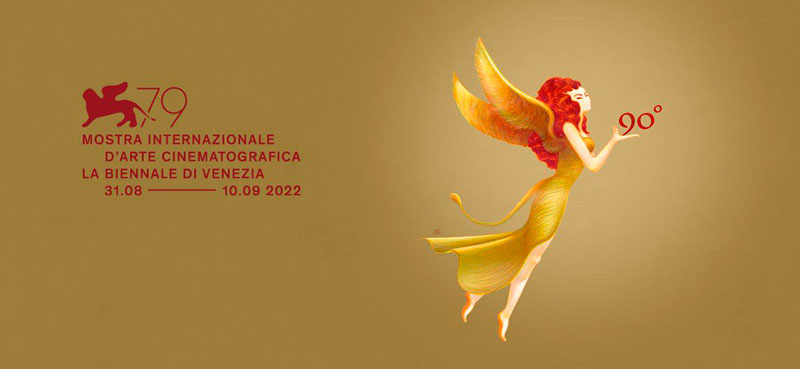 Throughout this 79th edition, tribute will be paid to Paul Schrader, who will receive the Golden Lion for his career, and whose last film, The Master Gardener, starring Joel Egerton and Sigourney Weaver, will be screened. Other films to be screened out of competition include Kim Ki-duk's posthumous Call of God; Olivia Wilde's second film Don't Worry Darling, directed by Olivia Wilde and starring Florence Pugh and Harry Stiles, reminiscent of The Truman Show; Paolo Virzì's choral film Siccità, starring Monica Bellucci; and Lav Diaz's When the Waves are Gone.
Out-of-competition documentaries selected include Sergei Loznitsa's The Kiev Trial, Oliver Stone's Nuclear and Benedetta Argentieri's The Matchmaker.
The Orizzonti section, meanwhile, will have a jury chaired by Isabel Coixet, who will be joined by director Laura Bispuri, Antonio Campos, Sofia Djama and Edouard Waintrop. Among the eighteen films to be screened are Victim by Michal Blasko, the Spanish film En los márgenes, directed by Juan Diego Botto, starring Penélope Cruz and Luis Tosar; For My Country, by Rachid Hami, the Chilean-Mexican co-production Blanquita, by Fernando Guzzoni and the Portuguese film The Bride, by Sergio Trefaut. This section will be completed with the recent Orizzonti extra, which includes nine more films.