The Truffle Hunters live in the forests on Northern Italy where they seek for the prized white Alba truffle. Desidered by the we wealthest patrons in the world, it remains a pungent but rarified mystery. It cannot be cultivated or found, even by the most resourceful of modern excavators. The only souls on Earth who know to dig up are a tiny circle of canines and their silver-haired human companions —Italian elders with walking sticks and devilish senses of humor— who only scour for the truffle at night so as not to leave any clues for others. The film concentrates on an elderly generation of men including Birba, Carlo, and Sergio.
The Truffle Hunters is a 2020 beautiful and meditative documentary film directed and produced by Michael Dweck and Gregory Kershaw. Luca Guadagnino serves as an executive producer under his Frenesy Film Company banner.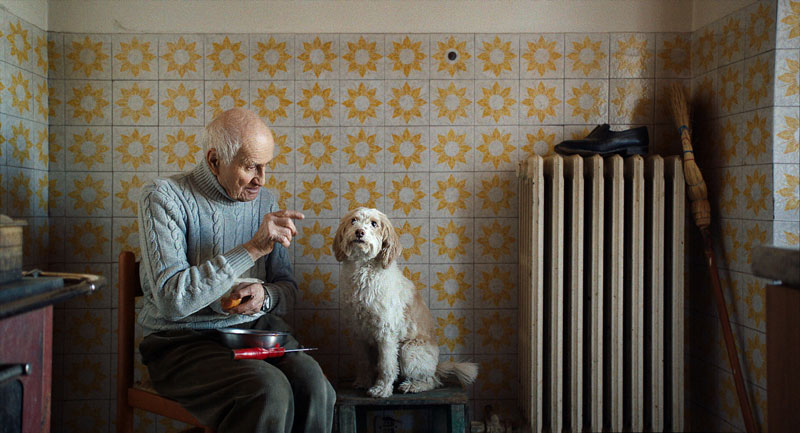 Michael Dweck was born in Brooklyn and raised on Long Island. He studied art and design at the Pratt Institute and The New School before founding his own agency specializing in unorthodox advertising. He later found success as a visual artist and photographer. His first documentary feature, The Last Race, premiered at Sundance. Gregory Kershaw received his MFA in film from Columbia University. He is a cinematographer, director, and producer specializing in environmental documentaries. His credits as director of photography include the shorts The Price of Flowers, Drone Nation, and 98%, which he also directed.
The Truffle Hunters is a beautiful film, not just an informative documentary that introduces us to the rural world and the ins and outs of the market for a precious product in the luxury gastronomic market. It is a film with an estimable anthropological side, portraying a generation whose last representatives show that work, passion and vocation go hand in hand in a way that is destined to be lost. The relationship with dogs, for example, marks the difference between those who use them as a weapon to neutralise competitors and those who cherish them as members of their own family. In this sense, speculators differ from those who cherish the land and its gifts. Each of the characters has a unique, engaging personality that captivates us, their way of speaking, their relationship with their dogs, their passion for what they do or their radical refusal to continue doing it because everything has changed… they immediately attract our empathy.
Aesthetically, The Truffle Hunter is as much a pleasure to the eye and ear as Alba's truffle is to the nose and palate. The beautiful photography and the composition of each scene, which could perfectly well be a painting in itself, are extraordinarily well cared for. Space is used to provide information, but also to frame the characters and direct our attention to where the filmmakers want it to go. Moreover, the delightful music composed by Ed Côrtes lingers in our memories as we leave the hall, in this case the magnificent setting of Agia Marina on the island of Spetses, where the moon and stars accompany us on yet another perfect evening of this 10th Aegean Film Festival.