The Sziget Festival, based in Budapest, Hungary, announces its return from 10-15 August, after a forced two-year break. Over the years, Sziget has hosted some of the most prestigious names in music including David Bowie, Oasis, IAMDDB, Post Malone, Florence + the Machine, Radiohead, Tove Lo, Foo Fighters, James Blake, IDLES, Ed Sheeran and Kendrick Lamar.
With spectacular style and the lure of its first line-up confirmations, including headliners Arctic Monkeys, Dua Lipa and Kings Of Leon, plus a good mix of established and breakthrough artists including the enigmatic Little Simz, the tear-jerking slowthai, the inimitable Scotsman Lewis Capaldi, world-class DJ and producer Honey Dijon, Scandinavian Sad-Boy rap king Yung Leany and many more, we'll be compensated for the long wait.
As we've told you from previous editions, more than a festival, Sziget is an Island of Freedom – a retreat from everyday life, where the Szitizens experience is based on a fun-filled adventure of discovery – an ideal destination for Spanish and Latin American festival-goers, which is also a great summer getaway. Visited by Szitizens from over 100 countries each year, the festival is dedicated to embracing diversity as part of its Love Revolution, using the power of community to celebrate and bring love, acceptance, tolerance and freedom to the heart of Budapest and beyond. With preparations underway for next August, 2022 is set to be Sziget's biggest and best festival to date.
As rumors swirl about the release of a new studio album, The Arctic Monkeys, one of today's biggest acts, is a potent draw for this mind-blowing lineup. The Sheffield quartet already communicated during their 2019 live set a series of European tours for 2022 and, with drummer Matt Helders' recent announcement of the release of their seventh album-the follow-up to 2018's Tranquility Base Hotel & Casino for this coming summer-they're hoping Sziget attendees will be among the first lucky ones to hear it live.
International pop star and critically acclaimed artist Dua Lipa will perform the best of her successful catalogue at the festival. Future Nostalgia: the release of her Grammy-winning second studio album last year is currently the longest-running album on Spotify's global album charts, and with a host of pop hits such as "New Rules," IDGAF and "One Kiss," the Albanian singer will revolutionize Sziget.
Nashville brothers Kings Of Leon are an essential ingredient in any major festival line-up and will ensure Sziget sounds in true rock and roll style. Earlier this year, they became the first band in the world to release their new album, When You See Yourself on NFT format, and with a catalogue recognized around the world, they are destined to be one of the highlights of Sziget 2022.
Joining this star-studded Sziget 2022 line-up are Scottish soul sensation Lewis Capaldi, critically acclaimed rapper Little Simz, lauded DJ / Producer Caribou, electronic music sensation Jon Hopkins, New York rapper Princess Nokia, Swedish Sad-Boy Yung Lean, Belgian rapper Stromae, musical maverick Floating Points, DJ Honey Dijon…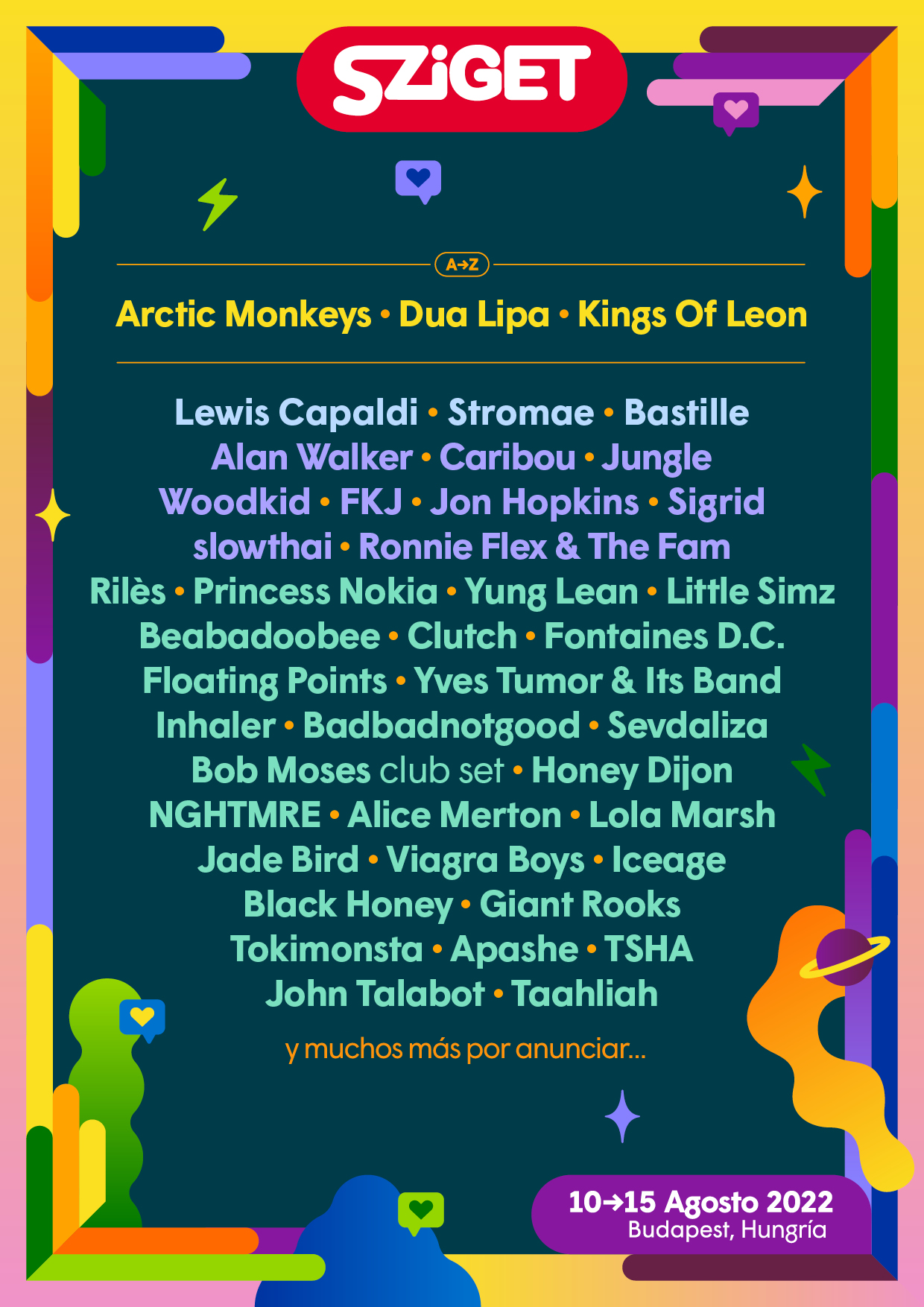 Sziget festival celebrates diversity and community, brings together people from all over the world and provides a place of free expression, where party-goers can enjoy a vibrant escape from everyday life. More than its headliners, Sziget brings together a program of world music, cabaret, comedy, screenings, workshops, wellness activities, installations, performances and art, as well as boat parties and many more activities on Sziget Beach.
Sziget Festival offers a first phase of limited 3-day offer, available with season tickets from €195. As well as 3 or 6 day passes and various accommodation options. Here you have all the information.
Information provided by the festival's press department.