The 38th edition of the Valencia International Film Festival – Cinema Jove will take place in Valencia between 22 June and 1 July. It is a consolidated meeting forum for young international filmmakers, and its vocation is to showcase the best international films directed by people under the age of 40, which have not yet been released in Spain, in the case of feature films, or in the Valencian Community, in the case of short films. Organised by the Institut Valencià de Cultura, it has five sections in competition, with their respective juries, and in previous editions it has welcomed prestigious directors such as Lynne Ramsay, Mia Hansen-Love, Miguel Gomes, Pablo Trapero, Lone Scherfig, Tomas Alfredson, Ruben Östlund, Alejandro Amenábar, Marc Recha, Rithy Panh, Matteo Garrone, Thomas Vinterberg and Stephen Frears.
The festival also selects series, in a section that was incorporated into Cinema Jove in 2016, where screenings are accompanied by talks and round tables. In this year's edition, the new competitive section Òrbites has been added to the program, which focuses on non-fiction productions and other languages.
One of the annual highlights of Cinema Jove is the Youth Audiovisual Meeting, where short films made by students from 5 to 25 years old are selected. It is the foundational section of Cinema Jove and consists of three categories: Children (up to 12 years old, students of Infant and Primary School), Youth: from 13 to 20 years old, students of ESO and Baccalaureate) and Amateur (from 16 to 25 years old, students of Image Training Cycles, other training centres and youth associations or personal projects).
The image of Cinema Jove has been commissioned this year to the illustrator JC Guerrero, under whose alter ego, Ink Bad Company, signs a poster where he brings animation closer to the story of classic scenes of cinema. The artist has developed a large number of works and illustrations that move in the cinematic environment. His style, in the analogue tradition, with a very marked drawing, bright colors, textures and tacky labels, takes us back to a universe of printed paper, an assortment of comic splash pages, humorous drawings, horror films and rock 'n' roll.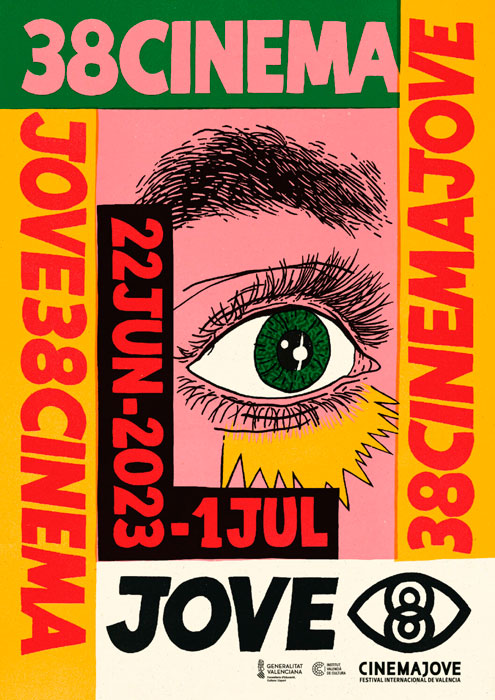 In this year's edition of Cinema Jove, the coveted honorary award Luna de Valencia, dedicated to a director who is recognised for his or her own cinematographic style, a recognisable narrative in contemporary cinema, will go to and in addition to the director's visit to the festival, the festival dedicates a retrospective to the whole of his or her cinematographic work. Moreover, Cinema Jove includes Curt Creixent (dedicated to short films) and ProMercat (feature films), two sections dedicated to the film industry, i.e. a series of round tables, talks, pitch sessions and other professional meetings that encourage learning, alliances and the creation of new works.
The festival's program includes ten feature films in its official section, more than 50 short films and 10 series of more than 20 nationalities, on subjects ranging from the transition from adolescence to adulthood to family dramas and the persistence of taboos in contemporary societies.
Feature films
Petrol (Alena Lodkina, 2022), in this Australian film, Eva, an impressionable film student, befriends Mia, a charismatic actress who quickly excites her imagination. After moving in with Mia, Eva embarks on a journey of awakening, full of dreams, fantasy and ghosts. This Closeness (Kit Zauhar, 2023), an American film about the growing tensions when a couple moves in with a reclusive host, and the three enter into an intimate battle to win and regain territory. Yemeni cinematography comes to Cinema Jove with the film The Burdened (Amr Gamal, 2023), which takes us to Aden, southern Yemen, where Isra'a and Ahmed put all their efforts into providing a normal life and education for their three young children. When they learn that Isra'a is pregnant again, they have to make difficult decisions guided only by the interest of their family.
In Starring Jerry as Himself (Law Chen, 2023) a family documents how their immigrant father Jerry, a recently retired Florida man, was recruited by Chinese police to be an undercover agent, only to discover a darker truth. Franco-Belgian co-production The Lost Boys ( Zeno Graton, 2023) takes us to a juvenile correctional facility, where Joe prepares for his return to society, unsure of what life will be like on the other side of the wire. But when newcomer William moves into the cell next door, Joe's desire for freedom quickly gives way to a desire of a different kind. In the Finnish film Family Time (Tia Kouvo, 2023) a family gathers for the holidays, but soon everything starts to fall apart. Like every year, sisters Susanna and Helena visit their parents' house with their families. But like every year, grandpa Lasse drinks too much, grandma Ella has to take care of everyone, the children are fed up and the sisters argue over the most useless things. After Christmas, everyone separates and goes back to their everyday lives.
Sons of Ramses (Clément Cogitore, 2022), a French production, introduces us to Ramses, a skilled clairvoyant in the multicultural Parisian neighborhood of La Goutte d'Or. When a gang of intrepid kids start terrorizing the neighbors, the balance of his thriving business and the whole neighborhood is upset. Until one day Ramses has a real vision. Almost Entirely a Slight Disaster (Umut Subaşi, 2023) is a Turkish film in which four twenty-somethings struggle to make a living in contemporary Istanbul: Zeynep is a student who is distressed by the daily news. Her roommate Ayşe tries to flee abroad because she sees no future in Turkey. Mehmet is a married engineer who is never satisfied with an above-average life while Ali, unemployed, feels trapped living with his parents. The film explores the anxieties facing this generation in a humorous and convoluted manner.
All the Colours of the World are Between Black & White (Babatunde Apalowo, 2023) also represents the African continent through a Nigerian production, in which two young men, Bambino and Bawa, meet in Lagos and immediately hit it off. During their long journeys through the city they develop a deep affection for each other. But in a society that considers homosexuality taboo, they feel the pressure of social norms. The road trip in the Dutch film Kiddo ( Zara Dwinger, 2023) takes eleven-year-old Lu, who lives in a foster home, and Karina, her mother, on a crazy road trip in a beat-up sports car to her grandmother's house in Poland. Lu soon discovers that it's all or nothing with Karina when she is drawn into a Bonnie and Clyde-like fantasy. But reality soon catches up with them, forcing them to decide what they are willing to do to stay together forever.
Short films
In this competition section we will be able to see more than 50 titles covering a wide range of genres, from animation and documentaries to the most experimental narratives. A wide selection of works from 20 nationalities, many of which have been programmed at festivals as important as Clermont-Ferrand, Rotterdam, Berlinale, Venice, Locarno and Cannes.
The short film screenings will be divided into ten sessions of between five and six films each. Highlights include the Spanish premiere of Tits, a Norwegian production selected for this year's Official Selection at Cannes; Will you look at me? a Chinese short film that won the Queer Palm Sundance Film Festival; Ice Merchants, an animated film that won the Leitz Cine Discovery Prize at Cannes 2022 and is nominated for an Oscar in 2023, as well as Snow in September, a critical analysis of the culture of masculinity in Mongolia that premiered at the 79th Venice Film Festival, where it won the Orizzonti Award for Best Short Film, and won the award for Best International Short Film at the Toronto International Film Festival in 2022.
Among the Spanish short films selected for the competition, Cinema Jove has programmed La herida luminosa, signed by the very young filmmaker Christian Avilés, which comes to Cinema Jove after competing in the Official Selection of the Berlinale, as well as several Valencian titles: Els amants, another "neo-berlanguian" costumbrist comedy by Joan Vives; Las Trial, a Star Wars spin-off directed by Marino Darés; Una terapia de mierda, an amusing parody of pseudo-sciences that bears the colorful and surrealist stamp of Los Hermanos Polo.
Finally, although out of competition, Cinema Jove will be screening Aixó també passarà, a documentary by Iñaki Antuñano and Pepe Ábalos about the pandemic and the fallas, and Los visitantes, a Valencian short film that received a special mention from the jury at the prestigious Clermont-Ferrand Festival (France).
Series
The Official Series Section of Cinema Jove will be made up of 10 Spanish and international series, projects that will be complemented with round tables and debates: from Kazakhstan, Chile, Spain, Canada, Australia, Argentina, Russia and Germany in various genres, such as period thrillers or science fiction, as well as series aimed at children and teenagers.
Four world premieres stand out in this year's selection: Eva Live, a Russian sci-fi series where an artificial intelligence thinks she is a real influencer, when she is really just a bot; Roni, an animated series created by the Ondas Award-winning cartoonist and illustrator Juanjo Sáez; Poemas Malditos, a series that tells different stories set in the deepest Chile, and Triple Oh!, a black dramedy based on real cases that follows the lives saved and lost in an emergency ambulance. All the other series in the competition have their state premiere at Cinema Jove and can only be seen during the festival, as they are still in the process of being distributed in their countries of origin.
Also, out of competition, Cinema Jove presents the Canadian series for young audiences Lou et Sophie, the Danish crime drama Nordland 99 and the latest from the Spanish creative collective 'Putos Modernos', who will come to València to present this audiovisual debut that parodies the trappings and characters of modernity. Also visiting Cinema Jove will be comedian Raúl Cimas, who will present his new original series for Movistar Plus +, entitled Poquita fe.
Òrbites
The 38th edition of Cinema Jove, premieres a new competition section dedicated to new languages and experimental narratives. The films selected for this year's edition will be screened between 24 and 27 June and will compete for a new prize of 2,500 euros. This new section, included in the festival's official sections, will be made up of four Valencian feature films in its first edition, although the intention is to extend the focus to the international panorama from next year onwards. Among the selected titles are two international premieres. One of them is Sóc filla de ma mare (2023), directed by Laura García Pérez. An intimate film that reflects on one's own identity through the reconstruction of memories by means of testimonies and family home videos.
Cinema Jove will also be the platform for the international presentation of Bull Run, an unconventional film by Ana Ramón Rubio that takes bitcoin fever as its backdrop. The director reflects on her personal experience in cryptocurrency trading and the addiction to this world that she acquired during the pandemic. Sóc vertical, però m'agradaria ser horizontal is an unclassifiable film in which María Antón Gabot proposes an impossible encounter between Belén Esteban and Sylvia Plath in Benidorm. The fourth film in the Òrbites section is València, t'estime (2023), by Carlos Giménez. This is the first feature film that tells the LGTBI history of the city of Valencia from the 1970s to the early 2000s.

True Crime: the new fascination
The new fascination with true crime will have its own season at Cinema Jove, which will include eight feature films that allow us to trace the origins and evolution of the genre from the 1970s to the present day. Based on the novel of the same name by Truman Capote, In Cold Blood (Richard Brooks, 1967) is considered to be a clear forerunner of true crime, while El asesino de Pedralbes (Gonzalo Herralde, 1978) is an essential documentary in the genre in Spain that brings us closer to the biography of José Luis Cerveto, the author of the stabbing murder of a middle-class couple in Barcelona in 1974. The Thin Blue Line (Errol Morris, 1988) is a documentary based on the arrest and conviction of Randall Adams, sentenced to death for the murder of a Dallas policeman in 1976. Also programmed is the mockumentary It Happened Close to Home (1992), in which a Belgian television crew made up of Rémy Belvaux, André Bonzel and Benoit Poelvoorde follows the trail of a serial killer and thief and which won the Special Jury and Critics' Prize at the Cannes Film Festival, as well as Best Film and Best Actor at Sitges.
Aileen Wuornos: Life and Death of a Serial Killer (Nick Broomfield, Joan Churchill, 2003) takes us into the mind of a serial killer with serious psychological pathologies who awaits her end on death row. The Spanish film El 7º día (Carlos Saura, 2004), inspired by the 1990 Puerto Hurraco massacre, will complete the section along with the Canadian feature film Cette Maison (Myriam Charles, 2022) and the now classic documentary Bowling for Columbine (Michael Moore), which will close the cycle. In the context of True Crime: The New Fascination, a round table will be organized with experts in the field.
High School
Cinema Jove returns to the secondary school classrooms that have been the setting for teenage fiction in the third installment of its High School series. This year's selection brings together nine feature films from Denmark, the United States, France and Sweden. The cycle includes films by François Ozon, Greta Gerwig, Thomas Vinterberg, Joe Dante and Richard Kelly. The Espai Turia will once again be the setting for this season, an open-air urban space. At the end of the screenings, on the opening and closing days, musical entertainment will be provided by renowned Valencian DJs: Hits With Tits DJ and Chico y Chico Djs.
The Young Cronenberg
Cinema Jove welcomes the apostle of uncomfortable cinema, body modelling and strange sex. The cycle, dedicated to the early films of cult filmmaker David Cronenberg, will include films directed before he was over 40. The selection includes the feature films Shivers (1976), Rabid (1977), Fast Company (1979), The Brood (1979), Scanners (1981), Videodrome (1983) and The Dead Zone (1983), which feature a young James Woods, Christopher Walken and Martin Sheen. His first feature films are linked to the exploitation films typical of the seventies and eighties, with a penchant for the lurid, but where commercial success took precedence over quality. In the case of the Canadian, the desire for transgression is present, but with a personal stamp that makes him stand out from the rest of the products in this cinematic category. What in the hands of other directors is cinema ascribed to the B series, in his hands, nightmares are elevated to the category of art.
The Cinema Jove festival will also have a special premiere on 24 June of Olvido, the film by director Inés París written by Fermín Palacios, whose leading lady, Maria Caballero, has been awarded the Un futuro de cine award. The film, set in the València ravaged by the floods of 1957, is a thriller starring Morgan Blasco and Javier Butler, among others, and is a 100% Valencian production (La Dalia Films), which will be released commercially on 29 June.
And for the end we have reserved the name of the honoree with the Luna de Valencia Award, the American director Sean Baker, whose three feature films will be screened between 23 and 28 June, of the seven that make up his filmography: Take Out, Tangerine, winner of the Indepedent Spirit Award and Gotham Awards, The Florida Project, for which Willem Dafoe received an Oscar nomination, and Red Rocket, premiered at the Cannes Film Festival.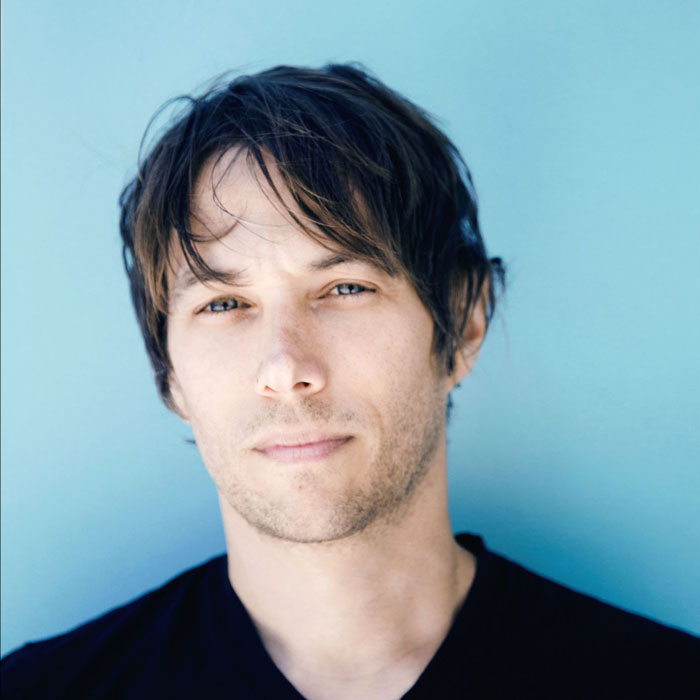 Sean Baker, who has been praised by John Waters, has grounded his work in an experimental and syncretic mood, using digital cameras as much as analogue: Tangerine was shot on an iPhone 5S and Red Rocket in 16 millimeter and anamorphic, opting for a pop chromaticism that is already his signature.