UVNT Art Fair aka URVANITY has managed to turn the city into an open museum with digital art, interventions and installations, open to all citizens. Here we will find places where some of the most relevant proposals of the moment will be located, both in the streets and squares of the capital, as well as inside some of its most emblematic buildings.
One of the most singular artists, whose work will be exhibited in the Metrópolis building (where Gran Vía and Calle de Alcalá meet), is the artist Samuel Salcedo, who will question the spectator with his subtle irony and vulnerability, emphasising the masked nature of human beings.
We had the pleasure of talking to him about his work, the fair and the philosophy behind his proposals.
How do you perceive the evolution of the fair since it began? Do you think it's been a necessary and appropriate evolution for our times? 
I've always visited the fair as a curious visitor, and what apparently seemed to be a fair focused on urban art, has gradually opened up, in a coherent way, to more varied types of art, which also includes proposals that are perhaps more conventional, as is my case, as I'm simply a formal sculptor. But, in short, the URVANITY fair has intelligently opened up to an urban art that escapes any cliché about this label.
How do you value the fact that your work is inscribed in this context?
I'm very grateful to be exhibiting at URVANITY because it gives a dimension to my work. I define myself as a traditional sculptor, in the technical sense, but not in the conceptual sense, because what I'm trying to explain is closer to a contemporary philosophy such as that proposed by URVANITY. Moreover, the courage of the fair to go for a figurative work is enormous, since figuration is often taken from a more classical point of view, and in my case, it is located from a more contemporary perspective.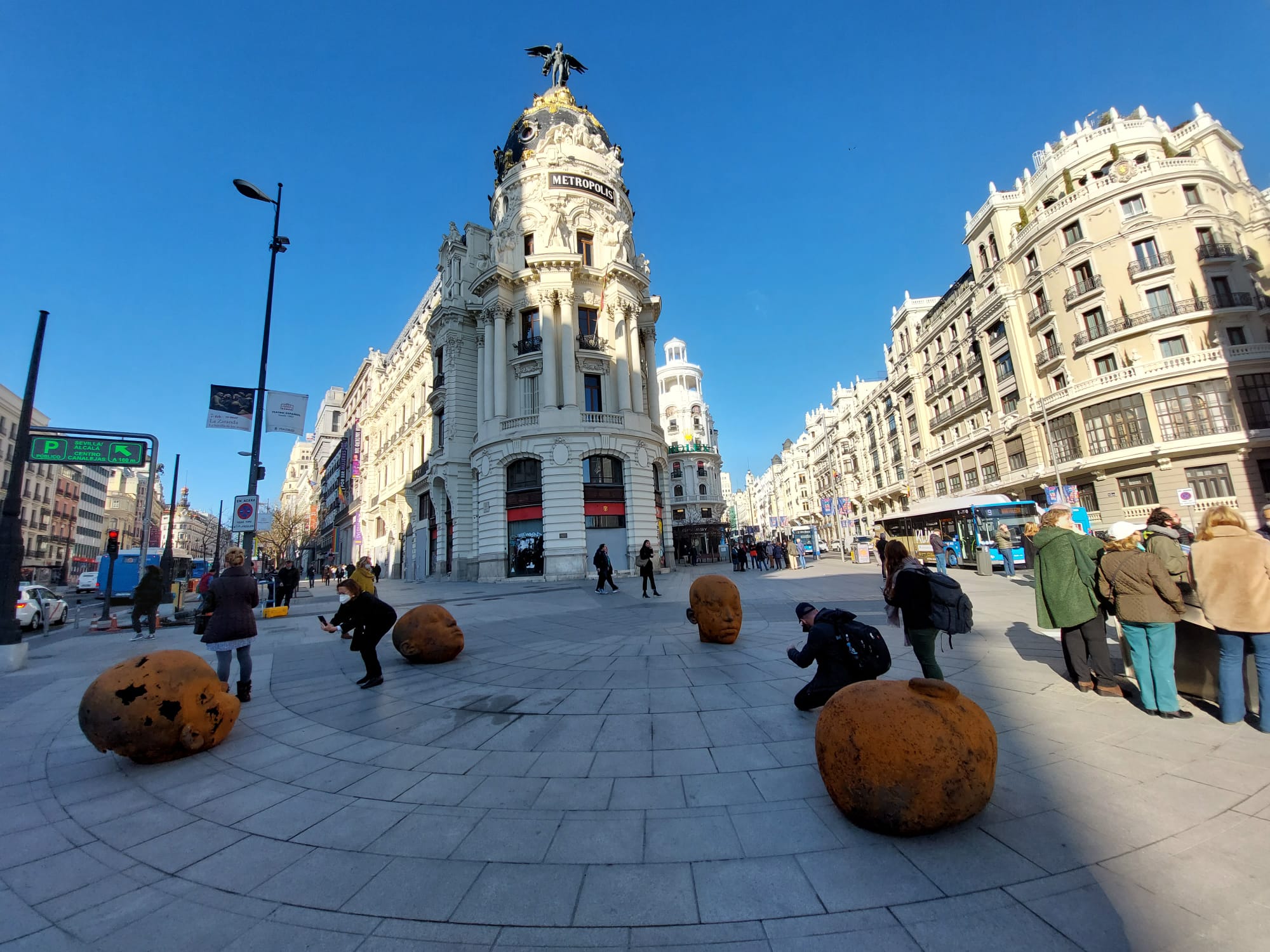 What led you to create your work in the street? What were your criteria? 
Working in the street is something that comes from opportunities. Formally, it's complicated, because you have to make pieces that are resistant to the elements, suitable for urban traffic, and at the same time, it has to be something close, that is to say, that doesn't hurt people and that people can't damage the pieces. This obviously fits in with my concept of rolling sculptures, which are found by chance, by the coincidences of life, and which is something that happens to all of us when we enter a specific space where ephemeral relationships are produced, that is, by the simple fact of being brought together at the right moment. This experiential fact allows me to develop this idea that sculptures find their place by chance.
Thanks to the opportunity of URVANITY for allowing me to place the sculptures in such spectacular locations. Also, the material I work with, which is a material that has a memory, that oxidises, as is the case with iron, I think it can work very well. Also, one of the things I try to do, when I exhibit outdoors, is to get people to approach, feel comfortable and interact with my work, because that completes the meaning of my work.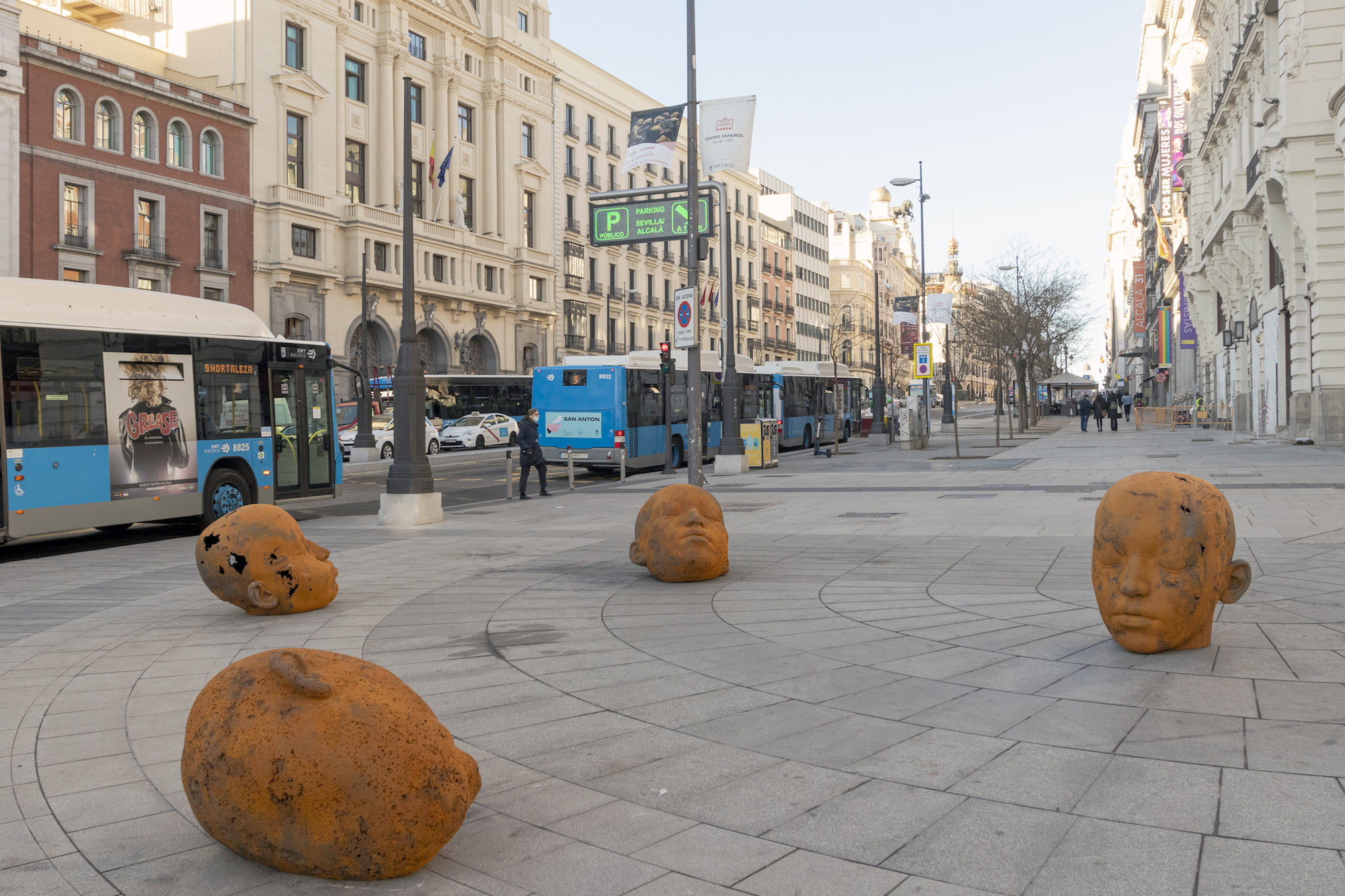 What do you hope your work awakens or transmits?
Just what I said in the previous answer, that is, that people can approach my work, that it doesn't generate rejection, that they can identify with and read my work… All this through a very simple language, such as figuration, which is also a very suggestive language, because it works like a mirror, a place to be reflected and read depending on one's state of mind. And that in the end, this is one of the main motives of art, the fact of provoking a dialogue, a relationship with people, and in the case of public space, it is even a physical relationship.
And finally, what are your hopes for the fair? 
Over the years I've learned to expect only what I can control. One hopes that the work will be liked, that it will be accepted, that people will be able to understand you… This is the main reason for my work, which goes beyond a purely economic motive.