The program for the 13th edition of My French Film Festival, the first online French film festival, promoted by UniFrance, is now available. It will take place from January 13 to February 13. This association, born in 1949, merged with TV France International in 2021, to reinforce its mission and has about fifty partners, as well as representatives in the United States, China and soon in Japan, federating more than 1000 industry professionals, including actors, directors, producers and agents. Serge Toubiana, president of the organization that promotes cinema and audiovisuals in the world, and Daniela Elstner, its executive director, unveiled during a press conference, which could be followed by zoom, the 29 films of different genres and lengths – of which 20 are in competition -, which are grouped into six sections: Doing It Their Way, France Has Got Talent, Kids Turned Out Fine, Under Your Spell, Faces+Places and Enjoy The Silence.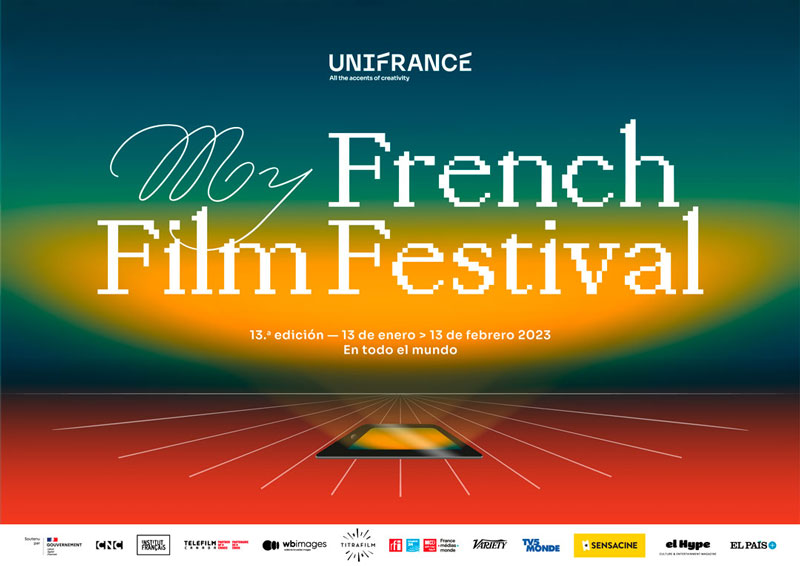 Viewers around the world registered last year more than eleven million viewings across 200 territories, and in 2023 we will once again have the opportunity to enjoy for a month on our screens – and in person at some international venues of the Institut Français – French-language films of undisputed quality, which have been presented at international festivals and have received excellent reviews. As we reminded you in a previous article, the festival is accessible through its website and also from 70 platforms, here you can find out more. In most of the world -Africa, Latin America, Southeast Asia, South Korea, Romania, Russia and Ukraine- access is free and in the rest of the countries the viewing fee is affordable, since its price is 1.99€ (individually), with the possibility of acquiring a package for the entire program (except for possible local blocks) for 7.99€.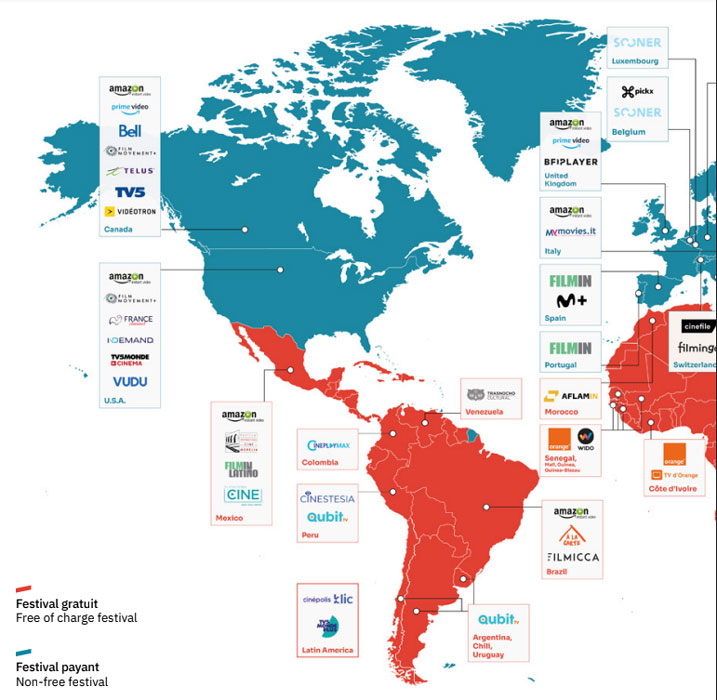 The international jury that will award the €15,000 prize (Grand Jury Prize) to the director, producer and distributor is made up of prestigious film professionals: Emily Atef (France, Iran), Chie Hayakawa (Japan), Juho Kuosmanen (Finland), Sergei Loznitsa (Ukraine) and Albert Serra (Spain). For its part, the jury of international critics includes: Foteini Alevra, (Athens Voice, Greece), Émilie Gambade (Maverick Life, South Africa), Kong Rithdee (The Bangkok Post, Thailand), Marcelo Stiletano (La Nación, Argentina), Aramide Tinubu (USA. ), Larisa Turea, (Timpul, Moldova) and Albert Zagt (Netherlands) and will award one feature film and one short film in competition, which together with the Grand Prize will be announced on February 10, 2023, while on the Festival's website, the public will be able to vote for their favorite film which will be made public at the end of the festival on February 14, 2023.
Doing It Their Way
En esta sección se presentan tres largometrajes y dos cortos, a competición.  Le Monde après nous (El mundo después de nosotros, The World After Us, Louda Ben Salah-Cazanas, 2021) está protagonizada por  Aurélien Gabrielli, Louise Chevillote y Saadia Bentaïeb. Esta opera prima que consiguió el premio del público en el Champs Elysées Film Festivals y se presentó en la Mostra de Valencia y el Jerusalem Film Festival, narra la historia de Labidi, un joven escritor en apuros que, tras un pequeño éxito con un relato corto, intenta publicar su primera novela. Mientras vive en una pequeña habitación con su compañero de piso y mejor amigo Aleksei, repartiendo comida en bicicleta para sobrevivir, conoce a Elisa, una estudiante. Atrapado en un romance relámpago, no siempre toma las decisiones correctas y tendrá que enfrentarse a la realidad a costa de su escritura. El segundo largometraje a competición es Oranges sanguines (Naranjas sangrientas, Bloody Oranges, Jean-Christophe Meurisse, 2021), una comedia negra protagonizada por Denis Podalydès, Blanche Gardin y Alexandre Steiger que narra simultáneamente las historias de una pareja de jubilados abrumada por las deudas, que intenta ganar un concurso de baile, mientras el ministro de Economía es sospechoso de evasión fiscal, una adolescente se encuentra con un maníaco sexual, y un joven abogado intenta ascender en la escala social.
Three feature films and two short films are presented in the competition in this section.  Le Monde après nous (The World After Us, Louda Ben Salah-Cazanas, 2021) stars Aurélien Gabrielli, Louise Chevillote and Saadia Bentaïeb. This debut feature, which won the Audience Award at the Champs Elysées Film Festival and was presented at the Mostra de Valencia and the Jerusalem Film Festival, tells the story of Labidi, a struggling young writer who, after a small success with a short story, tries to publish his first novel. While living in a small room with his roommate and best friend Aleksei, delivering food by bicycle to survive, he meets Elisa, a student. Caught up in a whirlwind romance, he doesn't always make the right decisions and will have to face reality at the expense of his writing. The second feature in the competition is Oranges sanguines (Bloody Oranges, Jean-Christophe Meurisse, 2021), a black comedy starring Denis Podalydès, Blanche Gardin and Alexandre Steiger that simultaneously tells the stories of a debt-ridden retired couple trying to win a dance contest, while the Minister of Economy is suspected of tax evasion, a teenage girl meets a sex maniac, and a young lawyer tries to climb the social ladder.
Finally, Rien à foutre (Zero Fucks Given, Emmanuel Marre & Julie Lecoustre, 2020), which participated in the Cannes Film Festival's Critics' Week and competed for the Caméra d'Or, features Adèle Exarchopoulos, Alexandre Perrier and Mara Taquin, and centers on the character of 26-year-old Cassandre, a flight attendant for a low-cost airline. The young woman lives from day to day, between flights and parties, with no strings attached. However, an unexpected event will force her to reconnect with the world.
The two short films in competition in this section are Cataracte (Cataract, Faustine Crespy & Laetitia de Montalembert, 2020), winner of the Brussels Short Film Festival, starring Ozay Fecht, Ferdinand Niquet Rioux and Samuel Bousbib, which tells the story of Nicky, a marginal and eccentric woman, who decides to end it all after going bankrupt; Le Roi David (King David, Lila Pinell, 2021) with Éva Huault, Jacky Abdillah and Sarah Djourou, stars Shana, who is looking for work, needs money to leave France and her environment, finding it difficult to leave it behind. The short film was awarded at the Clermont Ferrand Festival and won the Jean Vigo.
France Has Got Talent
This section presents two feature films and two short films. Entre les vagues (The Braves, Anaïs Volpé, 2021) is the second feature film by its director, winner of the Best French Director Award at the Champs Elysées Film Festival, while her film won Best Film at Namur and the Riviera International Film Festival. Starring Souheila Yacoub, Déborah Lukumuena and Matthieu Longatte, it portrays the energy, joy and carefree attitude of Margot and Alma, two best friends who want to discover the world.
The directorial debut of actor Vincent Maël Cardona, Les Magnétiques (Magnetic Beats, 2021) with Thimotée Robart, Joseph Olivennes and Marie Colomb is set in a Brittany town in the early 1980s. Philippe lives in the shadow of his brother Jérôme. Military service will be a threat that drives him to flee to West Berlin. The film won the César for Best First Film in 2022 and the SACD award at the Cannes Directors' Fortnight, as well as the Lumière for Best New Actor for Thimotée Robart.
The short films in competition are Paloma (Hugo Bardin, 2022) by the also director of the miniseries La saison des sorcières, who plays in the 28-minute film a drag queen who has just stolen the ashes of her deceased lover and meets a melancholic truck driver on her way. Likewise, we can see Partir un jour (Bye, Bye, Amélie Bonin, 2021), with Bastien Buillon, Juliette Armanet and François Rollin, a coming of age with a round trip for young Julian, who leaves his town to build a better life in the city.
Kids Turned Out Fine
Here we will see two feature films and three short films in competition, focusing on childhood. On the one hand, Petite nature (Softie, Samuel Theis, 2021) is a drama starring ten-year-old Johnny, a special, sensitive and intelligent boy who observes his mother's love life and becomes fascinated by his new, young and sophisticated teacher from the big city. The film stars Aliocha Reinert, Antoine Reinartz and Mélissa Olexa. On the other hand, La traversée (The Crossing, Florence Miailhe, 2020) is an animated film with the voices of Emilie Lan-Dürr, Maxime Gémin and Arthur Pereira. The story centers on a heroic journey of two lost children on the road to exile, maturing as they seek shelter and long to be reunited with their family. Survival in a continent torn apart by war and the persecution of immigrants will be a gigantic challenge for them.
The shorts included in the section are Marianne (Julien Gaspar-Oliveri, 2021), where the protagonist is interviewed by a journalist in charge of writing her profile, heroine for a day, the young woman has a brief but very human encounter with him. In Nous n'irons plus en haut (Our Own Land, Simon Helloco, 2021), starring Noé Vallée, Swann Vallée, Catherine Carro and Gilles Hervé, two siblings aged 8 and 12 find themselves alone in a huge house in the Breton countryside at the end of summer, where only one thing is forbidden: going upstairs. Finally, in Titan (Valéry Carnoy, 2021) Nathan, a thirteen-year-old teenager prepares to join his friend Malik's band with an initiation ritual.
Under Your Spell
The section includes one feature film in competition: Une histoire d'amour et de désir (A Tale of Love and Desire, Leyla Bouzid, 2020), starring Sami Outalbali, Zbeida Belhajamor and Diong-Kéba Tacu, in which Ahmed, an 18-year-old Frenchman of Algerian origin who grew up in the suburbs of Paris, meets Farah, a young Tunisian woman who has just arrived in the city, at university. While discovering a collection of sensual and erotic Arabic literature that he never imagined existed, Ahmed falls madly in love with Farah, although he will try to resist her.
The cult film À nos amours (To Our Loves, Maurice Pialat, 1983), out of competition, can also be found in Under Your Spell. The film in which Sandrine Bonnaire plays Suzanne, a 15-year-old girl with a free sex life, who enjoys herself, but fails to truly love. Her family does not understand this woman-child… Pialat's portrait is a masterpiece that has gone down in the history of contemporary cinema.
The two short films of the section participate in the competition and are the following: Que la bête monte (Let the Beast Rise, Marthe Sébille, 2021), with Pauline Lorillard and Louis Cristiani, narrates the journey through the forest of a couple who have had an accident in the middle of the countryside, while Une femme à la mer (Out of the Blue, Céline Baril, 2022), starring Louise Chevillotte, is set on a peninsula in Turkey, where Anna, instead of enjoying her vacation, feels trapped in a strange lethargy, while her boyfriend, Thomas, doesn't seem to notice her at all. Later, when a little girl suddenly disappears on the beach, Anna wakes up and decides to go looking for her.
Faces+Places
The feature films included in this section of My French Film Festival are À propos de Joan (About Joan, Laurent Larivière, 2021), in competition, with an outstanding cast including Isabelle Huppert, Lars Eidinger, Swann Arlaud and Freya Mavor. The film by the director of Je suis un soldat, tells the story of Joan Verra, an independent woman in love, with a free and adventurous spirit. When her first love finally reappears unexpectedly after years of absence, she decides not to tell him that they had a child together. This will be the starting point for her to recall her life, her youth, her professional successes, even her relationship with her son.
Also in competition, we can see the film by the winner of the Silver Lion at the Venice Film Festival with Saint Omer, Alice Diop. Nous (We, 2020), which was awarded in the Encounters section of the Berlin Festival, is a documentary that forms a mosaic on the outskirts of Paris. The railroad line that crosses the city from north to south brings together different characters: a cleaning lady, a junkyard worker, a writer, a nurse, a hunting follower and the filmmaker herself. Faces and places that intersect as pieces of a possible whole. On the other hand, Bootleger (Caroline Monnet, 2021), presented out of competition, is a Canadian film starring Devery Jacobs and Pascale Bussières, which delves into the life of a law student who returns to her remote Indian reserve and realizes that many obsolete paternalistic laws are still in force. Determined to reintegrate into the community, she participates in the debate surrounding a referendum on the free sale of alcohol on the reservation.
Faces+Places also includes three short films, two of them out of competition: the Canadian documentary Belle River, directed by Guillaume Fournier, Samuel Matteau and Yannick Nolin, about the 2019 Louisiana floods, and Laissé inachevé à Tokyo (Olivier Assayas, 1983), a noir between reality and fiction, a fake spy story, but a true story of jet lag, starring Pascal Aubier, Arielle Dombasle, Benoît Ferreux and Elli Medeiros. The third short film in competition is Malmousque (Malmousque By The Sea, Dorothée Sebbagh, 2021), a comedy set in the old fishing district of Marseille, which gives the film its title and where a couple of friends manage to exchange confidences without being spied on.
Enjoy The Silence
This section of My French Film Festival is out of competition and includes five silent animated films. These are the following: Anxious Body (Yoriko Mizushiri, 2021), where living things, artificial things, geometric shapes and lines meet giving rise to a new direction; Histoire pour 2 trompettes (A Story for 2 Trumpets, Amandine Meyer, 2021), here it all starts with a lovers' quarrel, with tears. We enter inside the bandage of a young girl, a kind of mental and liquid image, inside of which a goose is teaching a baby to play the recorder. In the music, the child grows into a girl. The child perfects her learning, we even follow her in her evolutions, her metamorphoses and her creations.
Nuisibles (Pests, 2021), Juliette Laboria's debut feature takes place in the heat of summer, when wasps devour ripe and sweet fruit, entering into battle with a group of garden visitors, the war begins, children against insects… may the best win. On the other hand, Please Don't Touch (Capucine Gougelet, 2020) introduces us to the simple but sometimes difficult to follow rules of museums, while Ronde de nuit (The Night Watch, Julien Regnard, 2020) wraps us in mystery and drama, when a couple argue on the way back from a fancy party, and end up having a brutal car accident, only to find a different reality upon coming to.
The program of My French Film Festival, of which El Hype is a media partner, covers genres and geographies, different films and origins, to offer a vision of French-speaking cinema in 29 chapters. Which one are you going to start with?