The french producer Phred and electronic music seem to have grown up almost at the same time in the 90s in Marseille. At the time, the radio was the best way to follow the electronic advances, but for Phred playing music from home was not enough. Then, with his partner Relatif Yann, they decided to show their new ideas in a new club/bar and record label: La Dame Noir, a new platform  with slow bpm  sound. These ways of understanding music drew attention to the public. Since then, they have not stopped, being recognized internationally, without losing fidelity to music and its message: up the rhythm, down the differences.
How was your first contact with music?
If I wanted to sound like a smart ass, I would answer skateboarding, buying hip-hop, reggae and punk lp's but I must confess that there was a darker part too. My dad was one of the boss running a famous radio from Marseille, I had to cope with the top quality french artists like Johnny Halliday, Herbert Leonard, Catherine Lara, Debut de Soiree, Image… and all this live & direct. Jah bless foreigners that do not have a clue about who those people were.
When did you actually start Djing?
1995, just to have fun in my room with friends. No big change right now, my room got bigger, tunnel shaped and light is redder.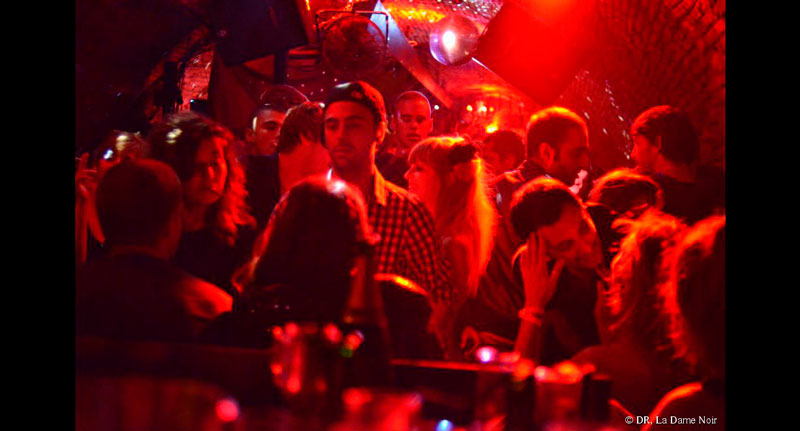 How did you guys decide to do the label La Dame Noir? Did you have a clear idea of the artists you wanted to involve?
One of our friends, Nicolas Magnan, came to us and said your music is different and too good, let's set up a music label. My business partner Relatif Yann and I were thrilled by this easy way to loose money so we said yes and decided to push local producers and artists we made friends with along the way.
Is there a central philosophy or idea behind the label?
Push up locals and make collaborations happening, get our vibe to a wider audience, play some music that maybe wouldn't have been produce without this platform.
What is it about Marseille that helped form the personality of the label and the sound of the label?
10 years before, most of the parties happening were organized by the Virgo Music crew, Soirees Loisirs, Relatif Yann + myself , we were all into slowing down the tempo and playing some screwed up disco things… The crowd got into it and maybe the local producers too.
When you started, what was the highest level of success you imagined for La Dame Noir?
We started running a bar with my other business partner, Hugo Jurado, and we thought it to be a 2 years project. It was 9 years ago…
Looking back, are there any notable high points that you are particularly proud of?
I'm proud of too many things but let's go… La dame Noir first Bar is here to stay in the mind of Marseille party people that use to came to party and, as we LOVE most of them, we are so proud of this venue to be remembered. La dame Noir DANCING, our little red club is doing pretty well the job and is allowing us to invite so many artists we play and support, people seems to enjoy to dance on their music so we know why we are doing it.
When it comes to the music label, blending locals and international artists on two coherent compilations, that got a huge recognition was a sweet experience. As a dj playing alongside Relatif Yann with The Kills, Metronomy and Sebastien Tellier @ Pont Du Gard was fucking cool.
Last but not least I am super comfy with Remain and our Slow Porn project.
What was the first idea you had to build the sound of La Dame Noir? Has that sound changed a lot over recent years? What is your music criterion?
¿Ha cambiado mucho vuestro sonido en los últimos años? ¿Cuál es tu criterio musical?
We have always been into this crepuscule thing and this on-going fight between days & nights, good & evil, our motos Darker It Gets, Clearer We See, Darkness Has Never Been So Bright and even Dance With The Enemy, are all about this and the balance between Disco and Techno. So yeah maybe it changes over the years and even over the seasons but it remains the same old song.
What's your strategy for the label right now? Have you guys changed your approach to artist development or as the business has changed over the decade?
We've been off from the label to start a new bistrot bar called Les Pécheurs / LdNVII, now we are kind of back in the game and we want to stick to our local and close friends releases. We did not change much, quality releases from people that we love, remixed by artists we respect is the most simple formula there is, and we love it.
What do you think that makes a good party?
Good music, proper soundsystem and a crowd that is into this good music.
How about the changing music landscape, do you think you have evolved with it? How do you find the scene now?
As LdN djs we did not really change but we've been adapting the vibe when we moved from a bar to a club. Back then it was more about disco tunes, now it is darker and more fitted a club dance floor. The venue, the crowd, the time you are playing who is playing before you and next to you suggest what you are gonna play but the vibe is still yours and only yours.
How is it now in terms of the club scene?
If you mean about Marseille scene, we have three clubs: the Baby is more about Techno, One Again is more about house and tech house and La dame Noir Dancing is Nu Disco/Indie Dance so, three really different identities. All of them are busy and Marseille is getting more and more touristic, so just come to check this by yourselves!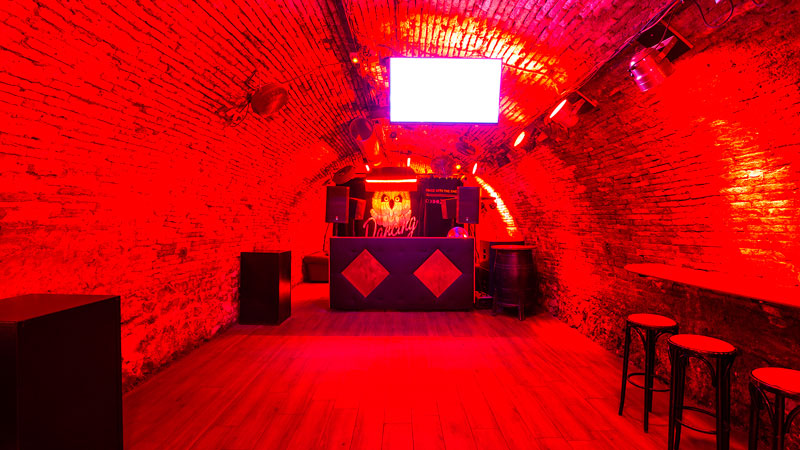 Out of everyone on the La Dame Noir season line up, who would you like to go back with?
My fave are my regulars Did Virgo, Relatif Yann, Arthur Johnson and Remain.
Even if I have to add that one of the the very best was with Manfredas the first time he came, even though he ended up sleeping in the sofa behind the booth a bit to early as he was not yet on coconut water.
Upcoming projects?
The next projects is to re-think and re-design La dame Noir Dancing, the new version will be delivered this spring. We are starting to release EPs on the label again from January with some friends from China called Motel77, Did Virgo & Arthur Johnson will quickly follow, a second vinyl from Darkness Has Never Been So Bright and maybe later this year the first LdN vinyl and a new comp if we don't get too lazy.
Finally, where La Dame Noir is going?
JE NE SAIS PAS ENCORE?!