Bootlegger, directed by Caroline Monnet and co-written with Daniel Watchorn, takes its title from the word for liquor smugglers, in this case on a Canadian reserve of Algonquin Indians, a first nation whose access to alcohol has historically implied acceptance of their subjugation to colonization. The film, which can be seen at My French Film Festival, addresses the problematic situation of a group that represents that of other indigenous people whose living conditions are still marked, more than two hundred years later, by invaders from Europe.
The difficulty of access to alcoholic beverages and the resulting clandestine traffic to supply consumers are questioned in Bootlegger by the young Mani (Devery Jacobs), who returns to her place of origin while preparing for her postgraduate studies. Away from her village, she has lived in the big city where she has been educated to return to her grandparents and try to adapt to the constraints of life in harsh conditions, but her involvement in society awakens her activism, bravely taking up a cause that will open old wounds. In addition to the difficulties of remembering her own language and customs (she uses French as her main language), there will be the painful memory of a loss whose consequences are still a source of resentment towards her, in the face of which she feels powerless and also, in a way, threatened.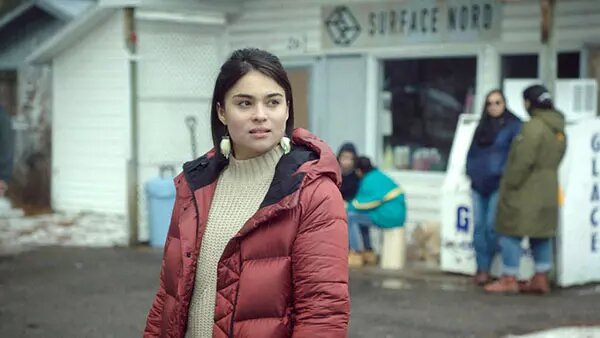 His proposal to hold a referendum to decide whether the inhabitants of the reserve want to change things will find opponents in the smuggler Laura (Pascale Bussières) and, at first, in the head of the local council who also benefits from the trade, through the " bribes " that allow them to receive funds for the community's budget. This centuries-old status quo will not be easy to change, and Monnet does not show it with particular subtlety, although his narrative is fluid and plausible. The stories of the past are cathartically unraveled and the inhabitants of the reserve agree to take decisions into their own hands, as accepting the referendum would simply be a step, a change of attitude in the powerlessness justified by the preservation of their culture. If the debate on the prohibition of any substance that is the object of illegal trafficking already arouses virulent reactions, when it involves a questioning of collective identity, it takes on a much more complex dimension.
The young Devery Jacobs plays her character convincingly and with a certain coldness, almost as well as the frozen landscapes of the Quebec winter of the Kitigqan Zibi, Tiohtiake/Mooniyang reserves photographed by Nicolas Canniccioni, with aerial shots that amplify the sense of isolation. Bootlegger correctly illustrates a conflict that films such as War Pony delved into with a more ambitious and accomplished perspective.