The 62th Thessaloniki International Film Festival pays a valuable tribute to editing, titled "In the Cut: Editing and its Secrets", on one of the most pivotal stages of filmmaking. Nine top-notch editors from Greece and all over the world share their valuable experiences with the audience in masterclasses and workshops.
Multifaceted editor and visual artist Claire Atherton delivered a masterclass at Pavlos Zannas, on Wednesday November 10, unravelling her journey in cinema and her thirty-year collaboration with the unforgettable Belgian pioneer of cinema, Chantal Akerman. Mrs. Atherton said at first that the editing of each film is a new journey and a new discovery: I never know where I'm going to go, and I don't need to know. And this is a truth not only for cinema but for everyday life and the acceptance that everything that counts in human life is hidden in its mysterious movements. She also questioned the word masterclass, in the sense that there are no experts, and if there are any they are the ones who constantly question themselves and are open to find out new things.
The need for security is constantly growing and focuses precisely on our need for control of everything – a control that dictates us to decide about our life before we live it, and about our film before we make it, she commented.
If there are any experts, they are the ones who constantly question themselves and are open to find out new things.
She went on to mention that after the completion of a film, she is overwhelmed by feelings of insecurity. I feel like I didn't do as much as I could. And I am always surprised at the result. I don't understand how and why I did this particular editing. When I'm editing, I try to stop the voices in my head telling me that I didn't do something right. All these dangerous voices, in the end, take us away from what we have inside us. However, we really need their confirmation – for without them, it would be like jumping into the void, and it's so scary, she said. Claire Atherton also believes that editing takes place outside the room. It is about an intuitive language, a language creating ambient and allowing new ideas to be born, she said.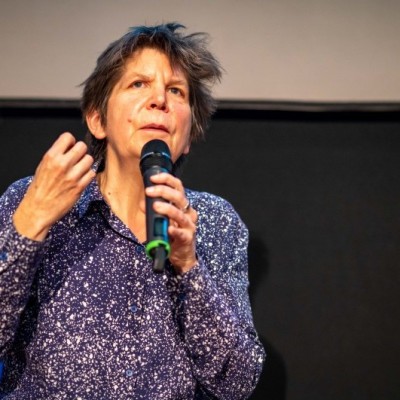 Some dipoles, like: "thought and intuition", or "narrative and contemplative films" don't mean anything to Atherton:  I am sure that reflection is possible because thought pre-exists. She then spoke about her relationship with Chinese culture and Taoism, and how ideograms helped her in the technique of editing: The rapid alternation of images causes many levels of signification, such as ideograms in Mandarin. Their language is pictorial, and ideograms have multiple readings. You might say that I have learned Chinese to become better at editing but surely this is not the case. I believe that we have to do the best for ourselves and our careers, but we have to be open to what happens to us, and allow him to guide us.
Editing is about allowing images to breathe by creating space. It is an act of revelation rather than creation.
Regarding the editing technique, she underlined that the most important element is the rhythm: When you watch a great movie, you are overwhelmed by emotions and you feel enormous pleasure… This is a political act – what is more political than an invitation to thought and movement? That's how my collaborator, Chantal Akerman, made films.
After the talk, Atherton showed excerpts from Akerman's film From the East. Following the screening of the excerpt, the particular style of the director became clear: Our common way was not to set the destination beforehand, but to discover it along the way, she explained.
Experienced editor Lambis Haralambidis, who has collaborated with great Greek directors, such as Theo Angelopoulos, Costa Gavras and Angelos Frantzis, delivered also a masterclass at the 62nd Thessaloniki International Film Festival. The editor started his analysis on the way film characters are structured through the editing process: Most of the time things in editing don't work. In general, no matter how good an editing is, if the actor doesn't have a solid performance, editing goes down the drain. 
He also referred to the so-called "shooting convention" or the change of editing depending on the shots you have (or don't have). Subsequently, Mr. Haralambidis showed a sequence from the film .dog by Yianna Americanou, screened at the meet the Neighbours competition section of the 62nd TIFF, followed by scened from other films (Zizotek, Wednesday 04:45), which he commented by explaining how he overcame several obstacles in the editing process.
Mr. Haralambidis, when asked by the audience about the screenwriter's participation in the editing, he replied that each film is made up of a group of people that interacts and works collectively. He went on to say that, in a case of disagreement between the editor and the director, the timing of the editor's proposed change to the director is of great importance.
What matters in cinema is not bells and whistles. Cinema needs simplicity and maturity.
Then, Mr. Haralambidis, when asked about whether the actor knows what the editor needs, he answered that apart from the actor's performance, it is important for the editor to be able to adjust the shots, even if the shots are not as expected: We create suspense the viewer hold on to in order to discover meaning.
At that moment, Mr. Haralambidis invited his friend and director, Alexis Alexiou on stage, where they discussed a very difficult scene of the latter's film, Wednesday 04:45, which took two and a half weeks to edit. He also referred to the new language and new ideas constantly emerging in cinema. Nowadays, films with pornographic or horror elements that would be at once rejected in the 80s, take part at major festivals and win awards. Concluding, he underlined the importance of creatively tackling the problems in editing: After the first cut, we leave ourselves free to see the reason why it does not work. We can mask the problem and turn it into a point of view. I always carry editing within me: there are no working hours in editing.
(Based on material provided by Thessaloliniki International Film Festival – Press and Communication Department).