The 62nd Thessaloniki International Film Festival will take place from November 4th to November 14th, 2021, and is returning to its home turf, the movie theaters, prioritizing safety and abiding by all health and safety protocols, this year's celebration of independent cinema will take place in physical spaces, but online as well. Within the framework of the 62nd TIFF, 197 films will be screened in the time-honored home ground of the Festival, theaters Olympion, Pavlos Zannas, the theaters situated in the Port of Thessaloniki, Frida Liappa, Tonia Marketaki, John Cassavetes, Stavros Tornes, as well in the movie theater Makedonikon.
In addition, the audience will have the chance to watch 144 films online, through the digital platform of the Festival, online.filmfestival.gr. The recipient of the Golden Lion at Venice Film Festival, Audrey Diwan's The Happening (L'Événement) will signal the 62nd TIFF's kick-off, on Thursday, November 4th 2021 and Paris, 13th District (Les Olympiades) by Jacques Audiard will close the curtain of this year's Festival on Sunday, November 14th, 2021.
We will discover subversive filmmakers and the best films from all over the world in the three competition sections of TIFF: International Competition (a program with films from across the Globe), Meet the Neighbors Competition (with first or second features from Greece's extended "neighborhood") and >>Film Forward Competition section (with films that go beyond the conventions of film genres). Moreover, in the International Program, we find the sections: Open Horizons and the Open Horizons – Another Take subsection, Balkan Survey, Special Screenings, Out of Competition and 'Round Midnight. TIFF, also, presents the podcast section, which includes in competition and out of competition podcasts.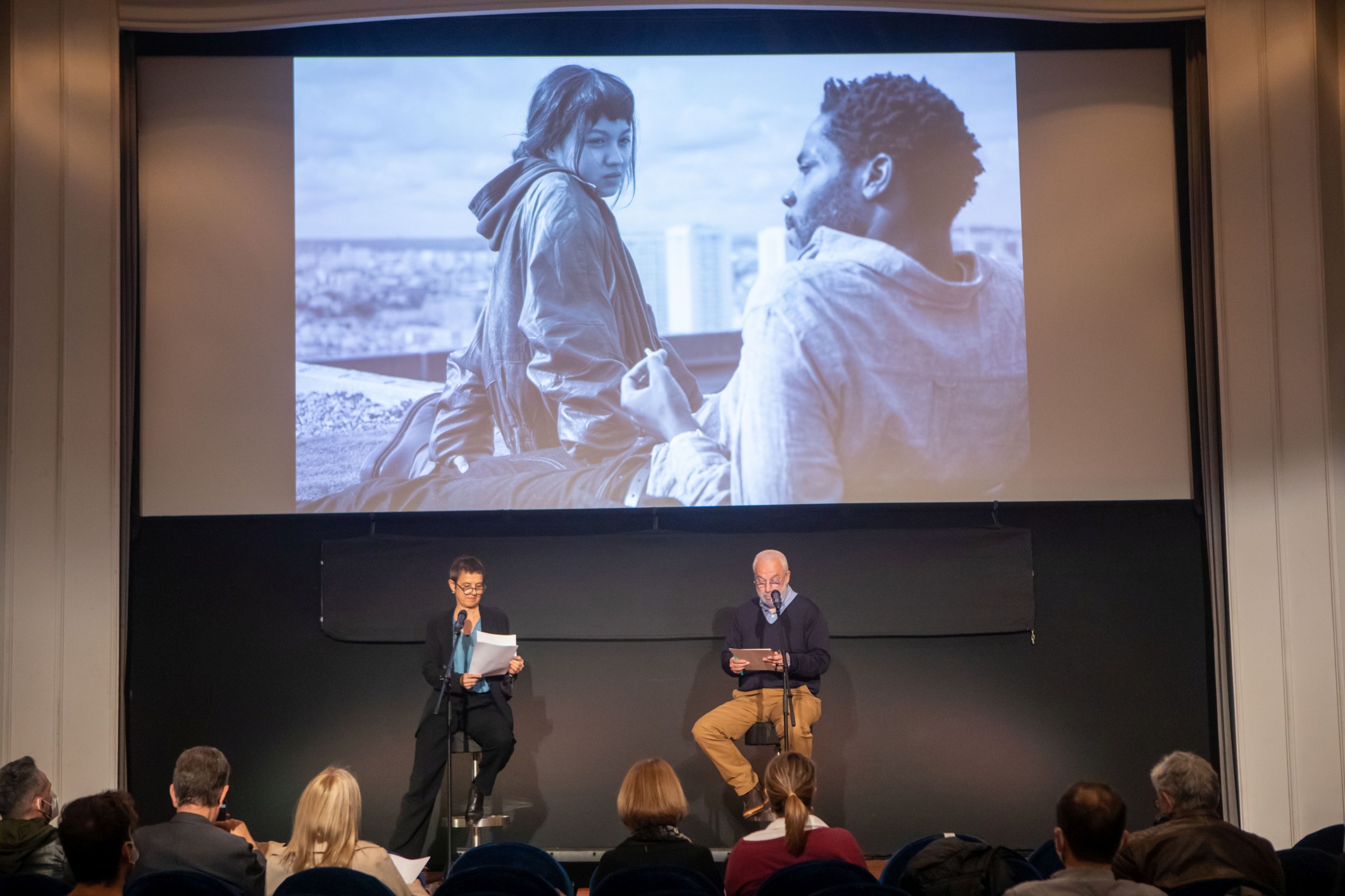 TIFF, also, presents the best films from the annual Greek production, tributes and cinematic surprises and gives the opportunity to film professionals to connect at the dynamic TIFF's Agora, the Industry section of the Festival, with TV presenter, actor and journalist Fotis Sergoulopoulos as ambassador, along with new activities and initiatives offering support to Greek cinema, the Agora of the62nd Thessaloniki International Film Festival (4-14/11/2021) is getting ready to welcome once again the Greek and international industry in Thessaloniki, following its successful online edition in last years festival.
Greek painter and multimedia artist, Konstantin Kakanias, is the creator of the 62nd TIFF's posters, featuring the one-of-a-kind Ms Tependris, whereas the Festival's spots were directed by Manolis Mavris, awarded at the Cannes' International Critics' Week.
The festival will pay a valuable tribute to editing, titled "In the Cut: Editing and its Secrets", on one of the most pivotal stages of filmmaking. Nine top-notch editors from Greece and all over the world will share their valuable experiences with the audience in masterclasses and workshops: Yorgos Mavropsaridis, Oscar nominee for his work in the The Favourite; The Danish Anne Østerud and Janus Billeskov Jansen, regular collaborators of Tomas Vinterberg; Yannis Chalkiadakis, recipient of prestigious distinctions in major festivals; Raúl Mora, editor of the super-hit La casa de papel; Lambis Haralambidis, with a career ranging from Theo Angelopoulos' films all the way to the recent blockbuster Eftyhia by Angelos Frantzis; Serbian-American Roland Vajs, who has joined forces with directors such as Martin Scorsese, Ang Lee, Michael Moore etc.and Panos Voutsaras, with a rich Greek and international experience under his belt. Multi-dimensional American editor and film companion of Chantal Akerman, Claire Atherton. The Festival granted them carte blanche to select each one a film they considered iconic as to the art of editing or highly influential to their career.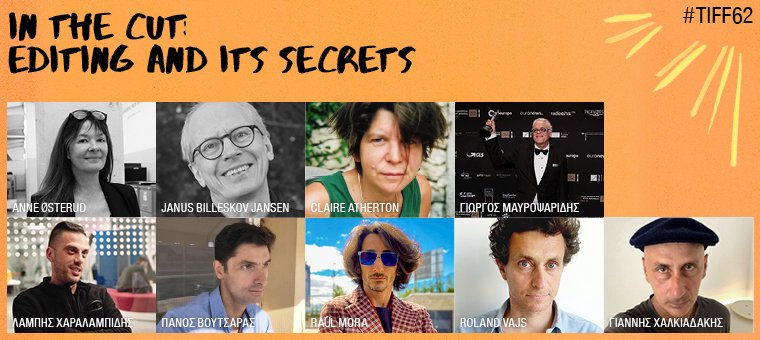 The 62nd TIFF will screen 35 full-length Greek films and 15 short Greek films of which 20 movies celebrating their premiere ("First Run");  3 movies that have already premiered in Greek cinemas ("A Second Viewing");  2 beloved films, universally accessible both in their physical and online screenings and 8 benchmark films of Greek cinema, within the context of the tribute "Motherland, I See You".
The following films will participate in the main program of the International competition: Pilgrims (Laurynas Bareisa, Lithuania, 2021, 92'), Clara Sola (Alvarez Mesen, Sweden-Costa Rica-Belgium-Germany, 2021, 106'), What do We See When We Look at The Sky? (Alexandre Koberidze, Georgia-Germany, 2021, 150'), Softie (Samuel Theis, France, 2021, 93'), Moneyboys (C. B. Yi, Austria-France-Taiwan-Belgium, 2021, 120'), Mother Lode (Matteo Tortone, France-Italy-Switzerland, 2021, 87'), White Building (Kavich Neang, Cambodia-France-China-Qatar, 2020, 90'), Silent Land (Aga Woszczynska, Poland-Italy-Czech Republic, 2021, 113'), True Things (Harry Wootliff, United Kingdom, 2021, 101'), Τhe Box (Lorenzo Vigas, Mexico-USA, 2021, 92'), The Rust (Juan Sebastian Mesa, Colombia-France, 2021, 83'), Holy Emy (Araceli Lemos, Greece-France-USA, 2021, 111'), Moon, 66 Questions (Jacqueline Lentzou, Greece, 2021, 109'), Pack of Sheep (Dimitris Kanellopoulos, Greece-Serbia-Albania, 2021, 113').
In addition, the following films will be presented within Meet the Neighbors competition: Bebia, à mon seul désir (Juja Dobrachkous, United Kingdom-Georgia, 2020, 118') Feathers (Omar El Zohairy, France-Egypt-Netherlands-Greece, 2021, 115'), The Tale of King Crab (Alessio Rigo de Righi, Matteo Zoppis, Italy-Argentina-France, 2021, 106'), Souad (Ayten Amin, Egypt-Tunisia-Germany, 2021, 102'), Vera Dreams of the Sea (Kaltrina KRASNIQI, Kosovo-North Macedonia-Albania, 2021, 87'), Mall Body (Laura Samani, Italy-France-Slovenia, 2021, 89'), Costa Brava Lebanon (Mounia Akl, Lebanon-France-Spain-Sweden-Denmark-Norway-Qatar, 2021, 108'), Erasing Frank (Fabricius Gabor, Hungary, 2021, 103'), Death of a Virgin and the Sin of Not Living (George Peter BARBARI, Lebanon, 2021, 86'), Dog (Yianna Americanou, Cyprus – Greece, 2021, 100'), The Man With the Answers (Stelios KAMMITSIS, Cyprus-Greece-Italy, 2020, 80') and 18 (Vassilis Douvlis, Greece, 2021, 94'). 
Moreover, the awarded films of the recent 44th Drama International Short Film Festival will also be screened at the 62nd TIFF.