I wish John Peel had been alive to listen to Wet Leg, because someone who has his grave marked with the phrase Teenage dreams so hard to beat would have lost his mind with this band, who have not delivered a typical debut album but one of those greatest hits albums that come out every so often, things like the debut of the Sex Pistols, Oasis, the Strokes or the Arctic Monkeys.
All of the aforementioned have had trouble getting over such a start, and Wet Leg may have the same problem, but what is clear is that, for once, we will have to contradict Public Enemy and believe the hype (or believe el Hype). The fact is that the hype band have proved that they are much more than that wonderful "Chaise Longue", the most refreshing song of 2021, and have debuted at number one in the UK, selling more records than the rest of the British Top 5 combined, which included new albums by Jack White or Father John Misty, as well as albums by superstars like Ed Sheeran or Olivia Rodrigo.
But, the best thing is that their success has not been a singularly British thing and they have achieved a great acceptance in other countries, being number one in Australia, as well as entering the Top Ten in countries like Germany, Belgium, Holland or New Zealand, although perhaps the most important thing is that they have also achieved a spectacular 14th place in the most coveted list of all, the American one, where it seems that their appearance in some of the most well-known Late Nights, like Jimmy Fallon's, Seth Meters' or James Corden's, has paid off.
The fact is that the success is totally deserved and Wet Leg have made it clear that they are much more than a viral phenomenon or a one hit wonder, something that we already sensed if we take into account that they had also given us great songs like "Wet Dream", "Angelica" and "Ur Mum", but the most important thing is that in the rest of the six songs that we had not heard the level is almost the same, being possibly their least successful song another of the ones that had been previewed to us, "Oh No".
Halfway between the emerging British post punk scene and 90s indie rock, with bands like the Breeders or Elastica, the debut of this duo of best friends is the most refreshing and addictive thing I've heard in years, one of those records that you play to your one year old daughter or your 80 year old father and they will receive it with a smile and be unable to stand still, having no idea what Rhian Teasdale is saying, despite the fact that here she proves to be a sharp lyricist.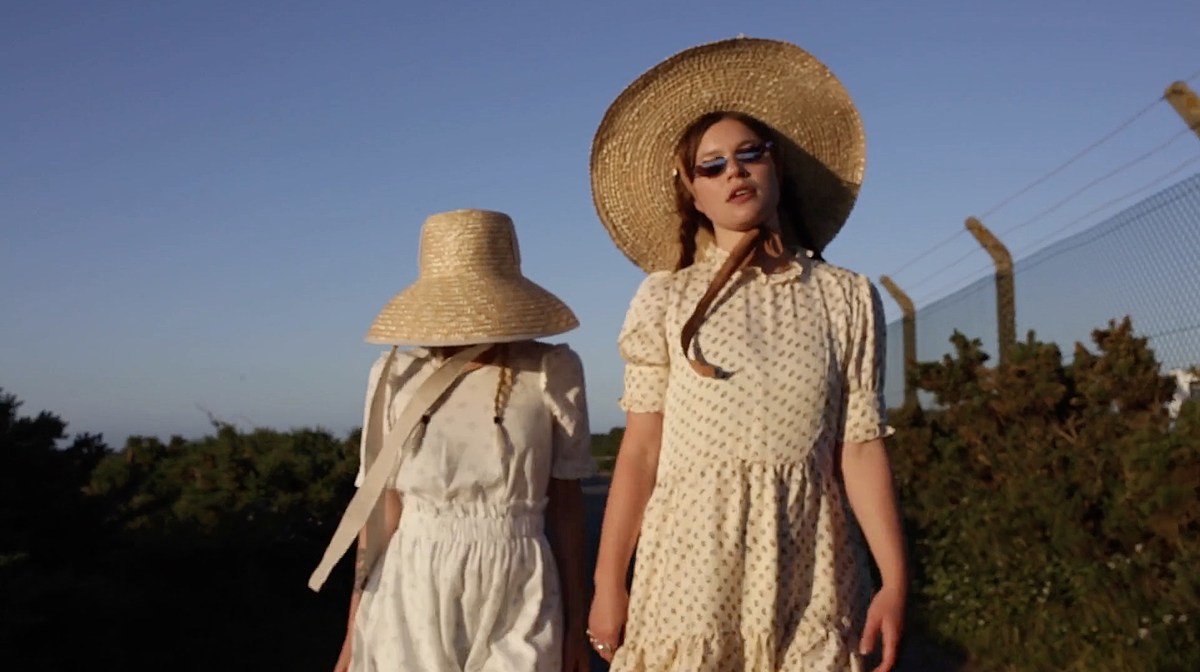 From the opening with "Being In Love" it's clear that the aces are falling out of their sleeve, also that this is a kind of break-up album but with a great sense of humour, somewhere between Tina Fey and Amy Poehler and a film by Edgar Wright, a director who is among their many celebrated fans, alongside the likes of Iggy Pop, Dave Grohl, Lorde and Elton John.
Then comes "Chaise Longue", one of those songs that will have to appear in all the best-of lists at the end of this decade, a new demonstration of everything that can be said and done with two chords, quotes from Mean Girls, a riff that serves as a hook and a chorus in which Chaise Longue is repeated ad infinitum. It may be a feminist anthem or a private joke, the only thing that is clear is that it is absolutely irresistible.
Next comes "Angelica", which if the previous one didn't exist would be my favourite Wet Leg song, absolutely infectious verses, a kind of psychedelic bridge, with echoes of early Cate Le Bon, and then a chorus with saturated guitars and monotonous vocals. On "I Don't wanna Go Out" they slow down for the first time, recalling the lo fi of early Liz Phair, from whom they also inherit their zero inhibition when it comes to talking about sex, while Hester Chambers riffs on Bowie's "The Man Who Sold The World", although they probably got it from Nirvana's version.
"Wet Dream" is so infectious it's impossible not to hum along, Teasdale has a great time poking fun at those guys who hit on lines like I've got Buffalo 66 on DVD. It's fun and catchy to say the least. The first side closes with Chambers taking the lead vocals for the one and only time, channelling his inner Angel Olsen, on "Convincing", with Teasdale providing some great backing vocals.
Then it's the turn of "Loving You", a beautiful farewell song in which Teasdale sings beautifully and brings out all the bile after a bad relationship I don't want to be friends anymore, I don't want to have to pretend, I don't want to meet your girlfriend, I hope you choke on your girlfriend. It's followed by the album's latest advance, the unstoppable "Ur Mum", with another totally accurate chorus and another winning video for Wet Leg.
"Oh No" is another critique of the parallel world of living inside our phone, again the guitars serve as the chorus, though it's also admittedly the least appealing song on the album. "Piece Of Shit" begins with a quiet acoustic guitar that opens up to another great track, while "Supermarket" could be the last single on the album, in another perfect song to be chanted out loud. The album closes with the strange and hypnotic "Too Late Now".
It's obvious that Wet Leg are not to everyone's taste and there will be those who think that these girls don't know how to play, that they are a joke or a marketing product (a very good one, knowing how popular guitars have become lately), but this may not be the album that will bring guitar rock back to the charts, nor is it necessary, as long as they prove once again that they can continue to make gold out of a formula that many consider to have been squeezed out of the ground.
It's not a revolutionary album by any means, but it makes up for it with songs so good and effective that nothing else matters, for 40 minutes they'll be able to make you forget the problems of the world and have a great time, which is something. It's time to get in your car, put on your record and head to your party, Angelica's got lasagne, there's bubble baths, it's full of toxic ex-boyfriends and they've got Buffalo 66 on DVD. Teenage dreams are so hard to beat….