Issur Danielovitch, known to all as Kirk Douglas, turns 100. One of the last living Hollywood stars, with the permission of Olivia de Havilland, who only a few months ago also reached her 100th birthday. Douglas has played more than ninety roles in his career, some of them well-known in masterpieces such as Ace in the Hole, Spartacus, The Vikings and The Bad and the Beautiful, but he has also been present in a number of rarities. These are films, some of them forgotten, that showed the most daring side of the Russian-born American actor, and here are five of them. A selection of titles that also help us to get to know Douglas' hidden interpretative side.
One of the most visceral film adaptations of a work by Jules Verne, and a pirate movie gone mad, which in many sections approaches the territory of the exploit. The Light at the End of the World is filmed almost entirely in Cap de Creus and Cadaqués (which simulates Argentinean Patagonia), and in it Kirk Douglas, who was already 55 years old, plays a lighthouse worker who must deal with the unexpected visit of a group of homicidal corsairs (among them our own Victor Israel and Aldo Sambrell) led by an unforgettable Yul Brynner. It's a sort of proto-Die Hard on a rocky island with Douglas playing a super-physical Bruce Willis-like lone hero. There's also a brief appearance by Fernando Rey.
Kirk Douglas liked to sing. We saw it in 20,000 Leagues Under the Sea with his unforgettable harpooner Ned Land. However, we never imagined that he would dare to star in a solo musical. And certainly not one based on Robert Louis Stevenson's The Strange Case of Dr. Jekyll and Mr. Hyde. In Dr. Jekyll and Mr. Hyde, originally broadcast on television and now a cult title, Douglas not only played both versions of the main character, but also sang and danced in the style of Fred Astaire. An absolute rarity, which should be urgently revived, also featuring Donald Pleasance, Michael Redgrave and Susan George.
A TV-movie directed by a specialist in the genre, Daniel Petrie, which presents one of the most controversial roles of Douglas's career; something that shows that the American actor was not afraid of challenges. A schoolteacher with the nickname of mousey, humiliated and neglected by everyone, who ends up becoming a psychopath when his wife and son abandon him. Mousey is a dark and rather brutish film that in its final stretch becomes a convincing home invasion with a Hitchcockian feel. Incidentally, Douglas' character is a cross between Glenn Close in Fatal Attraction and Michael Douglas in Falling Down.
There was a time when the Italians were the best when it came to remaking American blockbusters, increasing in the process the doses of delirium that the original might have had. And Holocaust 2000 belongs to that era and category.  Alberto de Martino's film took Richard Donner's The Omen as its starting point to propose its own version of the coming of the son of the Antichrist, with Kirk Douglas playing the long-suffering father of the beast, Gregory Peck-like. Our man, as in all the films he has been in, gave himself blindly to de Martino's cause. This is evident in one of the film's craziest scenes in which Douglas appears totally naked.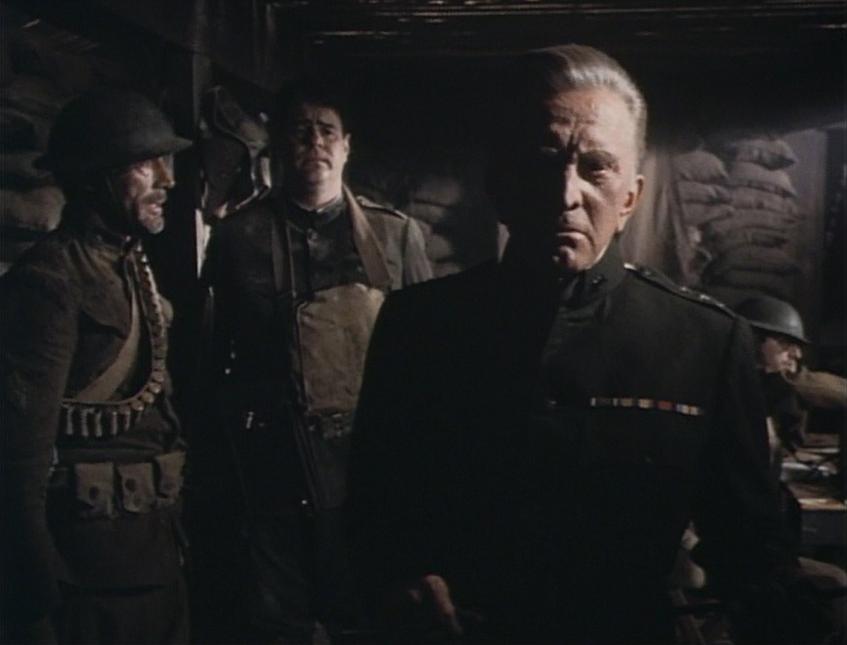 Yes, Kirk Douglas was in the horror TV series Tales from the Crypt. And he was in one of the best episodes of the third season. An episode that came to be a twisted and very slimy re-reading of Stanley Kubrick's Paths of Glory, also starring Douglas. Directed by Robert Zemeckis and with a loose budget (the war scenes are mind-blowing), Coward pits a heavy-handed general (Douglas, now 75) against his son, a cowardly lieutenant (Eric Douglas, our protagonist's real-life offspring. He died of a drug overdose in 2004) who must face a court martial.
This article was first published on 8 December 2016 in Spanish.