Although die-hard Woody Allen fans would have us believe that the New York director has a rhythm of one masterpiece a year, the reality is different. Since he started this crazy and prolific pattern in the eighties, the director of Bananas has delivered a good number of minor films, which have shaped a filmography with ups and downs; the usual for a filmmaker with such a long career, capable of polishing premieres and shootings at lightning speed -he is now approaching fifty titles and has just filmed a six-episode TV series.
Allen's latest film, Café Society, could go on the list of his lesser works. It does, however, belong to the group of lesser works that aspire to be of the highest quality, which is why it appears in this selection of five films, in which we vindicate the hero's B series, after Annie Hall.
Everyone Says I Love You (1996)
A clear example of a minor work of many carats. This homage to the classic Hollywood musical and those of Jacques Demy, almost a guilty pleasure, also works as a romantic comedy full of charm and generous in tongue-in-cheek. What's more, it allowed us to see for the first time how Edward Norton, Julia Roberts or Tim Roth dared to sing and do a few – awkward – dance steps. The choreographies in Everybody Says I Love You were not particularly difficult or kitschy, but that was something we wanted to see. A demodée and relaxed, delicious sensation, with an unforgettable final touch: the dance between Woody Allen and Goldie Hawn on the banks of the Seine.
Celebrity (1998)
The critics were very critical at the time, but this is one of Allen's funniest films of the nineties, a small respite after the formal and meta-generic experiment of the excellent Deconstructing Harry. The New Yorker's alter ego is here Kenneth Branagh, a frustrated novelist in the throes of divorce who tries his luck in society journalism. Starting from this premise, Celebrity portrays the world of show business and the world of the couple with considerable vitriol, offering several memorable scenes. For example, the sequence in which a prostitute, banana in hand, teaches Judy Davis the art of performing a good fellatio. Or the whole courtship between Branagh and a somewhat eccentric model, played by Charlize Theron.
Small Time Crooks (2000)
Another minor pearl with a feature of its own: it is a happy homage to Mario Monicelli's Rufufufu (1958). The half-witted rogues of the title, led by Allen and his wife, a fantastic Tracey Ullman, open a front shop selling homemade biscuits with the intention of robbing a bank next door to the shop. Surprisingly, the sweets end up causing a sensation in New York, something that will make them millionaires. The scene of the botched robbery or the presence of an amusing Hugh Grant as an art dealer who tries to seduce Ullman with his upper-class charm, make the film one of those classic small-scale comedies that gain in popularity over the years.
Magic in the Moonlight (2014)
It is one of the least appreciated films of the last Allenian period, but it has something special: the recovery of the spirit of classic screwball comedy. The battle of the sexes as seen by Howard Hawks and Preston Sturges. Magic in the Moonlight, moreover, presents one of the best versions of Emma Stone, who shines as a false medium determined to convince a sceptical Colin Firth. Two polar opposites, characters with antithetical attitudes to life who, ironically enough (those that Allen loves so much), end up falling in love. The air of light comedy, of divertimento, that the whole thing exudes plays in its favour. In time it will be appreciated as it deserves to be.
Café Society (2016)
Well, Café Society is a minor work in the New Yorker's filmography and that's why we include it here, a love and existential comedy of entanglements with classic Hollywood in the background. But beware, it is a film full of brilliant details that make it stand out among the Allenian B series. First, the excellent cinematography by Vittorio Storaro in his first collaboration with the director of Manhattan, something that breathes new life into Allen's handcrafted style. Secondly, the cast, headed by a luminous Kristen Stewart, Jesse Eisenberg as Allen's impersonation and a restrained Steve Carell, and a line-up of scene-stealing supporting players: Parker Posey, Ken Stott and Jeannie Berlin. And thirdly, for the bittersweet, melancholy tone of the story. The elegant and restrained ending with which it concludes is one of the best in the Brooklyn filmmaker's filmography.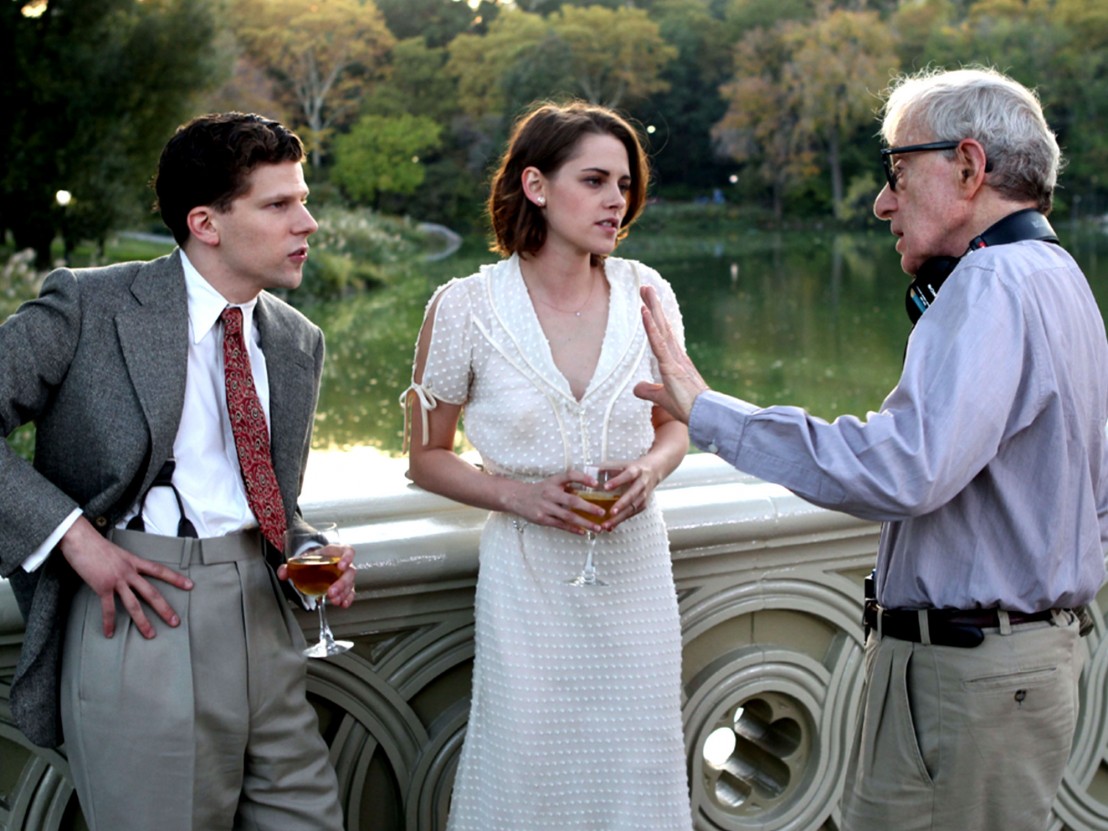 This article was first published in El Hype on 26 August 2016.