The Un certain regard section of the Festival de Cannes began its journey in 1978, as an initiative of the newly elected general delegate of the festival, the previous year, Gilles Jacob, a position held by the ubiquitous and charismatic Thierry Frémont since 2004. Un certain regard brings together films by directors with sufficient value to aspire to international recognition, in one of the most prestigious forums in the world, being for most of them a launching pad to opt for the Official Selection with innovative films. Every year the selection raises some controversy about established directors present in Un certain regard who would have deserved to compete for the Palme d'Or in the Official Selection and not for the award that was instituted in 1998.
The jury chosen to evaluate the films of Un certain regard in 2022 is chaired by Italian actress Valeria Golino, who succeeds director Andrea Arnold, president in 2021. Her colleagues will be Venezuelan actor Edgar Ramirez, singer and actor Benjamin Biolay, director Debra Granik and actress Joanna Kulig.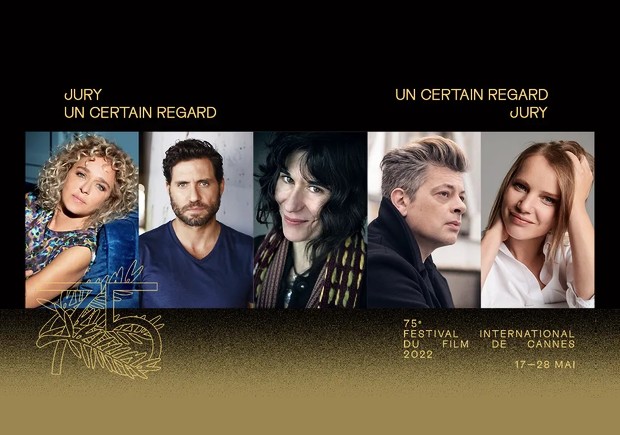 The 75th Festival de Cannes has selected twenty films for this section, which will be inaugurated by Mathieu Vadepied with his Father and Soldier, eight of which are debut films:  Les pires, by Like Akoka and Romane Gueret, Metronom by Alexandru Belc; Plan 75, by Hayakawa Chie; War Pony by Riley Keough -the leap behind the camera of the star of Under the Silver Lake-, Butterfly Vision, by Russian Maksim Nakonechnyi, Harka by Lofty Nathan, Rodeo by Lola Quivoron and Joyland, by Saim Sadiq. The other films to be screened between May 17 and 28 at the Debussy Theatre are as follows: Burning Days, by Emin Alper, More than Ever, by Emily Atef, Sick of Myself, by Kristoffer Borgli, All the People I'll Never Be, by Davy Chou; Ariel Escalante will premiere Domingo y la niebla, which will be the first Costa Rican and Central American film in competition in the festival's history, competing against Corsage, by Marie Kreutzer, The Stranger by Thomas M. Wright, Godland by Hlynur Pálmason, The Silent Twins by Agnieszka Smoczynska and The Blue Caftan by Moroccan Maryam Touzani.
The films to be screened out of competition this year are headed by Top Gun: Maverick (Joseph Kosinski, 2022), the sequel to the iconic film that will be presented by Tom Cruise, who was already at the Festival on May 18, 1992, presenting Ron Howard's Far and Away at the closing session of the 45th edition and presenting the Palme d'Or to Bille August. Thirty years later, on May 18, 2022, he will receive a tribute award for his entire career and will hold a masterclass-talk with Didier Allouch.
The Festival will also pay tribute to Forest Whitaker, guest of honor who will take over the torch from Jodie Foster, who received it in 2021. The actor first came to the festival 34 years ago, as he confessed, leaving a mark on his career highlighted by six films present at the event over the years. The recognition will be sealed with an honorary Palme d'Or and the screening of For the Sake of Peace (Christophe Castagne and Thomas Sametin, 2022), among others in the Special Screenings section, which includes Jerry Lee Lewis, Trouble in Mind (Ethan Coen), The Natural History of Destruction (Sergei Loznitsa), the documentary Mi país imaginario (Patricio Guzmán) and Jasmine Trinca's debut feature Marcel!
Cruise's film is presented out of competition, as well as Baz Luhrmann's eagerly awaited Elvis biopic, in which the King is played by Austin Butler, Nicolas Bedos' Masquerade, Cédric Jiménez' Novembre, George Miller's Three Thousand Years of Longing, starring Idriss Elba and Tilda Swinton, and Louis Garrel's L'innocent.
The Spanish presence in competition, headed by the inclusion in the Official Selection of Albert Serra's Bora Bora, is completed with four more films. Rodrigo Sorogoyen's As Bestas will be screened in the Première section, rubbing shoulders with Marco Bellocchio and his Esterno Notte, Oliver Assayas, who presents some chapters of the Irma Vep series-remake, Parros H. Koutras and Dodo, as well as Rachid Bouchareb, whose Nos Frangins will be screened. The section is completed with Serge Bozon's Don Juan, Dominik Moll's La nuit du 12 and Emmanuel Mouret's Diary of a Fleeting Affair.
The Stockholm director's film stars Marina Foïs, Denis Ménochet, Diego Anido and Marie Colomb and was shot in three languages (Spanish, Galician and French) in various areas of the Spanish region of Bierzo. This Franco-Spanish co-production will reach Spanish screens through the distribution company A contracorriente. On the other hand, director Elena López Sierra will make her feature debut in the Directors' Fortnight with her film El agua; and in the short film section of the Critics' Week, Nisam Je Stigao Vojeti, by Anna Fernández de Paco and Cuerdas by Estíbaliz Urresola Solaguren will be screened.
The Cannes classics program offers restorations of classic films, as well as contemporary documentaries about films. And in this 75th edition the copy of Jean Eustache's controversial La maman et la putain (1972), which won the Grand Prix in 1973, accompanied by considerable controversy, undoubtedly stands out. The film will be shown again commercially in France on June 8. The Cannes screening will be presented on May 17 by Boris Eustache, Françoise Lebrun and Jean-Pierre Léaud, the film's star.
The program also includes films by Vittorio de Sica (Sciuscià, 1946), Styajit Ray (Pratidwandi, 1970) representing India, chosen this year as the country to be honored at the Marché du film; Orson Welles (The Trial, 1962), Glauber Rocha (God and the Devil in the Land of the Sun, 1964) or Fernando Arrabal (Viva la muerte, 1971). In the selection we will also enjoy two great musicals of very different styles: the remastered edition in 4K for the 70th anniversary of Singin' in the Rain (Gene Kelly, Stanley Donen, 1972) and The Last Waltz (Martin Scorsese, 1978).
Among the documentaries to be seen in this section is the one directed by Ethan Hawke, The Last Movie Stars, which focuses on the figures of Paul Newman and Joanne Woodward. Produced by Scorsese and presented by HBO and CNN in a six-episode format, it will show two (three and four) on La Croisette, having already premiered the first at the SXSW festival. Throughout the series, actors and directors such as Georges Clooney, Oscar Isaac, Zoe Kazan or Sam Rockwell will gloss one of Hollywood's most respected couples for decades. Other documentaries will also star Romy Schneider (Romy, a Free Woman, Lucie Cariès) and Jane Campion (Jane Campion, Cinema Woman, Julie Bertuccelli), in a program that includes Spanish director José Luis López-Linares with L'ombre de Goya par Jean-Claude Carrière.
Evening screenings on the beach, enjoyed from a canvas lounger, are joined by midnight sessions, including Lee Jung-Jae's debut with Hunt, and the films Smoking Causes Coughing (Quentin Dupieux), Moonage Daydream (Brett Morgen) and Rebel (Adil el Arbi, Bilall Fallah).
The eagerly awaited meetings of actors and directors with the public, which in previous festivals have featured Clint Eastwood, Gary Oldman or Steve McQueen, will star Javier Bardem, Agnès Jaoui, Mads Mikkelsen and Alice Rohrwacher in the next edition. On the other hand, the Festival de Cannes has announced the very welcome decision to change the name of the Salle Soixantième -so called because it was inaugurated at the 60th edition- to Agnès Varda. The director who defined herself as I am not a woman filmmaker, I am a filmmaker presented her films at Cannes on thirteen occasions within the Official Selection, was a jury member in 2005 and presided over the Caméra d'or jury in 2013. Her words upon receiving the Palme d'honneur in 2015, which she dedicated to all creative and daring filmmakers, to those who create original cinema, fiction or documentary, who are not in the foreground, but keep moving forward, still resonate as one of her filmed manifestos, as they evoke resistance and resilience, rather than honor.