Stan Getz was called "the Sound" because what came out of his saxophone was pure musical ambrosia, blue velvet, melted chocolate, a sound as recognisable as any singer's voice, a perfect tone that almost any saxophonist would have died for. Even the guy who replaced him as the greatest tenor saxophonist of his time, John Coltrane, went so far as to say: Let's face it, we'd all sound like Stan if we could.
How is it possible that the guy who was the image and sound of cool music and the whole West Coast scene in the 50s has been practically forgotten? And I say practically because some people still remember him for his bossa nova recordings that made the genre a worldwide phenomenon, although that is only a small part of the immense career of this jazz giant who started out as one of Lester Young's many imitators and ended up becoming one of the most influential saxophonists of all time.
Stanley Gayetzki was born in Philadelphia in 1927, but as a child his parents moved to the Bronx in New York. Living in such a neighbourhood, and also being Jewish, got little Stan into a lot of trouble, the only thing that distracted him from the mean streets of New York was his enormous passion for music. His facility for it was prodigious, and when a harmonica fell into his hands he didn't take the instrument out of his mouth until he had mastered it completely. His family did not have much money, but his father decided to buy him, at the age of 13, the only instrument they could afford, a saxophone. Again Getz did not stop until he made it an extension of his body. His absolute idol was Lester Young, the saxophonist in Count Basie's band, whose cool, laid-back style completely fascinated him.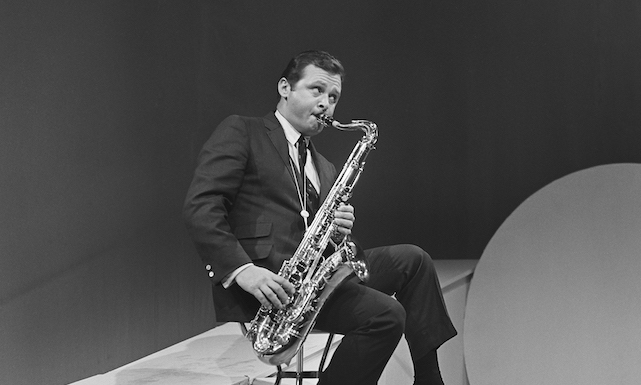 In 1943, at the age of just 16, he joined Jack Teagarden's band, the trombonist was the great mentor of his career, both musically and in terms of the bad habits that came with being a jazz musician, It was a very good introduction to professional music for me. Teagarden was a great musician. His playing is timeless, and it makes sense. He adopted me and taught me a lot, especially how to bend my right elbow. After nine months in Teagarden's band Getz was already a drunkard and a chain-smoker, but when he joined Stan Kenton's orchestra in 1945, heroin entered his vein for the first time and he would not be able to get it out of his system for decades.
Kenton was quickly dumped, unable to stand the orchestra leader saying that the music of his idol, Lester Young, was simple, nobody messed with Lester in Getz's presence. Before long he was playing alongside the man who put a face on the swing era, Benny Goodman. His first recorded solos date from this era, including one on "One O'Clock Jump", one of the songs on which Young shone. You can still see his enormous imprint, but also that the young man is acquiring a voice of his own. After a performance in one of the bars on 52nd Street, Lester Young passed him and went to the dressing room, Getz didn't hesitate and followed him, once in front of him he said the first thing that came to his mind Hello, it's a pleasure… I love you, Young, who was known to speak in his own slang, stared at the young white boy and answered him: Nice eyes, Pres (that's what they called Young himself), keep it up and he got the hell out of there. In ten years the master would be complaining that his disciple was taking all the money….
Of course, although Young was his greatest inspiration, he wasn't the only one. To hang out in the joints of the 52 in the mid 40s was to be in the Promised Land of Be Bop, and to be able to cross paths with and listen to its apostles and its absolute God, Charlie Parker. Maybe some of the old guard didn't like the bebopers, but Getz, at the age of 18, was absolutely fascinated, he even went to the jams where they played, but only the older ones like Ben Webster or Erroll Garner would let him on. Getz was clear that it wasn't any kind of racial discrimination, if in 1945 he had gone up there with Bird or Dizzy they would have swept him off the stage.
But when, in 1947, Woody Herman decided to add the four brothers to his orchestra, four saxophones, three tenors and a baritone, playing in the light, vibrato-heavy style of Lester Young, Stan Getz was already reaching his prime: Al Cohn, Zoot Sims and Serge Chaloff, the baritone, as well as Getz himself. In 1948 he would record a celebrated song composed by Herman and Ralph Burns, "Early Autumn", which featured Getz as the lead soloist. Overnight that recording made him a star, his lyricism and incredible melodic ability propelling him to the top. In 1949, spurred by his performance of "Early Autumn", he was voted the best tenor saxophone player by the readers of Metronome magazine, placing second in the bible of the genre, DownBeat.
In 1950 he began his solo career, assembling his first band and signing to the Roost label, where some of his best recordings can be found. In May of that year he entered the studio with Al Haig on piano, Tommy Potter on bass and Roy Haynes on drums, it wasn't just any band, it was Charlie Parker's band. Their chemistry was very good, especially with the drummer, with whom he would record some of the best albums of his career. Among the songs they recorded, the most outstanding was the beautiful "Yesterdays", the perfect blend of emotion and intellect, the essence of Getz the balladeer, pure beauty of tone mixed with abstractions typical of classical music.
Later that year he demonstrated his keen ear for spotting other people's talent.  At a gig he spotted the band of unknown pianist Horace Silver and decided to sign them as his backing band, a relationship that would last a year, after which Silver would become a legend in his own right. The pianist would not forget the time and opportunity lent to him by Getz, Playing with him for that year made me realise what a great musician he was. You don't get someone like that every day. He could play in any key with fluidity, any tempo, and he covered his saxophone from top to bottom. He played the high notes and the low notes with ease. He was a great musician. Of course, he also knew his dark side, and when Stan Getz drank too much or was stoned, it was better not to be around him, one moment he was smiling and the next he was insulting someone. As one of his colleagues in Herman's time, Zoot Sims, described him, Stan is a very nice bunch of people.
In 1951 he gave a historic performance at the Storyville in which he demonstrated that his assimilation of the bop idiom was total, without losing his warmth and lyricism, by which time the guitarist Jimmy Rainey was already in his band, with whom he had a wonderful rapport. In 1952 he recorded, together with another guitarist, Johnny Smith, "Moonlight In Vermont", another of the great hits of his career. Despite being a session in Smith's name, the song became so associated with Stan Getz that it was the only one he always had to play at his concerts. Its tone was silky smooth, pure romanticism, I can't say with absolute certainty but I'm convinced that 1953 was a year with many births related to this song…
Precisely that year Getz was arrested for possession of narcotics and even spent a couple of months behind bars, which did not prevent him from returning to being the favourite tenor saxophone player of the public and critics in the DownBeat and Metronome surveys of the year. And despite the fact that he was still an addict full of inner demons, as soon as he put the reed of his saxophone between his lips all his problems were forgotten. Listening to him play was the equivalent of watching Fred Astaire dance, there may have been other musicians, and dancers, more physical, but no one could beat the elegance personified by the two of them.
Of course, Getz could also play hot and blow the roof off the stage. At the end of '53, Dizzy Gillespie himself invited him to play on a record and surrounded him with the most exceptional musicians possible: Oscar Peterson on piano, Ray Brown on bass and Max Roach on drums, they began with a Duke Ellington classic, "It Don't Mean a Thing (If It Ain't Got That Swing)", with Diz playing at the devilish speed only he could, but Getz didn't flinch and joined in on the melody in unison with Gillespie, unfazed by the tempo, even playfully imitating Diz's devilish trumpet. That's called knowing the literature, Getz said, they thought they were going to show the White Hope what it was all about. There was no way to sweep him off the stage now….
In 1955 and 1956, appeared records like West Coast Jazz and The Steamer, showing that he was the leader of the cool West Coast scene, which also included names like Gerry Mulligan, Art Pepper and Chet Baker, but nobody doubted that Stan Getz was number one. In 1956 on the East Coast, Sonny Rollins, with a style halfway between that of Charlie Parker and Coleman Hawkins, began to take off like a rocket. Getz and Rollins would become the models for all the new generations of saxophonists, imitating the rivalry, albeit much more affectionate, that their idols, Hawkins and Young, had had 20 years earlier.
In 1957 he released great records with the likes of Gerry Mulligan, Oscar Peterson and J.J. Johnson but his drug problems continued to make his personal life a disaster, in 1954 he was arrested again for robbing a pharmacy in search of morphine, his third child was born while he was on trial. In 1956 he separated from his wife, also an addict, and was on the verge of suicide. A judge granted him custody of his children and he went to live with his second wife, Monica Silfverskiöld, who convinced him to move to Denmark in 1958, a country with much more difficult access to drugs.
Stan Getz stayed in Europe for three years, his fame continued to hold out for a while, Getz was voted best tenor saxophone player from 1950 to 1959 by DownBeat readers, but the brutal appearance of John Coltrane with A Kind Of Blue and Giant Steps left him totally out of the picture. The curious thing is that the two would coincide in 1960, specifically on 28 March 1960, the first time in Europe for a Coltrane who was travelling as part of Miles Davis' quintet, alongside Winton Kelly on piano, Jimmy Cobb on drums and Paul Chambers on bass. The saxophonist had reluctantly agreed, already anxious to lead his own group, but Davis would reward him by giving him a soprano saxophone which he would put to very good use the following year.
The fact is that when they arrived in Germany, Davis was ill and someone thought it would be a good idea to bring Getz over. Bless him, whoever thought of it, we have the two leading tenor saxophones of their time, together with Sonny Rollins, playing with each other, at the very moment when the sorpasso was taking place, that same year John Coltrane was the tenor saxophone most voted by DownBeat readers, after a decade of victories by Getz…
The fact is that the performance is a delight, first they play a medley with "Autumn Leaves", "What's New" and, of course, "Moonlight in Vermont", Winton Kelly takes the first solo on the piano, it's a marvel, then Coltrane enters, his solo is magnificent, strong, investigating the harmony, pulling the rhythm section, giving notes that only he knew, finally Getz appears, soft and sweet, creating perfect melodic lines, they are two totally different and unique styles.
Then Oscar Peterson replaces Kelly on piano and begins to play "Hackenshack", the two saxophones come in at the same time and begin to trade solos, "the sound" and "the layers of sound" face to face, there is no rivalry, just pure mutual admiration. Even so, something begins to boil inside the competitive Getz, in Europe there are no musicians of such quality to play with, he thinks he is getting rusty, so in 1961 he ships his whole family to the USA.
As soon as he arrives he will deliver two of the best albums of his career, Recorded Fall 1961, with trombonist Bob Brookmeyer, which features his incredible interpretation of "A Nightingale Sang in Berkeley Square", one of the songs that must be played by anyone who wants to hear the most beautiful tone of jazz, and Focus, the favourite album of his own career, a suite written expressly for him by composer and arranger Eddie Sauter, full of sumptuous strings indebted to Béla Bartók over which Stan Getz's saxophone floats, accompanied by the faithful Roy Haynes on drums.
It was a real marvel, much more experimental and modernist than the typical string album, its credibility was fully restored but its fame was dissolving in the face of Coltrane's drive and Ornette Coleman's new forms. Everything would change the following year when early in the year guitarist Charlie Byrd introduced him to a new music coming out of Brazil, bossa nova. Soon they were both in the recording studio working on Jazz Samba, the album that would give him his biggest hit to date, thanks to his wonderful version of Antonio Carlos Jobim's "Desafinado".
The fact is that this music was a perfect match for his smooth and sensual style, and soon they were recording a follow-up, Jazz Samba Encore!, with guitarist Luiz Bonfá, and another called Big Band Bossa Nova. It all came to a climax when his wife convinced him to record with the original authors, Jobim and Joao Gilberto. Getz was not convinced because he had heard that the Brazilians had a reputation for being difficult, to which his wife replied that he had better not think of the fame he himself must have.
This was the beginning of one of the most famous and important albums of all time, Getz/Gilberto, which would find its greatest success by chance. It had been decided that one of the songs, "Garota do Ipanema", would be translated into English to make it more commercial, but Joao Gilberto was not at all good in that language, so it was decided that his wife, Astrud, who had never sung professionally in her life, would take over the English part, her languid voice going perfectly with Getz's melancholic sax and making "The Girl From Ipanema" a worldwide hit, unleashing bossa fever everywhere.
But the album went far beyond his best-known song, being one of the best in jazz history and representing one of the high points of Stan Getz's career as a musician, although the saxophonist was cornered by the success of his bossa records and would end up disowning them, as in his opinion they had buried his entire previous career and threatened to end his future one. So much so that the fabulous Nobody Else But Me, an album he recorded in 1964 which contained wonderful versions of "Summertime" or the title track, was buried until 1994 so as not to interfere with the sales of his bossa records.
In the end Getz moved away from bossa and decided to go his own way, in 1967 he recorded the remarkable Sweet Rain, with a young Chick Corea on piano, Grady Tate on drums and the great Ron Carter, from Miles Davis' second great quintet, on bass. It is clear that Getz is still under the spell of Coltrane, but he does not seek to imitate him, but remains faithful to his sound, light as a feather, but capable of enormous outbursts. Despite the inclusion of a Jobim track, the album has little to do with bossa and sees the saxophonist very comfortable among a new crop of young musicians, updating his sound but without losing his essence.
The album was released in July 1967, the same month that John Coltrane died. Stan Getz continued to release interesting works during the following decades, even flirting with fusion, but his best moments on saxophone were already behind him. He did not find peace until the last year of his life, having fallen back into his old addictions as soon as he set foot on American soil.
His son Nick is the one who best explained that duality between the musician and the person, between the guy who could create the most beautiful sound and the guy who would do anything to get the next hit, My dad was the nicest guy when he was sober. He had a great sense of humour and was very intelligent and funny. However, as soon as drugs and alcohol reached his lips, he became a violent monster. Sometimes he would arrive late for gigs, sweating profusely and with bloody knuckles from who knows what. But as soon as he picked up the saxophone, the demons disappeared instantly. Stan Getz may have been happy just making music, but that music has made thousands of people all over the world dream…