I can't help but watch Bones and All with the present memory of the lost young characters of We Are Who We Are (Luca Guadagnino, 2020). In the series they wander around Chioggia – so close to this Lido where it premiered at the Venice Film Festival – between the American military base and the beach, along their forays through abandoned mansions and village parties. This gang that begins to glimpse adulthood tries to identify a hunger that gnaws at their guts, they make mistakes, they dare, and finally they manage to satiate it, at least momentarily. Similarly, Maren (Taylor Russell) and Lee (Timothée Chalamet) do their best to enter the world by breaking rules, creating them when necessary. However, the two young adult protagonists of Luca Guadagnino's new film are a step ahead of them, because their circumstances force them into a literally heartbreaking maturity, and the director of Call Me By Your Name's approach is equally relatable and empathetic, no matter how bizarre they appear to be.
This romance wrapped in horror, whose protagonists are both innocent and monstrous, is as delicate as it is piercing, establishing a seemingly irreducible antithesis between poetry and reality, carnage and pure feelings. In this bloodbath, the motivation and the curse that, to their regret, their protagonists suffer keeps us in an inner tension as intense as uncomfortable, and at the same time subjugating, so well resolved that we cannot but accept it, surrender and even feel a no less distressing empathy.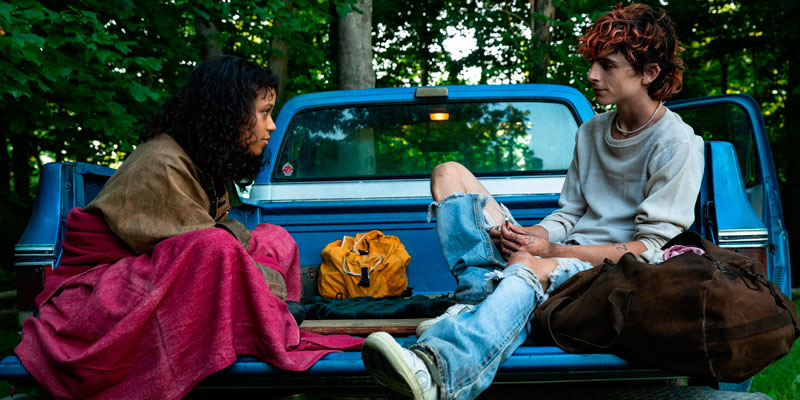 Maren grows up without her mother and is later abandoned by her father, while Lee's family history is no more orthodox. However, in her coming of age this is not a fact common to other similar situations, since it is intrinsic to the core of her conflict. The need for acceptance from his environment, the confrontation with parents and the rite of passage involved in killing the father, as well as the search for affinity with his peers is captured in Bones and All in the most stark manner. If your father is satisfied that you haven't fatally choked on your babysitter's earring when you start eating her by the neck, and he's as quick to prepare moves as you are to take a bite out of your new best friend, you can't doubt that he's accepted you, but probably the hardest thing is for you to accept yourself.
At the end of adolescence, the difficulty of getting to know each other, which sometimes never really leaves us in a lifetime, marks the growth of Maren and Lee, who are at different stages of maturity and already know for sure that they are different from the others. The road movie format – with an almost fairy-tale structure – serves Guadagnino to show the characters that appear along the yellow brick road, each with a mission, a message to bring to the travelers. Among them, there will be opportunists, false friends or well-intentioned people who cannot be trusted, as in life itself, where an affinity that we consider distinctive of our personality is not enough to create a definitive bond. Neither a different ability nor a shared superpower overrides the rest of the characteristics that make us who we are, which is why the relationship that unites Maren and Lee is a miracle of purity within its fatality. The most overwhelming romanticism allies with horror magically, in a film that is a priori very difficult to turn into something beautiful and sensitive, to which we surrender, subjugated.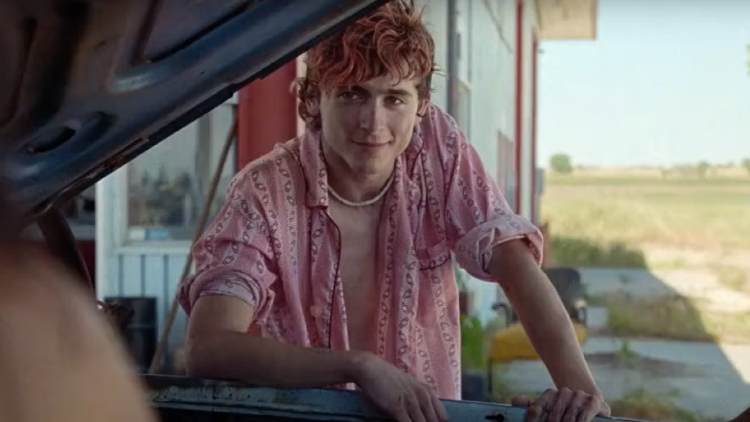 We have seen shoot-em-up romances, contemporary Bonnies and Clydes, bromances wrapped in blood and revenge, but what Guadagnino offers us is a struggle against oneself, while walking the path of acceptance. This, on the other hand, includes integrating into your life another who is precisely a reflection of what you hate about yourself, while at the same time attracting and assisting you with total loyalty. The chemistry between a perfect Chalamet and a minimal Russell is absolute, essential so that the verisimilitude is not questioned and acquires a depth, in which we can perceive their emotions and not only their complicity. As we are used to, the director carefully chooses his settings and the art direction is brilliant, to wrap his hopeless characters between peeling walls and kitchens that fall apart, to show us a precariousness that corresponds to the worst of Reaganism, in a context as hostile as possible for survival, amplifying their affliction.
Guadagnino's horror is sharp, with a gore that is not stylized and at the same time very personal, we believe it all, we look away from the screen and at the same time we feel the surrender of love that reaches the ultimate consequences, soaked in that romanticism that does not conceive this without death, because it is in the territory beyond the limits where it can reveal itself completely, bones and all.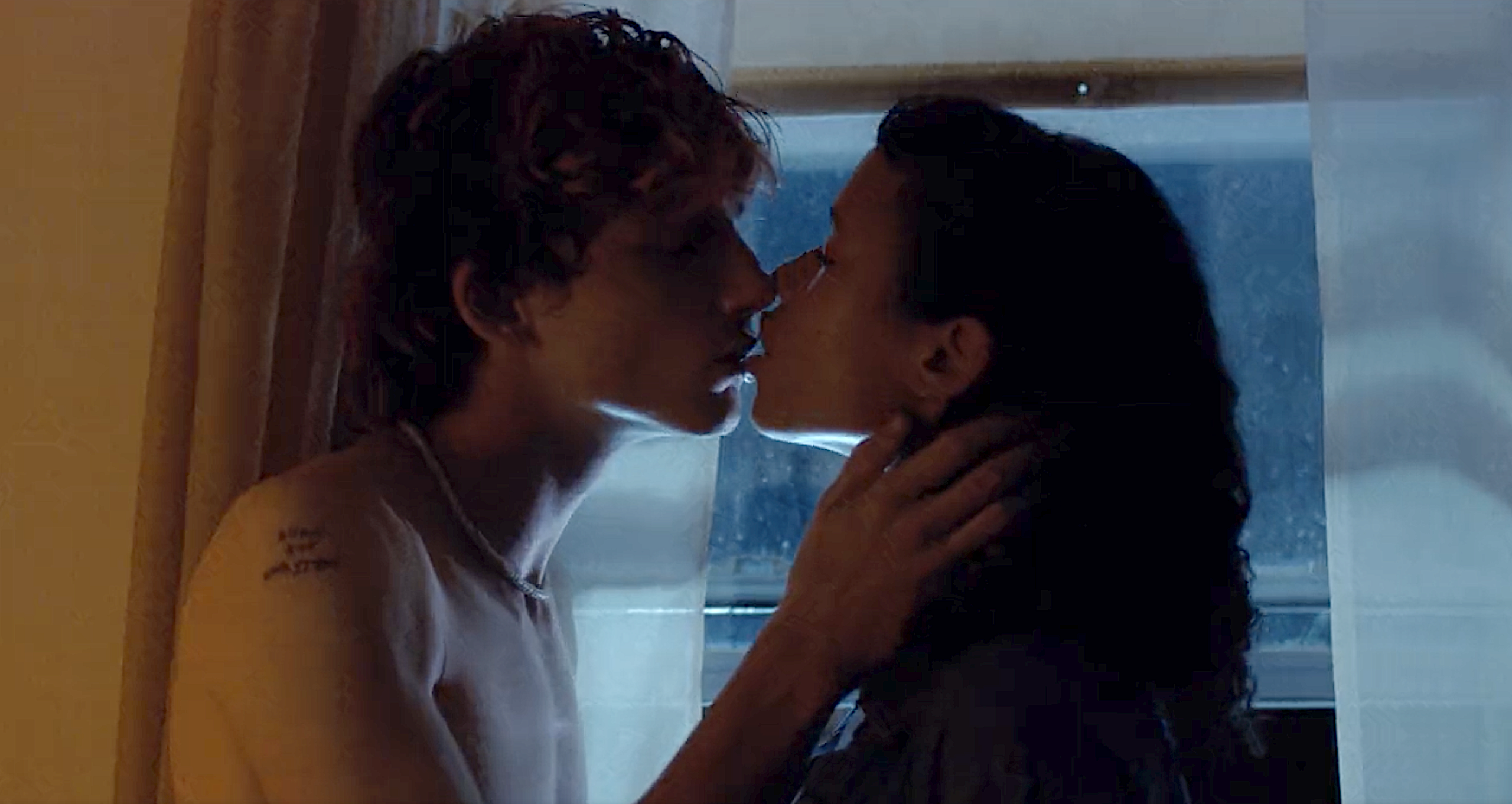 La más original de las coming of age del director, que el guionista de Suspiria, David Kajganich, adapta de la novela de Camille DeAngelis, presenta una vez más un  cuadro de actores deslumbrante, donde los adolescentes o jóvenes protagonistas están arropados por las interpretaciones extraordinarias de adultos que merecerían un spin off. Guadagnino vuelve a contar con una fantástica Chloë Sevigny —y también con Francesca Scorsese de We Are Who We Are—, y un irreconocible Michael Stuhlbarg, cuyo monólogo en el bosque, acompañado por el director David Gordon Green, aún supera el de Call me By Your Name. En sus palabras encontramos el significado del título del filme, en suma, el momento en que sabremos que hemos dejado de buscar. En el reparto encontramos también a Jessica Harper, y por encima de todos a Mark Rylance, en un papel soberbio que dota de una desasosegante y difícil verosimilitud. El capítulo musical es siempre relevante en las películas de Guadagnino, en este caso, a cargo de Trent Reznor y Atticus Ross, pero si algo tuviéramos que reprochar al filme sería quizá que la banda sonora subraya en exceso, innecesariamente e incluso irritablemente en algunos momentos, de forma contraproducente en un filme destacable en tantos aspectos.
The most original of the director's coming of age films, which Suspiria screenwriter David Kajganich adapts from the novel by Camille DeAngelis, once again presents a dazzling cast of actors, where the teenagers or young protagonists are supported by the extraordinary performances of adults who would deserve a spin-off. Guadagnino returns with a fantastic Chloë Sevigny -and also with Francesca Scorsese from We Are Who We Are-, and an unrecognizable Michael Stuhlbarg, whose monologue in the woods, accompanied by director David Gordon Green, still surpasses that of Call Me By Your Name. In his words we find the meaning of the film's title, in short, the moment when we will know that we have stopped looking. In the cast we also find Jessica Harper, and above all Mark Rylance, in a superb role that endows a disturbing and difficult verisimilitude. The musical chapter is always relevant in Guadagnino's films, in this case, in charge of Trent Reznor and Atticus Ross, but if we had something to reproach the film would be perhaps that the soundtrack emphasizes excessively, unnecessarily and even irritatingly in some moments, counterproductively in a film remarkable in so many aspects.