On Saturday was the main bulk of the competition screenings of the 5th Hellas Filmbox Berlin. In Basile Doganis' film Meltem a young French woman called Elena arrives home to Greece from Paris on the anniversary of her deceased mother. Her luggage has gone to Tokyo by mistake and will arrive only after she plans to depart. Elena is exasperated and so begins the tensions, conflicts and sorrow that will continue when she stays with her father on the island of Lesbos. Joining Elena are two friends from France, Nassim and Sekou. Later they befriend an older and kind local birdwatcher called Edward and sail out to sea on his boat where, by chance, Elena meets Elyas who is playing a flute in a remote part of the island. A Syrian refugee, Elyas is befriended by Elena's group as he tries to evade capture by the authorities.
Meltem is an intriguing drama film where tension builds up around the instability of the main protagonists. There is conventional camerawork, fast dialogue and editing in tandem with the chaos, but this is occasionally relieved by shots of the beautiful locations and underwater shots of Elena swimming, underlining the ambiguities of freedom and vulnerability, remoteness and isolation. With the authorities on their trail, Elena attempts to leave the island with Elyas. The film's embedded social commentary alludes to the contemporary state of the world and how travelers and refugees rely on but ultimately suffer from state bureaucracy and the law. Meltem's director Basile Doganis was also present for a Q & A after the screening.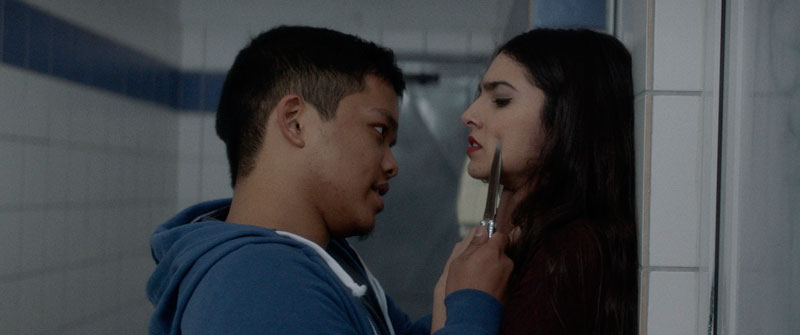 Also in competition and like Meltem addressing migration problems, Holy Boom, directed by Maria Lafi, is a film set in Athens with parallel storylines, all taking place within a multicultural district during the Orthodox Easter. The lives of residents in the neighborhood, from different backgrounds and initially unknown to each other, changes dramatically when Ige, a Filipino boy, blows up a mailbox for fun. However, important documents were destroyed and this will dramatically affect the already fragile living situation in Greece: the LSD patches of local girl Lena and her Nigerian boyfriend Manou who are subsequently pursued by drug dealers; a letter for an old Greek lady Thalia from her child left behind; and illegal Albanian immigrant Adia's birth certificate, now alone with her baby and forbidden to identify her husband's body.
Speaking at the Prishtina International Film Festival in Kosovo last summer, Maria Lafi said, "This script was written in 2011 but we couldn't find the money. It is difficult in Greece as you can't find the money easily, and there was the economic crisis so the money was little and then less. Eventually we managed to gather some and thank god we also had the Albanian co-production which was very important for the film, otherwise we couldn't do it." The persistence paid off as Holy Boom premiered at the Tirana International Film Festival in November of 2018, where it won the Best Film Award in the Balkan section, and played immediately afterwards at Thessaloniki in the Greek Film section. Maria Lafi was also present for a Q & A following her screening at Hellas Filmbox.
Other competition screenings playing on Saturday were Scopophilia by Natalia Lampropoulou, a drama looking at the voyeuristic nature of the internet, with the director present for a Q&A; supported by the short Unphallo by Yannis Dimolitsas (also with the director present); and the German premiere of Zizotek by Vardis Marinakis, a compelling drama of a nine-year-old boy who is abandoned by his mother at a folk festival and subsequently takes refuge in a mute loner's cabin in the middle of the forest. Otherwise, the last screening in the documentary section, Irving Park by Panagiotis Evangelidis, follows the story of four gay men in Chicago, all in their 60s, and living together in an unconventional lifestyle of master and slave relationships.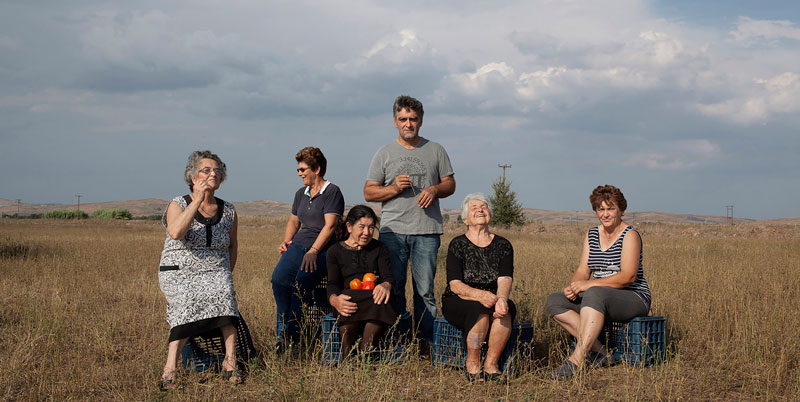 The New Vision sidebar had a program of seven short films including a Q&A with director Thodoris Vournas following the world premiere screening of his 15-minute film Flexible Choices. Later in the evening there was a New Vision feature in the form of Lampda Pi by Christos Petrou, supported by the short film The Distance Between Us and the Sky by Vasillis Kekatos.
The final day on Sunday consisted of a second chance to see screenings of the competition films and, following the award ceremony, the closing screening of the documentary When Wagner Met Tomatoes by Marianna Economou. In a hilarious and heart-warming look at the lives of an abandoned farming village community in central Greece, two cousins and five women attempt to conquer the global market with their organic products after they let an ancient tomato seed germinate. With inspiration from Wagner, Christopher Columbus, local myths and deep-rooted philosophy, combined with good humor, they defiantly take a stand against a dying community and difficult times by attempting to reinvent themselves and their livelihood.
Before the screening there was the presentation of the winning film in the Emerging Greeks competition section. From the six films in competition, Meltem was chosen as the winner. The jury was made up of: Wieland Speck, the German director, author and curator who from 1992-2017 was director of the Berlinale Panorama section and helped introduce the Teddy Award for Queer-themed films from 1987; Efi Papazachariou, a journalist, editor, critic and columnist for various newspapers, magazines and websites, specializing in culture, music and film; and Martin Hampel, born in Germany and since 2007 working as production coordinator at Twenty Twenty Vision and Pallas Film. When accepting his award, a humble director Basile Doganis praised the professionalism of his cast and crew and what a privilege it was to have won in a very strong competition.