We review the thorny idyll between sadomasochism and cinema, through its most representative titles, symbolic approaches to the struggle between the sexes and the power relations between subjects.
1. LA FRUSTA E IL CORPO (Mario Bava, 1963)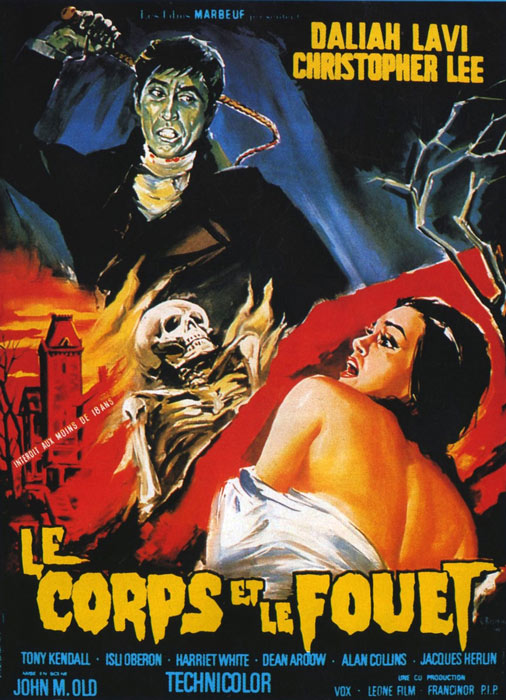 Italian fantastic cinema with strong gothic roots has always contained its perverse dose of necrophilia. Mario Bava, the Mediterranean master of the genre, narrates with his usual skill the story of a sadomasochistic relationship in which desire not only surpasses the moral limits of the time, but also the laws of nature (one of the two lovers, to whom Christopher Lee lends his disturbing face, is a spectre).
2. BELLE DE JOUR (Luis Buñuel, 1967)
A classic from Buñuel's irregular final period in France, in which the genius from Calanda uses a Catherine Deneuve of icy beauty to delve into the unfathomable mysteries of female pleasure and sexual desire.
3. SUCCUBUS (Necronomicón, Jesús Franco, 1968)
Spanish director Jesús Franco could not be missing from this selection. A regular visitor to the Sadian universes in countless titles (adapting the Divine Marquis on several occasions), Franco even seduced Fritz Lang with this surrealist display of talent punctuated by scenographies inspired by the imagination of Guido Crepax.
4. LE MALIZIE DI VENERE (Massimo Dallamano, 1969)
An adaptation of Leopold von Sacher-Masoch's canonical text, The Venus in Furs, starring Laura Antonelli, who radiates such a dose of eroticism that the male protagonist gladly accepts to become her slave (who wouldn't?).
5. FEMINA RIDENS (Piero Schivazappa, 1969)
A man who hates women, due to a childhood trauma and who lives obsessed with the idea that women want to dominate the world, kidnaps a journalist in order to subject her to all kinds of humiliations in his mansion. With an aesthetic that draws on pop art, this cult title with a long feminist vein features the work of two distinguished representatives of the golden age of European genre cinema: the actress Dagmar Lassander and the composer Stelvio Cipriani (the former's contortion to the rhythm of the latter's music is unforgettable).
6. GLISSEMENTS PROGRESSIFS DU PLAISIR (Alain Robbe-Grillet, 1973)
An exquisite erotomaniac, Alain Robbe-Grillet has earned a well-deserved reputation as a cult filmmaker with a filmography that is brief but richly symbolic, bordering on surrealism, of which this title is a magnificent representative. Accused of her friend's murder, Alice insists on her innocence, but her statements are confusing. The young woman manages to convince a lawyer, whom she drags into her erotic games…
7. IL PORTIERE DI NOTTE (Liliana Cavani, 1974)
Controversial film by the always debatable Liliana Cavani, in which a Jewish woman recognises in the doorman of her hotel the Nazi officer who abused her in a concentration camp, initiating a tortuous sadomasochistic relationship between the two.
8. HANA TO HEBI (Masaru Konuma, 1974)
The wife of the president of a large company decides to divorce. Her overbearing husband orders one of his employees (the son of the owner of a sex toy shop) to teach his wife to be sexually submissive… Adaptation of Oniroku Dan's novel by two of the biggest names in pinku eiga: filmmaker Masaru Konuma and the beautiful actress Naomi Tani. The film's success spawned several sequels, and in 2004, Takashi Ishii made a new, equally brilliant adaptation of the novel, which also spawned a hentai series.
9. HISTOIRE D'O (Just Jaeckin, 1975)
It was the film adaptation of Dominique Aury's work that opened up the pleasures of sadomasochism to the general public. Refined erotic cinema from the director of Emmanuelle.
10. THE IMAGE (The Punishment of Anne, Radley Metzger, 1975)
The illustrious film director X Radley Metzger films with exquisiteness and unusual psychological depth the immersion in sadomasochism of a male character in the hands of a female couple (mistress and slave). A display of practices and ornaments that includes whippings, public humiliations and body piercings. The masterpiece of the sub-genre.
11. MAÎTRESSE (Barbet Schroeder, 1976)
A first-time burglar breaks into a Paris flat and is surprised by the landlady, a prostitute specialising in sadomasochism. The two (a convincing Gérard Depardieu and Bulle Ogier) begin a relationship governed by jealousy and domination. Barbet Schroeder's dissection of contemporary relationships.
12. BITTER MOON  (Roman Polanski, 1992)
The always disturbing Polanski explores the darkest recesses of relationships, as usual in his films, based on personal experiences. A film that is as harsh as it is accurate in its X-ray of the power relationships that are established between couples.
13. FETISHES (Nick Broomfield, 1996)
Nick Broomfield, one of the most important contemporary documentary filmmakers, delves into the exquisite Manhattan club Pandora's Box, where clients pay up to $200 an hour to be subdued by their dominatrixes.
14. GOJITMAL (Jang Sun-woo, 1999)
An explicit, if somewhat bland, Korean film that tells the story of the intimate relationship between a sculptor and a student. Insubstantial and lacking in imagination, it generated controversy when it was screened in the official section of the Venice Film Festival.
15. LA PIANISTE (Michael Haneke, 2001)
A rough approach to the universe of mental imbalance, paraphilias and the domination inherent in all human relationships (pay attention to the dominant mother of the protagonist), The Pianist, like Haneke's best films, banishes the most disturbing aspects of its story from the visual field.
16. SECRETARY (Steven Shainberg, 2002)
A young woman who has just been released from a mental institution gets a job as a secretary under the orders of a peculiar lawyer, with whom she starts a sadomasochistic relationship through which she will achieve complete happiness. A celebrated independent production which, unlike the rest of the titles chosen here, deals with sadomasochism with an inspired (and particular) sense of humour. It has the dubious honour of having inspired Fifty Shades of Grey (although its author has not confessed it)…
17. KINK (Christina Voros, 2013)
Produced by James Franco, this documentary presented at Sundance explores the production of audiovisual material related to sadomasochism and bondage, focusing its attention on the website kink.com, the largest producer of this kind of material.
18. THE DUKE OF BURGUNDY (Peter Strickland, 2014)
Visually stunning, Strickland's film (the most dazzling talent to be discovered at film festivals in recent years) continues the exploration of sensory and expressive cinematic potentialities that defines his still short oeuvre, while examining, with the magnifying glass of an entomologist fascinated by human nature, the limits of surrender in all sexual and sentimental relationships.