On 24 June, the second German stop of the Gorillaz world tour 2022 took place in Berlin.  With their seventh tour, they are presenting their new material in Europe, North America, South America and Australia, after the teaser of their latest single "Cracker Island" with artist Thundercat.
The Parkbühne Wuhlheide park and its amphitheatre, part of Berlin's cultural heritage and its Soviet remnants, served as the stage for the concert by Gorillaz and their opening act, organised by MCT. In the 1950s, the auditorium and its surroundings were transformed into the Ernst Thälmann Pioneer Park on Soviet models, but by the early 1990s it had fallen into such disrepair that it was barely usable. After a short period of time and after the cultural heritage management of reunified Berlin, the facilities were renovated and finally modernised in 1997 by the architect Werner Weickenmeier. Today, the venue can seat 17,000 spectators.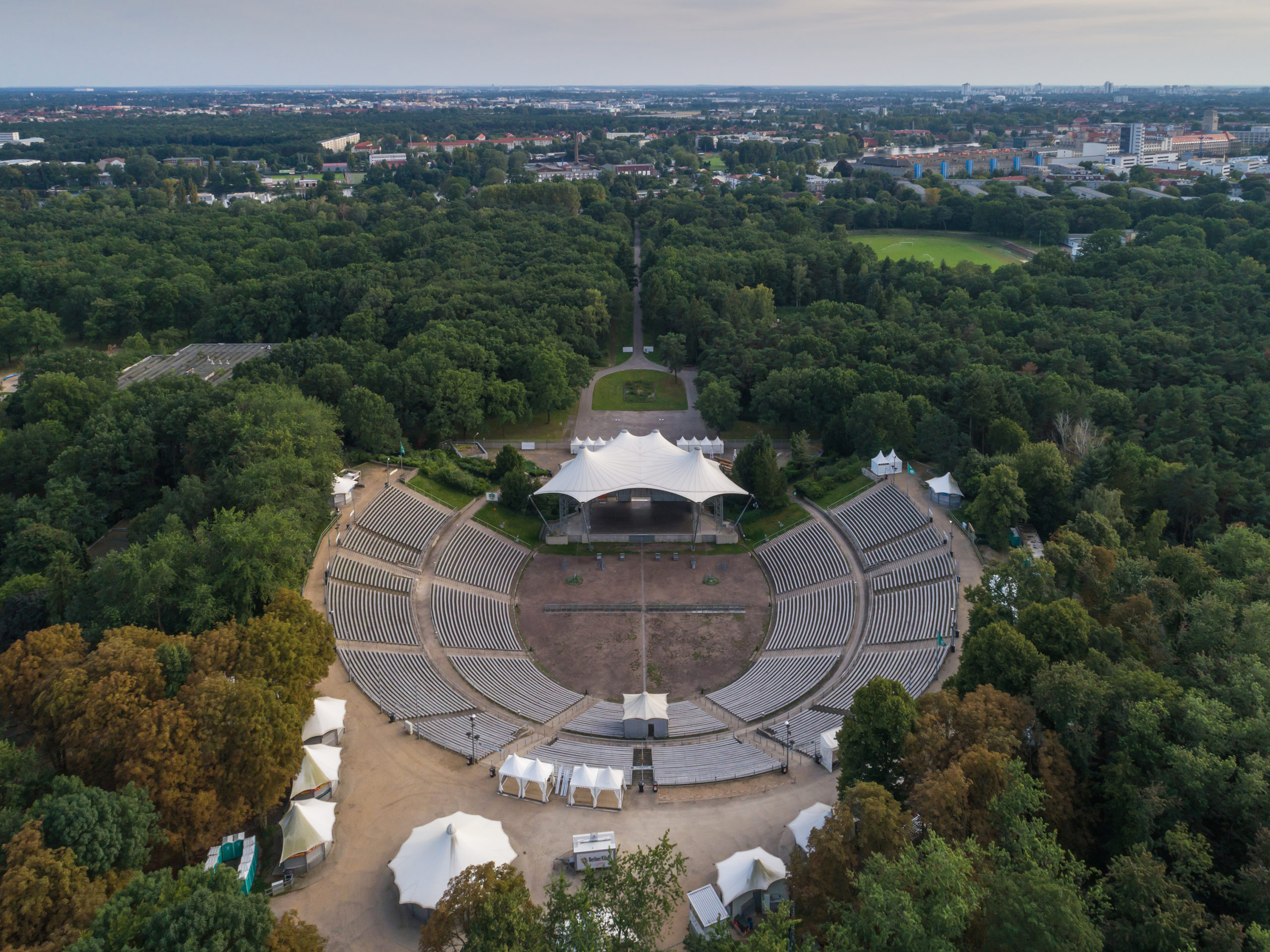 Gorillaz is a British electronic and alternative rock virtual band, consisting of four comic book characters: 2D (lead vocals and keyboards), Murdoc Niccals (electric bass), Noodle (lead guitar and background vocals) and Russel Hobbs (drums and percussion). The band was formed in 1998 by Damon Albarn, lead singer of the British band Blur, and Jamie Hewlett, cartoonist and co-author of the comic book Tank Girl, which was adapted into a film starring Malcolm McDowell in 1995. The band has released 7 albums since the beginning of the 2000s to date, and with its marked animation is a reference point for the millennial generation, even standing out in video games such as Grand Theft Auto V.
Following mysterious revelations by Albarn in September 2021, which indicated a collaboration between Gorillaz and Bad Bunny leading to the possible first single from a new album, the band finally released their new single called "Cracker Island" featuring Thundercat on 22 June, which is regularly performed on their tour this year.
On 24 June 2022, two days after the release of their new single, the Gorillaz concert took place in Parkbühne Wuhlheide. The virtual band was preceded by hip hop beats mixed with R&B by African artists Moonchild Sanelly and Lous and the Yakuza.
Moonchild Sanelly's participation was complete, first as the opening soloist and then at the end of the Gorillaz concert, singing their collaborative song "With Love To An Ex" with them. This song is part of the album Song Machine, Season One: Strange Timez.
The virtual band's concert lasted almost two hours and featured songs from their latest album as well as a compilation of their greatest hits, including "On Melancholy Hill", "Rhinestone Eyes", "Tranz" and "Tomorrow comes Today". A total of 23 songs were played, accompanied by animations and energised by alternating physical and virtual singers, as was the case in "The Pink Phantom" with Elton John.
It is worth noting how well harmonised the animations were with the live performances, something that often leaves something to be desired in virtual bands or electronic DJs. With animations taken from the videoclips and the interlude of the Plastic Beach album, the band did more than entertain, conveying messages of environmental awareness, against massive fishing and pollution of the seas ("Plastic Beach"), and pacifism in the context of the war in Europe ("Kids With Guns").
Otro músico que lleva años colaborando con Gorillaz y que participó en el evento fue el rapero norteamericano Bootie Brown, cantando en "Dirty Harry" y "Stylo". El concierto terminó con un Encore más que esperado, en el que pudimos escuchar las canciones favoritas de la banda por parte de muchos, de la mano de más artistas colaboradores a la altura de De La Soul en "Feel Good Inc." o Sweetie Irie en "Clint Eastwood".
Another musician who has been collaborating with Gorillaz for years and who participated in the event was American rapper Bootie Brown, singing on "Dirty Harry" and "Stylo". The concert ended with a long-awaited Encore, in which we were able to listen to many of the band's favourite songs, with more collaborating artists such as De La Soul on "Feel Good Inc." or Sweetie Irie on "Clint Eastwood".