The second edition of the Evia Film Project, an initiative of the Thessaloniki International Film Festival, was held on the island of Evia from 20 to 25 June last year, with the aim of collaborating through culture in the revitalisation of a region hit by forest fires in 2021.
Evia Film Project is not a festival, it is a meeting of the professional film community, which through masterclasses and workshops enhances their work in a collaborative framework, focusing on environmental issues and inclusivity.
The atmosphere of Edipsos, Agia Anna and Limni, the three venues of the festival, brings the filmmakers together with the public through free access activities and, above all, through open-air screenings, after which the directors talk to the spectators in an atmosphere of closeness and curiosity.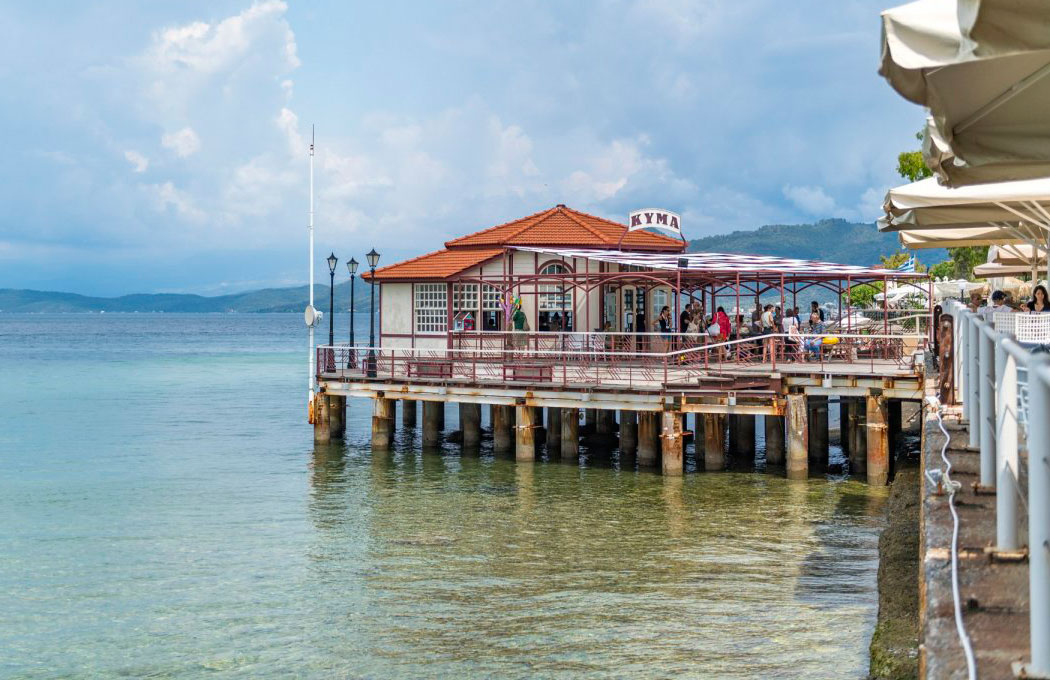 Evia is Greece's second largest island, accessible by bridge in the south or by ferry in the north, right at Edipsos. After a long journey, the opening film was waiting for us: Downsizing (2017), with Alexander Payne in attendance. The director of Greek descent, relaxed and in a summery linen shirt whose wrinkles revealed a long day, nevertheless chatted tirelessly with the audience in his own language after the screening. To tell the truth, I discovered that I had forgotten some details of the film and was surprised to find so many layers to his script, and a deeper perspective on the climatic question than I had remembered.
The next morning, Payne, smiling and looking fresh with his trademark toupee still wet, met with the accredited press in a frank and cordial encounter, which began with an admission that he didn't remember the film that well either. Seeing how well a film that was not well received at the time has aged was a pleasant rather than bittersweet feeling, as it was shared by all of us. "It was like I had forgotten about the film," the director admitted, "Nobody saw it, it was my first failure, with the critics and the box office. It wasn't as bad as I thought it was going to be and there were some nice moments, you know, it's a commercial film trying to find the balance between the big ideas and the little human moments. I'm more interested in the latter than the former, so it's a strange movie. And the actress is fantastic (Hong Chau), watching it again, I thought even the extras were good. It was fun to shoot Downsizing, you know, they're truthful caricatures… time has been kind to it".
Asked if he had perhaps been too advanced at the time in talking about the environmental issue, Payne replied "I don't know if it was advanced because all those ideas existed then, but obviously things are just going to keep getting worse and worse and worse and worse. So maybe it's always going to be a little bit advanced, I guess. It includes a lot of connected themes, the film even talks about immigration, illegal immigrants and death. For the Greek audience who saw it again last night, having the tragedy of the shipwreck in Kalamata so recent…".
Payne shot the film in the Lofoten Islands (Norway) and now he was in the heart of the Mediterranean, it is inevitable to ask him about his relationship with Greece, "All I can say is a cliché. I grew up as a Greek-American, not fully American, not Greek, a Greek-American, which is a kind of subcultural identity. The first time I came to Greece was in 1966 when I was five years old. We spent three months here. In those days if you went on a trip, it was for a long time, you know, to be with relatives and so on. Now as an adult, I've been coming more often, and in fact, I received my citizenship last year. I like to get to know Greece. I like to know my world. I wish life was much longer, so I could go everywhere and see everything. I'm sure we all feel that way. And maybe filming here, sure, that's what I've been threatening for 20 years. It's my big cliché. Yeah, I'm going to make a film here and then I never do it. But, I think having citizenship will help me to make films here and in the rest of Europe. And I come here often, I was here for most of the pandemic".
Alexander Payne won two Oscars for adapted screenplays for Sideways (2004) and The Descendants (2011), but he will have another screenwriter for his next film The Holdovers, starring Paul Giamatti. We asked him what the difference is in working on a script that you haven't written yourself: "I've made eight feature films and so far my name is on the script for six of them, but even on the other two (Nebraska and The Holdovers) I'm still involved in the writing and rewriting. And in the case of the latter, I had the original idea for the film but it was about an experience I hadn't had, so I found a writer who had (David Hemingson). The life experience and at the same time a good writer. So he wrote it, but the two of us kept talking about the script all the time. And then, of course, I rewrite it too".
It's been six years since the release of his last film, we are intrigued as to why it has taken him so long to shoot his new film, "You mean it's been many years in between… yes. I love making films. I feel very lucky to be able to do it, but the slow part for me is the script. I'd like to be making a film every day of my life. And at the same time, I think you should speak only when you have something to say. And I'm not super fast with scripts. It's all about the script and you have to put your ideas into the script. I'd love it if I felt there was one close enough to my own sensibility that I could fix it a little bit. In my whole life, I've only found one: Nebraska. Somebody wrote it (Bob Nelson) and it wasn't a matter of fixing it, it was just making it more directional for me, so that I have my own discussion with the material, my own sensibility".
If in the case of the screenplays Alexander Payne has had the recognition of the Academy, as far as his actors are concerned they have been nominated for seven Oscars (Jack Nicholson, Kathy Bates, Thomas Haden Church, Virginia Madsen, George Clooney, Bruce Dern, and June Squibb) and it's undeniable the directorial work he does with his actors, the degree of naturalness he gets in his performances, so I ask him about his involvement in the casting process and the requirements he demands from an actor, "I'm involved one hundred percent, the requirement is if I believe the actor, do I believe him? Yes or no. Then I don't. I trust the auditions very, very much. Nowadays I can watch the recording first, they put their auditions on video, and I can watch them. And then I meet with a few people for each part. And I like auditions too because I can never predict what a person is going to be like. For example, I have an idea of the script, and maybe I think of this actor or that friend of mine. But then someone new comes along and says…, you know… I could never have predicted before I met you. Great."
But how do you make your performances tense and naturalistic? You just pick the right people and if they act too much, you say, act less, do less. No, no, don't, don't force, you know, allow, relax. I mean, and then on set, I think the job of a good director is to make everybody relaxed. Yeah. So they can feel safe and be themselves. But even Matt Damon, for a movie star, sometimes gave very naturalistic moments. He has sincerity. There was sincerity in what he did, and there was something in his eyes. And you know what I think too? Last night…, and I haven't thought about the film for years…, but, when they finally make love on the boat, he's rubbing the stump on her leg and they're united in their desire to care for other people. I thought it was very beautiful. Yes. The kind of connection. Yes. She's a bitch, you know, she shows you the difference between being nice and being kind. She's not nice, but she's kind and he wants to help people, but he's a little bit lost in life and kind of saying how can I help? She sees something in him, and obviously, he sees something in her that he admires. Anyway, it's not a big deal. I just wanted to say that I had forgotten that part, in other words, I believed it when they kissed. I absolutely did. And I haven't done a lot of love scenes."
Alexander Payne cannot hide his infinite admiration and affection for Paul Giamatti, "Actually, this part was written for Paul Giamatti. I think about Paul Giamatti for everything. But I couldn't get him. I couldn't get a budget with Paul Giamatti, so I had to think, well, what movie star could pass for normal, like a movie star who maybe doesn't look like a movie star and has a sense of humor and might be nice to work with. And then Damon was great. In the new film, there's Giamatti, which is a reason to keep the budgets low, so you can have more freedom with the themes of the film and more freedom with the casting."
The Holdovers will be released in the autumn and will be submitted to several festivals, the director confirmed that it will be in Thessaloniki, "It will be there if they like it, at the moment not in Venice, maybe in London, we'll see, we're still confirming". Payne can't reveal where it will premiere, but it will come to the US and Greece in November. Although he loves the festival, he won't be at San Sebastian either. Apparently, the film's marketing strategy is not to show it too much, but rather to whet the appetite for his new work. What is clear is that he will present it at the festivals of Thessaloniki (where Citizen Ruth premiered) and Göteborg, two festivals that supported him at the beginning of his career.
Payne also expressed concern about the ultra-conservative drift that America and also Europe are taking, "Speaking of those politically themed films that you'd think would have gone out of fashion, well no, you know how in America the abortion issue is still hot? The world is moving in the wrong direction".
The story of Alexander Payne's new film takes place in Massachusetts in 1970 at a private boarding school for boys, during the Christmas holidays. "And every year there are some kids who have nowhere to go. You know, the kid from China and the kid whose parents are getting divorced and something like that. So it's about those kids, one in particular. And the very unfriendly teacher chosen to stay with the kids this year. That's right: Paul Giamatti. And the cook, the black chef at the school, whose son went to school on a scholarship, but they didn't have the money for him to go to college and he was drafted and just got killed in Vietnam." The director seems to be very pleased with the result "Yeah. You know, it came out pretty good. I don't usually say that about my films, but it's old-fashioned. You know, it's an old-fashioned film. I hope it's so old that it's new again. The trick I tried to do is that not only does it take place in 1970, but the film looks like it looks and sounds like it was made in 1970." The choice of cinematographer must have been decisive, how did you choose him? "Someone I get on well with. Someone whose work I like. Someone (he or she) who brings a good crew, like the gaffer, the key grip, the assistant cameraman. Here I just worked with a new one, a Dane, Eigil Bryld (In Bruges, Deep Water).
Looking back on his filmography, Payne stresses that the films he treasures in his memory are not so much for their quality as for the experience he had filming them "Because that's your life. You know, when I watch a film, it's like looking through pictures, you know, scrolling through pictures on my phone…. Oh, we had a lot of fun… you can tell it was a lot of fun. Yes. The Descendants, it was hard, it was difficult, but it was fun". It was hard shooting on an island (Kauai, Hawaii), "And also trying to get to know a culture that wasn't my own. Uhhuh, you know, it's, it's American, but it's different. Yeah. And also, I'm always thinking about class and it was this weird white upper class, this very racially mixed place and its history of imperialism and these 'good-for-nothings' who now have all the money. Anyway, it was interesting, hard, and interesting. They're all hard. And the new one was a lot of fun to do, I enjoyed working on it. Especially working with Giamatti.
You know the history of John Ford with John Wayne or Fellini with Mastroianni, Scorsese with De Niro, they've known each other for so many years, they don't really need to say anything to each other. They both understand what film they are making. I haven't had this until now, I'm starting to taste it with Giamatti. Yes, he's the best actor. And one last thing about Giamatti, I interviewed him publicly for my film library in Omaha. Every year I invite somebody for an interview and make some money. You know, it's very nice. So he came one year and I was interviewing him, and I said, you know Paul, they say you're such a good actor that you could even read the phone book." The actor let out a laugh and took it as a joke until Payne pulled out a real one and gave it to him. He said, "Please do us the honor. He opened it and started reading people's names and numbers." Who could have shared the atmosphere in that room, gaping at his talent!
Alexander Payne is a cinephile who has gone so far as to pay for the restoration of classic films, so we asked him about the film or director he admires that has influenced his cinema. The answer surprised us: "I can't say just one, but do you know who I've been re-watching films by recently? Luis García Berlanga, I was interviewed for a documentary about him (Berlanga!!, Rafael Maluenda, 2021) and I took the opportunity to watch his films again. I have defended El verdugo (1963) for years, and also Plácido (1961), some people prefer Plácido. I prefer El verdugo, a thousand times. It's a great film, taking a serious subject and turning it into a hilarious satire, which the funnier it is, the more serious it is, and the black humor is fantastic. That film is, and then there's the acting, not just Pepe Isbert, Emma Penella (who I think died a few years ago), Manfredi… It's a film you have to see, that staging… As a director, you want to have not only actors in front of the camera but something behind them and something behind and something behind… Berlanga was a master at this. And his use of sound…"
Before saying goodbye, I told Payne the sad story behind Emma Penella and her two sisters who had to change their surnames, due to the involvement of their father, Ramón Ruiz Alonso, in the arrest of García Lorca. So, next to the thermal baths that made Edipsos famous two thousand years ago, we said goodbye until November in Thessaloniki, where we will see Giamatti again, directed by Alexander Payne, 19 years later.
Header photo © Evia Film Project