This summer sees the return of the electronic music festival Brunch -In the Park Barcelona, which encompasses a whole gastronomic and cultural experience. This season will be the biggest to date and will consist of 14 Brunch -In the Park events, 2 Brunch -In Weekender events, and a Brunch -In the City event from 3 July to 9 October. In addition, a new location, Esports UB, will host four of these events for the first time.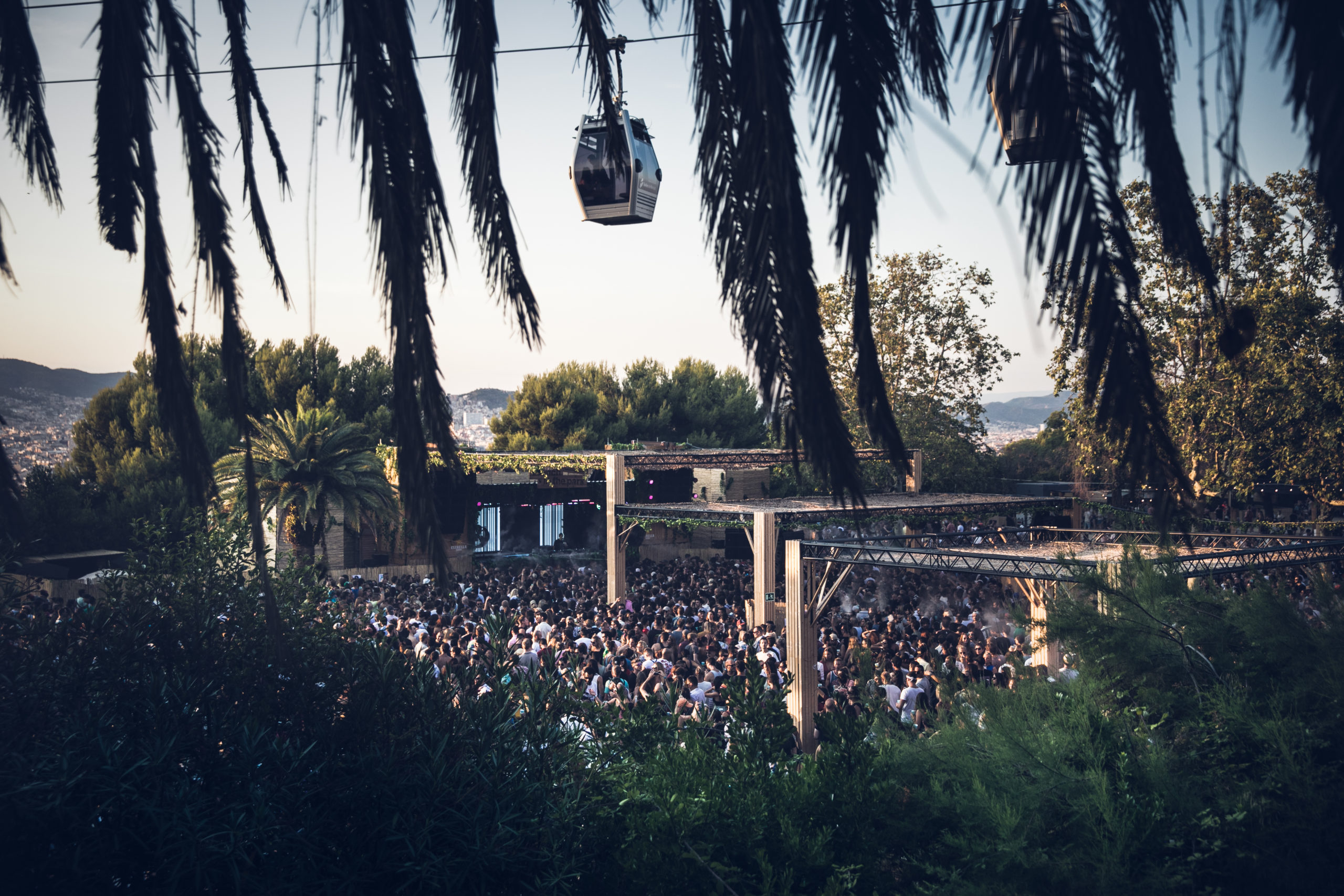 The festival will be held in emblematic locations in Barcelona, the first of them being Parc de la Trinitat, one of Barcelona's best-known parks, part of Roig i Batlle's architectural work, which manages to blend the city's modernism with nature. Parc del Forum is another of its locations, a large, air-conditioned space facing the sea. The last venue this summer will be the Joan Brossa gardens, located on Barcelona's Montjuïc mountain, between the funicular railway and the castle, a space in the middle of nature from where you can see the whole city, and which has hosted previous editions of the festival. In September and October, the festival will be held in collaboration with the University of Barcelona and will take place at the new venue, Esports UB, a sports campus of the University.
This season's line-up includes artists such as Amelie Lens, Carl Cox, Disclosure, Dixon, Hernan Cattaneo, Maceo Plex, Paco Osuna and Solomun. In addition, as in previous seasons, the festival will support the female talent of local artists and collectives, after having also held a successful Brunch -On the Beach within the framework of Primavera Sound. We can't forget that one of the attractions of this series of events is its Sunday daytime format suitable for families with children. At Petit Brunch, the little ones will be able to enjoy a wide variety of free outdoor activities, while they enjoy their passion for music.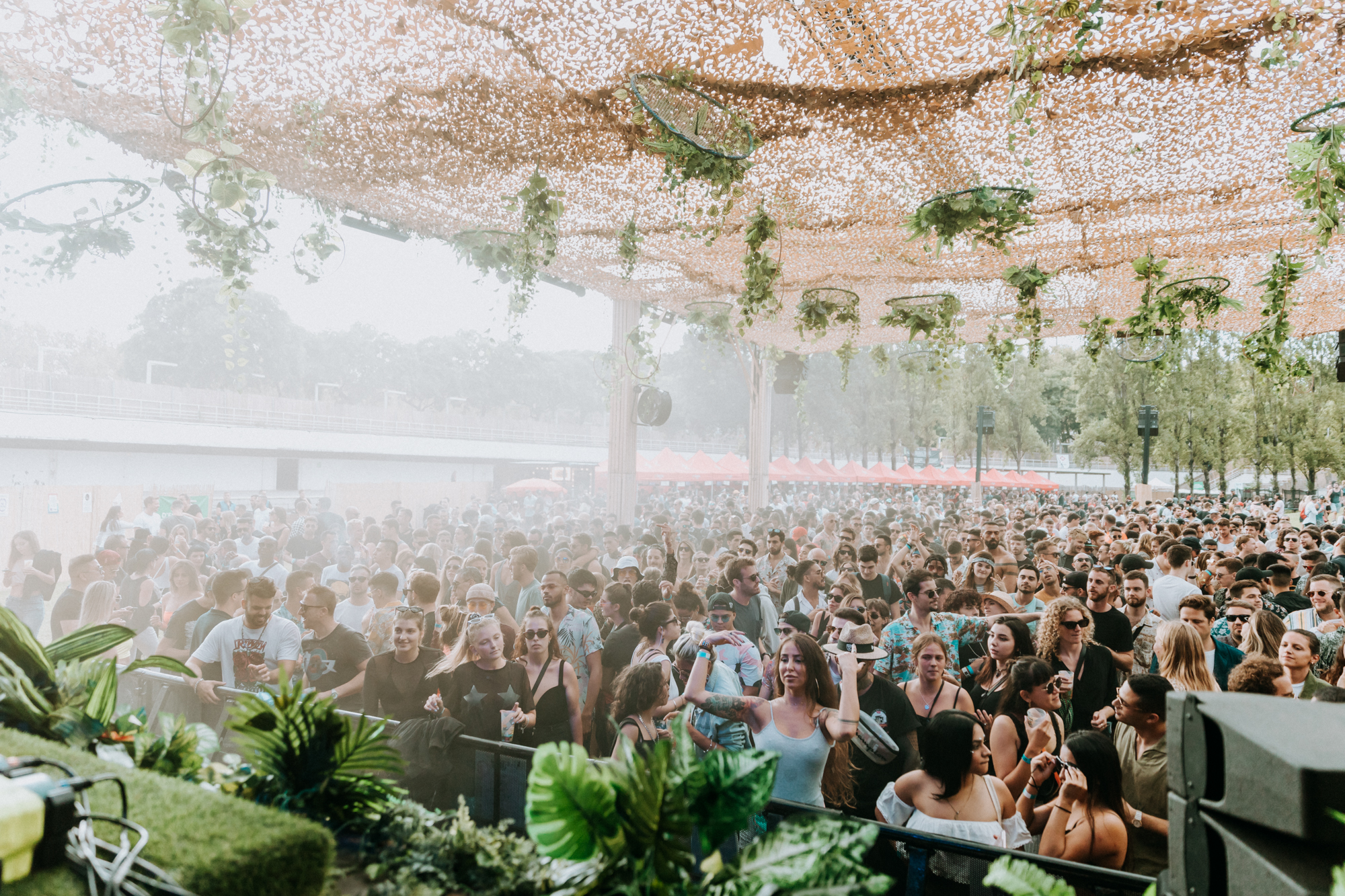 Brunch -In The Park & Weekender is committed under the slogan "Alegría y Compromís" (Joy & Commitment) to a positive return in the communities that host it, collaborating with some of the most outstanding creatives of the city for the creation of an innovative stand "Compromís solidario" (Solidarity Commitment) with special product proposals and vindicative messages, whose profits will be donated in full to the NGOs with which the festival usually collaborates. Another point is the creation of a new Safe Space, a space dedicated to the emotional wellbeing of the people who come to the festival, which will serve as a pilot test for its inauguration during the season.
It also highlights its collaboration with l'Observatori contra l'Homofòbia (Observatory against Homophobia), an organisation in charge of fighting LGTBphobia, which has an LGTBI-feminist stand available to attendees at each event, its proposal for social and labour inclusion with entities such as Bona Voluntat en acció or reducing its waste with the aim of being a 0 waste festival. Finally, and with the aim of taking care of the neighbourhoods that host them, they will have their "Agents of Silence" at the exit of the festival, an exclusive phone number to attend to neighbours as their classic campaign to promote respect for the environment.
Brunch -In Weekender will add a new location to the well-known electronic music venue Nitsa, at Sala Apolo. During the 12th, 13th and 14th of August, Brunch -In launches a call especially captained by local Barcelona artists who are regulars at Brunch -In the City & the Park. In addition, one of the attractions of this Weekender is the format that mixes the daytime and night-time options, making it possible for anyone interested to attend and fit in with the timetable of the event.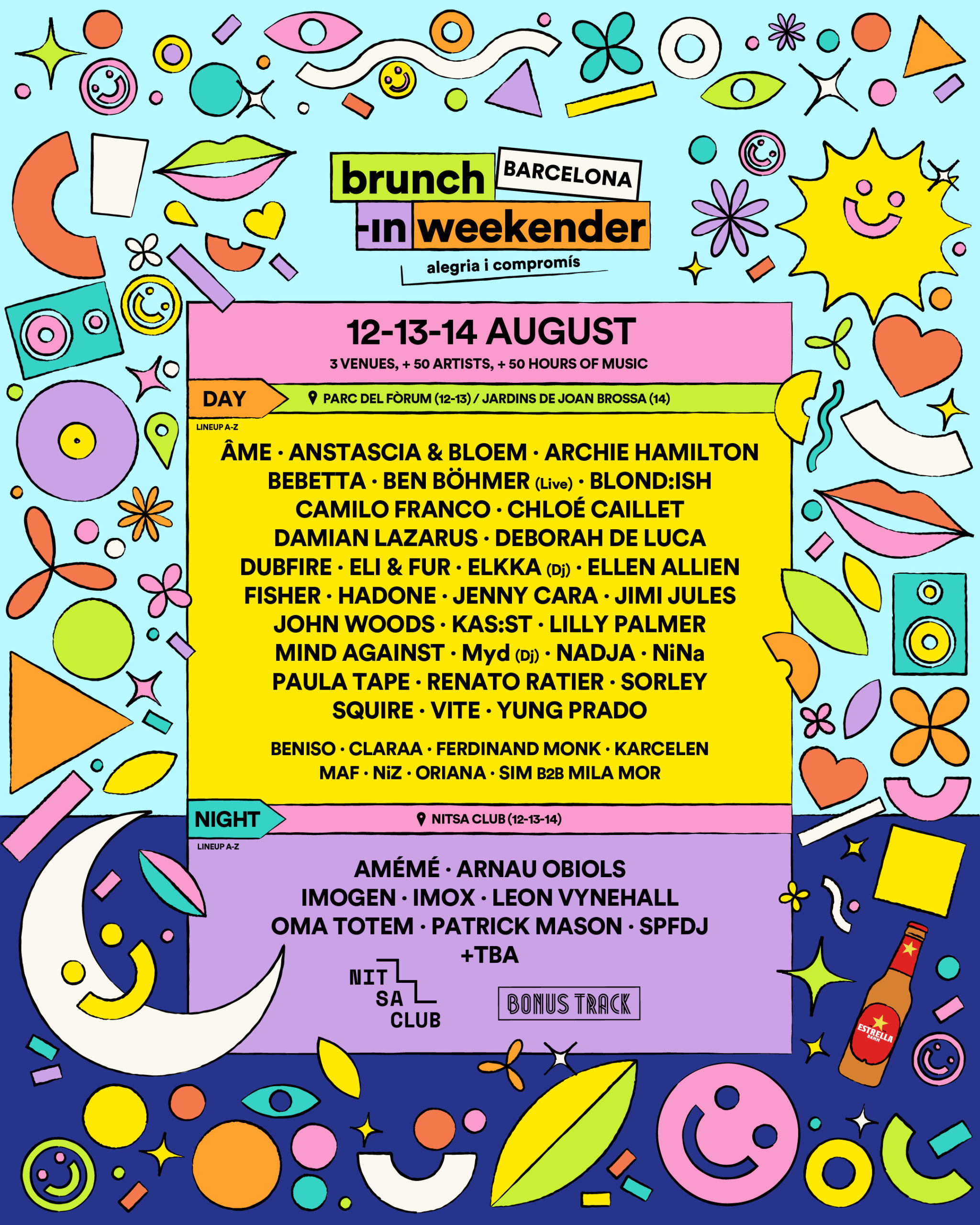 Brunch -In 2022 programme in Barcelona:
Brunch- In the Park: Parc de la Trinitat, Sant Andreu (3-24th July) & Joan Brossa, Montjuïc (7th August)
3rd July: Honey Dijon, Romy, I. Jordan, S3A, Edu Imbernón, Undercatt, Marcus Worgull, Mike Gannu, Milan, Almost Human, Juanjo Tur.
10th July: Ben Klock, Marcel Dettmann, Fatima Haiji, Neska B2B Acidheaven, Patrice Baumel, Raxon, Lauren Lane, Albuquerque, GabeMusic.
17th July: Dixon, Rüfüs Du Sol, Hernan Cattaneo, Khenya, Los Suruba, Thimble, Filipa Lazary.
24th July: Camelphat, Mathame, Brina Knauss, Miss Miquel b2b Mica Wagner, Recondite, Volg, Kapibara.
7th August: Boris Brejcha, Ann Clue, Deniz Bul, Moritz Hofbauer, Theydream, Audiofly, Maga, Yulia Niko, Rosana Nun.
Brunch -In Weekender: Parc del Forum (12-13th August) & Joan Brossa, Montjuïc (14th August)
12th August (FRIDAY): Ben Böhmer (live), Blond:ish, Chloe Caillet, CLARAA, Damian Lazarus, Ferdinand Monk, Jenny Cara, Karcelen, Lilly Palmer, NiNa, Oriana, Paula Tape, Squire, Amemé, Arnau Obiols, Imox, Patrick Mason.
13th August (SATURDAY): Äme, Bebetta, Beniso, Deborah De Luca, Dubfire, Elkka (Dj), Ellen Allien, Jimi Jules, John Woods, MAF, Myd (Dj), NiZdjane: Renato Ratier, Yung Prado, Oma Totem, Leon Vynehall, Imogen.
14th August (SUNDAY): Fisher, Archie Hamilton, Eli & Fur, Sorley, Sim b2b Mila Mor, Camilo Franco, Anstascia & Bloem, Nadja, Vite.
Brunch -In the Park: Joan Brossa, Montjuïc (21st August – 11th September) & Esports UB (18th September)
21st August: Fatboy Slim, Mochakk, Mystery Affair. POSSESSION SHOWCASE: Airod, Parfait, Trym.
28th August: Stephan Bodzin (live), Bob Moses (Club Set), Innellea (DJ SET), Yu Su, Aines.
4th September: Solomun + TBA.
11th September: Maceo Plex, Nick Warren, Mink, Mai Lawson.
18th September: Disclosure (DJ SET), The Blessed Madonna, Overmono (DJ SET), Alvva.
Brunch -In the City (Special): Teatre Nacional de Catalunya
24th September: Paco Osuna, Cuartero, Melanie Ribbe, Manu Gonzalez.
Brunch -In the Park: Esports UB
25th September: Amelie Lens, Milo Spykers, Ahl Iver.
2nd October: Carl Cox, Davide Squillace, Chelina Manuhutu, Kathy K.
9th October: Laurent Garnier, Lil' Louis, Carlita, Phosky.
Article prepared in collaboration with the festival's press department.