Since Gorbachev's death on 30 August, the twentieth century seems to have been drained down the drain. Also from its reserves of art and culture after the 72 hours that separate the death of William Klein (1926-2022), with that of Jean-Luc Godard. Two bastions of the image who, with their departure, leave an irreplaceable void; a timeline, that of the second half of the 20th century, to which their authorial marks fade away.
William Klein was also a multidisciplinary author, a renaissance spirit stirred by the political turbulence of his time and attached to asphalt (first New York and, until his death, Paris). He was also an artist devoted to a lens, from which he managed to articulate a transversal gaze that transcended photography, the art form in which he acquired the greatest notoriety. All his facets were recently brought together in William Klein: YES, an exhibition organized by the ICP (International Center of Photography) in New York. The last one to pass through our territory was William Klein: Manifesto, at La Pedrera in Barcelona, before COVID-19 distorted the planet.
The true photographer has an eye, a brain and intuition.
Born in Manhattan in 1926, his artistic trail begins to emerge in Paris. At the age of 20 he moved to the Sorbonne to work briefly as an assistant to the painter Fernand Léger. During this period he came into contact with bohemian life and met the love of his life, Jeanne Florin. By then he decided to return to his native country for work purposes only. He settled in the city on the Seine.
His first artistic achievement came in the field of photography. Life is Good and Good for You in New York: Trance Witness Revels is his first book of photographs. In it he predetermines the street as his artistic battleground and New York as the best possible setting. I had the feeling at that moment that New York City was exploding in front of me and that all these people, this movement, was coming towards me. When I saw it, I could use it for photography because it conveyed emotions, feelings. For me, it's all about feelings, Klein said of that early period.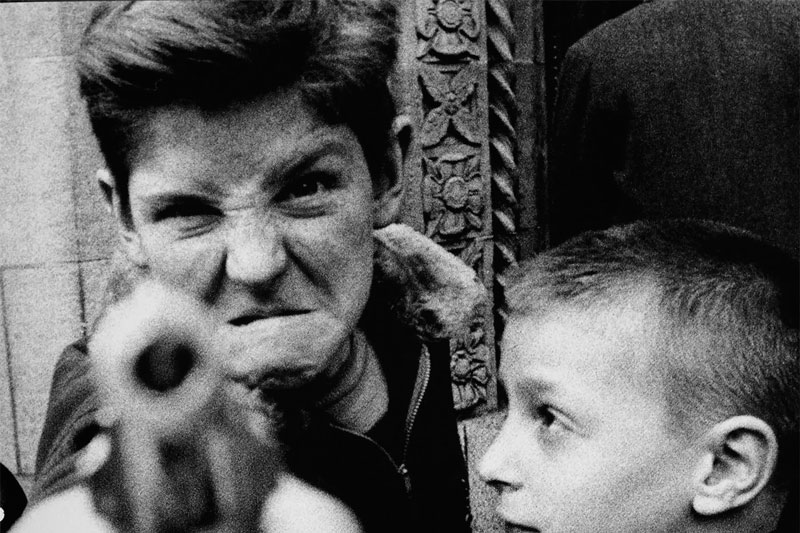 There he began to produce a raw, unrefined style, with a lot of grain, blurring, unsettled framing, figures that intertwine. In general, he imbues his black and white photos with a fierce urgency; intuition rather than planning and, in the process, he establishes a frame of reference for street and urban photography, which followed him and made him one of its leading figures. The true photographer has an eye, a brain and intuition, the late artist declared, and this was reflected in his work.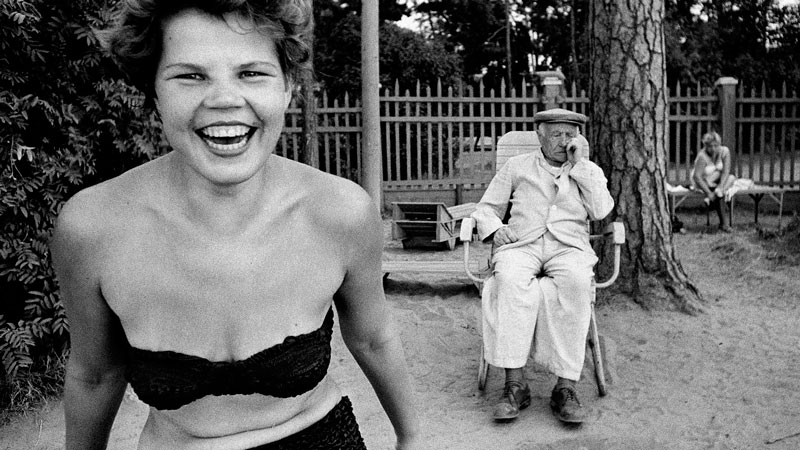 A style distanced from the one he used as a fashion photographer with important commissions for Vogue magazine. With a more nuanced, less intuitive and more cerebral style, Klein succeeded in bringing dynamism and experimentation to the corseted field of fashion and advertising photography, where he also accepted several commissions as a photographer and director.
From the cinematographic discipline, he develops Broadway by Light (1958), an urban symphony where colour takes over the screen. Under the light rain of Times Square, and filmed with the help of Alain Resnais and Chris Marker, this audiovisual piece sublimates the bombardment of advertising in a continuum of light and colour that would become a reference for aesthetes such as Nicolas Winding Refn.
He would expand his brand as a filmmaker in later years, especially in the 1960s and 1970s, with incursions into fiction and documentary, both from a politicised perspective. Among the former is Who Are You, Polly Magoo? (1966), his feature debut and Grand Prix at the Cannes Film Festival. Together with Mr. Freedom, of which the critic Jonathan Rosenbaum went so far as to say: Possibly the most anti-American film ever made, but only an American could have made it, they make up his revolutionary diptych. Released in 1969, the film establishes itself as an anti-war satire about a fascist superhero who acts in the name of God and his country to prevent the spread of communism in France.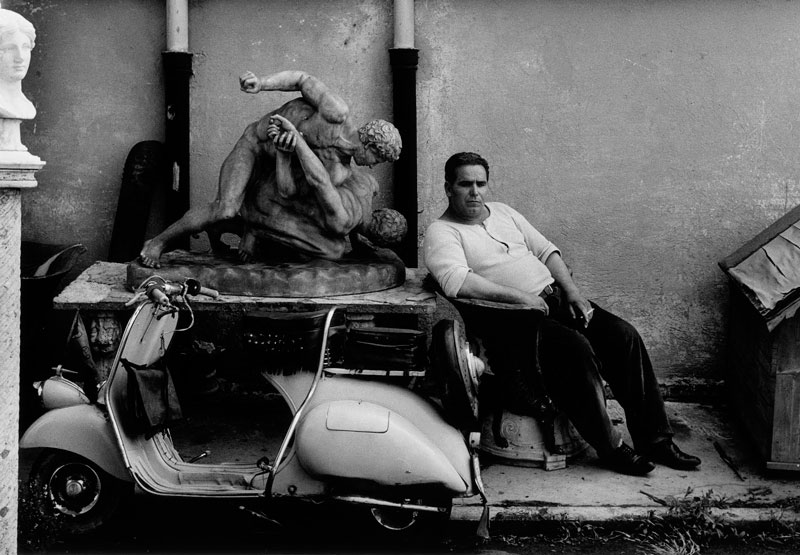 The collective film Far from Vietnam —already in the documentary field— also harboured that critical and combative, realistic and sharp spirit, which he also stamped on his street photography and his urban portraits. Perhaps his best-known documentary work is Muhammad Ali, the Greatest (1969). Rather than sketching a biographical or celebratory profile of the boxer, what prevails here is the chiaroscuro portrait of his environment; the interests of managers, lawyers and agents in his professional success. A similar approach to that adopted in The French (1982), his non-fiction work about the backstage of Roland Garros. An assistant to Fellini during his time in the Italian capital, Klein continued to develop his career as a filmmaker with the short films Eldrige Cleaver (1979), a portrait of the leader of the Black Panthers during his exile in Algeria, May Days (1978), about May '68, and The Little Richard Story (1980), an approach to one of the founding fathers of rock music during his second time away from the limelight.
Winner of the prestigious Hasselblad Foundation International Award in 1990, Klein never faltered in his efforts to capture the chaotic reality of his surroundings. He would no longer do so with the vitality, sharpness and impact of previous decades, but he remained connected to the present from his wide-angle lens.
William Klein was an all-terrain animal. He adapted to many registers and asphalts; in addition to New York and Paris, he captured the electricity of the streets in Rome (1958), Tokyo (1964) and Moscow (1964) – all these experiences are published in photographic books. He combined his political and social concerns with food commissions without losing his stylistic imprint. A style that skilfully swung between boldness, viscerality, the intuition of urban portraiture with the expressive use of colour, the abstract and a certain more refined aesthetic that came out of his experience as a painter, graphic designer and his work in fashion and advertising. Klein absorbed a lot, and expelled it masterfully. That is why it hurts to bid farewell to one of the most privileged gazes of the last century.