Cantankerous, Curmudgeon, Oddity, Charming, Self-Abuser, Belligerent and Humorous are just some words that can be used to describe the enigmatic genius of outsider artist Mark E. Smith, front man and sole permanent member of Mancunian Post-Punk music group The Fall from their incarnation in 1976 to their inevitable end when Smith passed away at home in the morning of 24th January. The tributes and sad sentiments started pouring in immediately and national news brought to wider attention the esteem in which this cult figure was held in.
Born into a working-class family in Salford (on the doorstep of Manchester and, as Smith would point out, 300 years older than its more famous neighbor) in 1957, the family later moved to the nearby suburb of Prestwich in North Manchester. Showing an academic talent at an early age, Smith would pass his 11+ examination and would attend Grammar School. Leaving School at 16, Smith had a couple of jobs including working on the Docks of the Manchester Ship Canal while simultaneously attended an A-Level night class in English Literature which he funded himself.
I came top in English two years on the run and they never thought it was me. All the other Smith's used to get congratulated except me. It's good being a Smith sometimes, you get away with murder. ~ Mark E. Smith, 2004
Just as the legend goes that the Velvet Underground's first album released in 1967 initially sold only 30,000 copies but that everyone who bought it went on to form their own band, so was the case when those who attended The Sex Pistols gig in June 1976 at the Lesser Free Trade Hall in Manchester did the same. Mark E. Smith was also in the audience that night. However, what differentiated him from his peers was that he did not want to emulate the punk movement but use its zeitgeist energy as inspiration to create a wider platform for his poetry.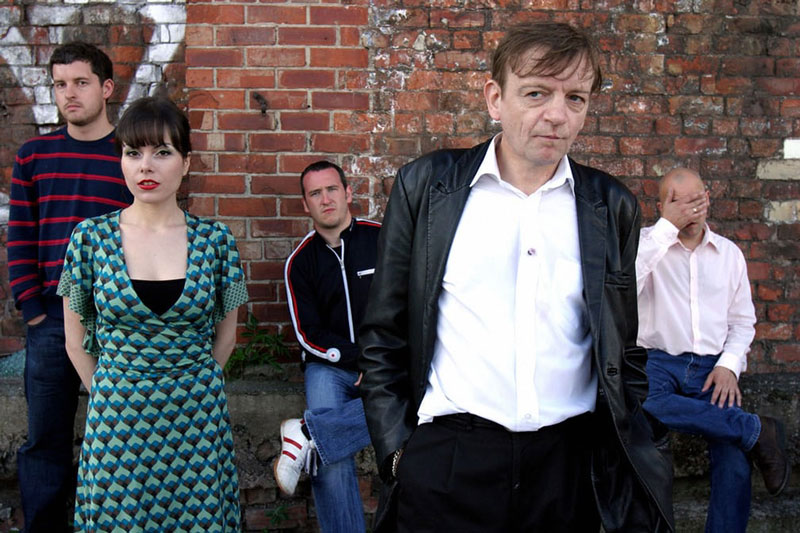 The Sex Pistols gig was to profoundly shift the direction in Smith's life and he formed the first incarnation of The Fall with three friends including his girlfriend Una Baines who missed the very first Fall gig in 1977 as she couldn't afford a keyboard. From these humble beginnings, the hard-working group played working men's clubs and other venues that would have them until they finally got a record deal with Manchester band the Buzzcocks New Hormones label to release their debut E.P. Bingo-Master's Break-Out! Recorded in November 1977, the sessions were financed by Buzzcocks manager Richard Boon. Ultimately unable to afford to release it, he gave the tapes back to the band and it finally became The Fall's first release in August 1978 on the Step-Forward Label.
Another release, It's the New Thing, came out in November 1978 and their first album Live at the Witch Trialswas recorded in London in just one day in December 1978 and mixed the following day. It was released in March 1979 to mainly critical acclaim. The Fall soon became darlings of the UK independent scene, their subsequent releases gaining more attention and exposure, eventually catching the attention of maverick British DJ John Peel who long had a late-night BBC Radio One slot playing alternative music. Though he (and producer John Waters) invited The Fall for the first Peel Session in Spring 1978, he admitted to not being fully nurtured in their wonders until at least a couple of years later but subsequently became their biggest fan and champion, regularly booking them for BBC sessions for his show until his death in 2004. On the night of Peel's death, Smith appeared on the BBC2 news and current affairs program Newsnight by video link from the BBC's Manchester Studios. His bizarre (or surreal) behavior, even by his own standards, has become legend as a counter-culture TV high point.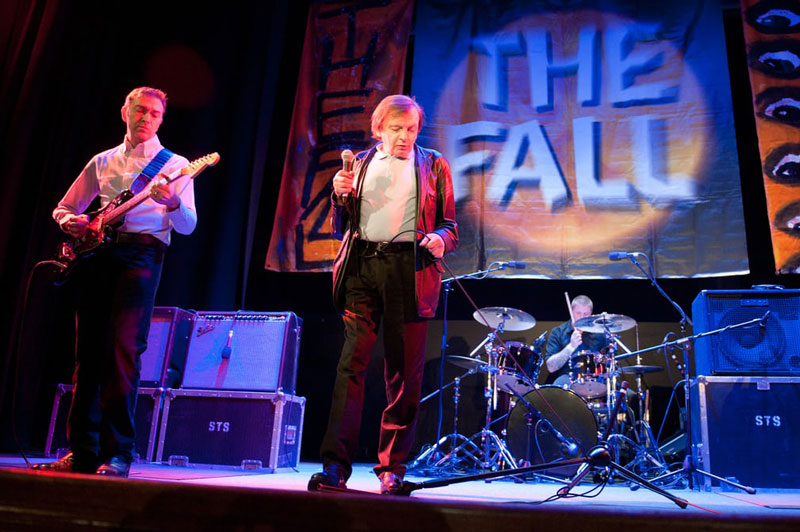 At school, I had a friend whose much older friend was at the time a roadie for a local band he said were called The Fall. As a result, he was in receipt of their current release, a single called "Fiery Jack" but said he didn't like it so passed it on to me. It was the first Lo-Fi record I had ever heard and it was an introduction to the alternative music scene at a very early age, enlightening me to the fact there was a world of music outside the commercial pop charts.
Into the 1980s, with growing critical acclaim and a quickly building discography, commercial success would still (and practically always) elude them. Interestingly it was in New Zealand where their following was large enough to dent the public imagination and they managed to break into the Top 25 then Top 20 charts there as early as 1980 and 1981 with the songs "Totally Wired" and "Lie Dream of a Casino Soul", which scaled the heights of No.25 and No.17 respectively. In The UK The Fall never achieved widespread success beyond minor hit singles in the late 1980s like Hit the North but nevertheless maintained a fanatical cult following to the end and the adulation of their peers. "Hip Priest" from 1982's also excellent Hex Enduction Hour would later find appropriate backdrop in its inclusion in the film The Silence of the Lambs. Also part of the new found appeal which took The Fall to the fringes of the mainstream was the addition to the band of the American guitarist Brix Smith who was a band member and Smith's wife from 1983-89.
Later in the 1980s, The Fall would venture into collaborations for Fringe Theatre with the play Hey Luciani! and worked with Michael Clark for the stage production of their 1988 album I Am Kurious Oranj. However, such ventures did not veer from the consistent trajectory of the band to make music and lyrics which created far reaching surreal soundscapes accompanied by descriptions of grotesque urban settings, magic realism and alternate takes on history books, all infused with Smith's regional slang that snarled and mumbled eloquently.
Smith believed a band should be like a football team.
Aside from the always fascinating song and album titles were the sleeve artworks which were just as uncompromising as the music, some of them even containing short hand scribbles from Smith's esoteric take on English grammar and syntax for acolytes to decipher. With many members over the years being hired or fired in acrimonious circumstances (including good friends, girlfriends and wives), the soap opera and internal politics of The Fall also held a constant fascination.
Smith believed a band should be like a football team where the manager has to introduce and replace members on an ongoing basis to keep everything fresh and enduring. The fact that this tended to happen on unfriendly terms does not bode well to the diplomacy of the group's leader, not least considering his long-running alcohol and substance abuses. At a concert in New York in 1998 there was an onstage altercation between Smith and his band mates which carried on offstage and culminated with Smith attacking the keyboard player and then girlfriend Julia Nagle, an incident for which he would spend a brief time in Prison.
Despite the chaos within the group and Smith himself, The Fall's music was of a continually consistent standard and they bounced back the following year with the album The Marshall Suite and its single "Touch Sensitive" which non-Fall fans may still recognize for its use in a TV car commercial. Throughout their career they were so prolific as to release a new album every year until the early 2000s when the regularity slowed down slightly. What did not slow down was the acclaim and versatility for which celebrated fan John Peel would consider their music to be always different, always the same. Of all their 32 Studio Albums, only three of them do I consider below standard. While I won't mention them they came in the period between 1994 to 2001.Their final album, 2017's New Facts Emerge, once again got positive reviews from the music press and stated that Smith's customary bile vocal delivery was still very much intact.
I saw The Fall play Live no less than eight times (six UK and two Germany) between 1990 and 2016. I've not included a gig in Edinburgh in 1994 when I was temporarily working at the Film Festival there. I went on the night and was disappointed to find that the gig had sold out and there were none of those very nice people called ticket touts selling them. Defiant, I found a small opening in a door at the back of the venue which I could see through, albeit at a distorted angle. The sound was also slightly muffled as a result but then Smith might have just characteristically argued that this was the best way to experience a Fall gig.
Though some have wondered how Smith had survived so long considering his self-abuse and that he looked a prime candidate for the drop door for some 20 years or more, it still paradoxically came as a sudden untimely shock when his death was announced last week because the very fact that he had endured all his inner demons seemed to indicate that he was going to staggeron for a long time to come.
The tributes that poured in from celebrity friends and fans showed how loved and admired the old curmudgeon was and that alternative culture has been robbed somewhat prematurely of one of its self-unilluminated bright lights.