Some reunions are ultimately a bad idea. The lure of lucre or lame nostalgia can inspire knee-jerk criticisms but even those not guilty of such derision often fail in their attempts to recapture old glories, regardless of reception. However, there are other reunions which make the concept fully worthwhile. It's another chance for those who became fans after the fact who now have a chance to enjoy them second time around. Founder members and former romantic partners Tim Gane and Laetitia Sadier, whom formed Stereolab in 1990 after the break-up of Gane's previous band McCarthy, are also the only consistent members of Stereolab, who took an indefinite hiatus in 2009. Earlier this year they were asked in a Guardian interview why they have reformed for a tour and the answers from the two were divided: We've got seven albums coming back out… said Gane. For the money, Sadier said simultaneously.
Indeed, this year Stereolab have chronologically released seven of their back catalogue on vinyl, remastered from the original tapes and with bonus tracks. Further to this they have re-released three compilation albums: Switched On (1992), Refried Ectoplasm: Switched On, Vol. 2 (1995) and Aluminum Tunes: Switched On, Vol. 3 (1998). These compilations contain singles, B-sides, rarities and other non-album tracks. For fans and acolytes this is an absolute treat and serves as a haven for completists with the obligatory mp3 download cards, and limited edition versions of all the albums come in colored vinyl.
A conspicuous omission from the re-releases is Stereolab's debut Peng! (1992), an album that, while in tandem with the indie zeitgeist of the early 1990s hazy, shoegaze-style pop music, also introduces their noise-pop trademark sound which would later expand into motorik lounge core. The haunting opener Super Falling Star is one of the best tracks from their early years. An eerie synth fade-in transports us to an otherworldly soundscape of interchangeable atmospheric mood rhythms complimented by Laetitia Sadier's brooding solipsist lyrics and monotone singing. K-Stars continues this musical vein but the lyrics focus on society drop outs in Paris who still find solace through their romance. Otherwise, the conspicuously titled You Little Shits borrows a guitar sound straight out of the classic album The Velvet Underground and Nico (1966), while the rest of the tracks revert to contemporary indie-rock songs with driving tempos, strummed guitar and high-spirited vocals.
The Reissues
So to this year's reissues: In hindsight, the 1993 release Transient Random-Noise Bursts with Announcements, their second proper album, also feels like a compilation album similar to the first Switched On from the previous year. Each song here sounds like a departure, encompassing their many eclectic influences from Velvet Underground, Neu! and Faust to more contemporary acts like Cocteau Twins and Spacemen 3. A possible explanation for this diversity and lack of sequence could be in their prolific recordings of songs and releasing everything they recorded. This also means there is enough to keep the listener interested in what was their last diverse album before they settled into more unified and sequenced album productions for the rest of the decade, making the transition from curio indie to avant-garde pop, or post-rock.
The single release "Jenny Ondioline" and its accompanying video received fair airplay on the American VH1 network, but here it is presented in 18-minute form with samples and reprises. Other highlights include Our Trinitone Blast and Pack Yr Romantic Mind, titles as intriguing as the music itself. While there is not a bad track here it is a group experimenting and still finding its trajectory. The album cover design and liner notes were adapted from a hi-fi test record issued by Hi-Fi Sound magazine in 1969 with the record itself also sampled in Jenny Ondioline.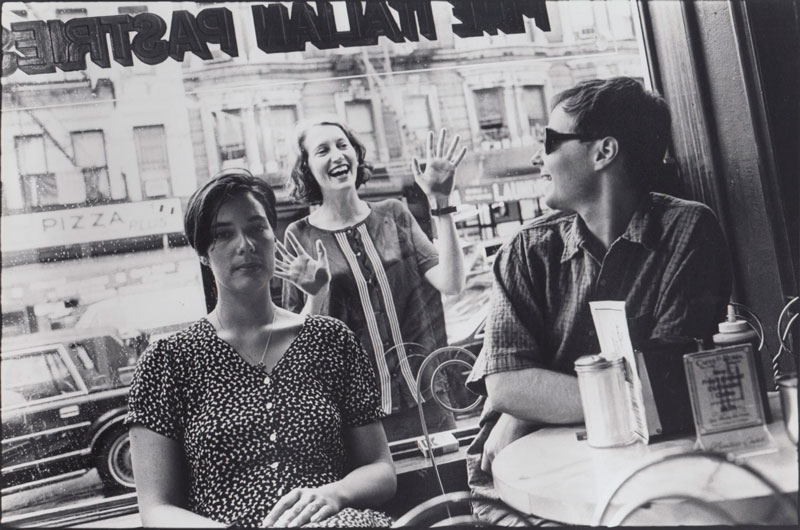 Stereolab's third album, Mars Audiac Quintet, was released in August 1994. Instantly accessible for its pop leaning songs, it would be the album where many long-time fans first came on board. Totaling 15-tracks in all, it has both a linear and conceptual feel, the title being an indicator of a space rock sound that was otherworldly and compelling. The album contains the single "Ping Pong" which gained press attention for its allegedly explicit Marxist lyrics, but is contrasted with a fun DIY video.
Other tracks shining in their own musical orbit include the album's second single release "Wow and Flutter", "Des étoiles électroniques" and the similarly slow, contemplative and hypnotic "The Stars Our Destination". "International Colouring Contest" is a tribute to avant-garde musician Lucia Pamela and samples her voice in the intro. Mars Audiac Quintet is the first album where Stereolab seem to forego their previous influences and fully display a sound of their own, ranking among the group's most accessible, intricately produced work. It was also the last album to feature Sean O'Hagan as a full-time member, though he would continue to make guest appearances on later releases.
After noise rock and eclectic early albums, followed by a more unified-motorik sound on Mars Audiac Quintet, with Emperor Tomato Ketchup in 1996, Stereolab had changed the template once again. This varied collection of songs would demonstrate their versatility and ability to change both rhythm and tempo. Although considered among their (if not 'the') best work, Tim Gane admitted recently that it was an initially very difficult album to make. After much relentless touring they had found it hard to be creative in the studio until Gane had listened to 60s psych band The Godz and started looping a section of their music, so Emperor Tomato Ketchup abandoned the driving riffs and built up the record using interlocking looped patterns instead.
The meditative long opening track "Metronomic Underground" has a slow but hypnotic pace that sounds like a band warming up before letting loose with the next track Cybele's Reverie (sung in French) that combines Laetitia Sadier's harmonious voice with Mary Hansen's complimentary backing vocals a la "La Maison, La Maison, La Maison". Emperor Tomato Ketchup finds "The Groop" (as they are sometimes known) achieving both cohesive momentum and a willingness to experiment. Other standout tracks such as Spark Plug and The Noise of Carpets are, along with Cybele's Reverie, considerably the high points of the album. Monster Sacre slows the pace again and hints at a brooding retro lounge-core sound that would dominate their later albums. Slow Fast Hazel, as its title suggests, starts out slow and then picks up pace for a rhythm that alternates gears but never loses melodic control, while last track Anonymous Collective seems to bookend this collection of songs as another contemplative mood piece.
Stereolab's next album, Dots and Loops (1997) continues the transition in sound from their analog past to emotionally neutral musical territory, embracing a digital future of sorts. Another album critically acclaimed, it is very well produced and cohesive in its chilled out lounge vibe. All the songs are extremely polished and the album flows excellently. The counter argument is of a band feeling more comfortable in its skin and therefore a bit clinical. The excitement of Stereolab in the past came from a band having no idea of how they should sound, where the result was in combining polemics and tangents together with an unmatched grace, so the perfection here is a bitter sweet comfort.
While Dots and Loops is a somewhat polarizing record and can blur together into a numbing haze, it is undoubtedly a key moment in the band's creative arc and probably the most recommended go-to album for cautious newbies. The first two tracks, among their finest pop compositions, are tributes to legends of the art world; the first "Brakhage" nods to legendary experimental filmmaker Stan Brakhage and single release "Miss Modular" is a cited tribute to British Op artist Bridget Riley. The rest of the ten tracks flow seamlessly with poignant electronic beats, jazzy lounge-type keyboards, easy-listening orchestration, erratic time signatures and vocals that freely alternate between French to English. Andi Toma and Jan St. Werner of Mouse on Mars contributed to several tracks, and the album was co-produced by Andi Toma and the band.
Forward to 1999 and Stereolab took their new experimentations further but produced a more accessible and memorable set of songs helped by the percussion and the integration of elements from Latin pop on several of the tracks. Cobra and Phases Group Play Voltage in the Milky Night covers some of the same territory as Dots and Loops, but it's a much warmer and engaging record with tracks having a more daring, sometimes jazzy and predominantly "live" feeling. The album also benefits this time from its intriguing digressions. Therefore, it may come as a surprise to find that it was released to critical indifference.
The highlights of this justifiably lengthy album of 15 songs include "People Do It All the Time", Laetitia Sadier's heartfelt letter to her newly born son, "The Free Design" is their brilliant, bouncy Latin-influenced single release with a nod to the late 60s New York group (though the song had no direct reference), "Infinity Girl" is another of the best composed Stereolab songs highlighting Laetitia Sadier's beautiful harmonies, "Blue Milk" is epic in length and minimalist splendor, while final track "Come and Play in the Milky Night" is a warm and playful piece of classic Stereolab that deceives in its soothing simplicity.
To be re-issued on 29th November, along with Margerine Eclipse, Sound Dust (2001) is possibly the most overlooked (or at least underrated) album in the Stereolab canon. As with Dots and Loops it is the sound of a band fully confident in their skin, only here it is multi-layered, revealing new depths with each new listen due to its combination of horns, slide guitar, harp, keys and possibly even a vibraphone. Everything is ordered but adventurous at the same time as each individual song twists, changes, and builds without overloading or becoming musically overbearing in the same way that perhaps their earlier Transient Random-Noise Bursts with Announcements did. In fact, the whole tempo on the album never goes beyond mid-range and the end result is a mature work that is serene but never staid or clinical.
The album and song titles, like the short opening instrumental "Black Ants in Sound-Dust" and the much longer "Space Moth", allude to a microcosm world. "Captain Easychord" was the forerunner single release for the album and here it is presented in worthwhile extended form. The track sequencing is flawless as all the songs somehow lead into another like a linear narrative. This is also an album that is more weighted towards the instrumentation and not so socio-politically involved on a lyrical level. However, Laetitia perhaps sings confessional on "The Black Arts" with the line, I need somebody, I feel so lonely. Through to the excellent penultimate track "Les Bons Bons des Raisons", the level of consistency and durability ensues, making this another excellent album in the Stereolab oeuvre, and, sadly, the last featuring Mary Hansen.
After Sound Dust, tragedy was to strike Stereolab. If it wasn't enough that Tim Gane and Laetita Sadier's 14-year relationship ended, long-time member and backing vocalist Mary Hansen was killed in a cycling accident in London in December 2002. The band spent the next six months deciding whether or not to continue but reconvened to record an album that has the unsurprising omnipresence of Hansen throughout. After releasing a five-track EP late in 2003, notable for its return to an earlier Stereolab sound, Margerine Eclipse was released early in 2004, including EP title track Sudden Stars.
Although this was the first album where Stereolab seemed to be looking backwards into their vast catalogue for inspiration, it uses those meta-influences to create a revised sound. Mary Hansen's trademark backing vocals are conspicuously missed but otherwise the band sounds fresh, reinvigorated and bravely moving forward. After Sound Dust, the lyrics come to the fore again but this time not political, rather reflective and personal, like the Hansen tribute Feel and Triple. The overall effect is of something meticulously arranged but not over technical, making Margerine Eclipse accessible and enjoyable, particularly in the album highlights" The Man with 100 Cells" and "Margerine Melodie".
After some single releases in 2005 and 2006 that were compiled for the Fab Four Sutre album, Stereolab's next official album release was Chemical Chords in 2008, though (like Peng!) not included in the album reissues. This album got similar reactions to Margarine Eclipse in that Post-Hansen they were condensing and revising influences from their past work, albeit here to less critically acclaimed effect.  Still, there were enough tracks from the recording sessions to make up another album release Not Music (2010), considered perhaps (but by no means necessarily) for completists and by which time Stereolab had already announced they were going on indefinite hiatus.
In the years since, Tim Gane has been working with his instrumental band project Cavern of Anti-Matter (also including early Stereolab drummer Joe Dilworth) while Laetitia Sadier continued with her band Monade (a side project formed later in Stereolab's initial incarnation) and then recorded and toured under her own name. In early 2019, Stereolab announced they would reunite in the summer to play festivals and other concerts in Europe and the United States.
Reunion Tour
At the end of May, Stereolab played some festival dates across Europe before touring the UK in June. After a break and a festival date in the UK at the Green Man Festival in August, they undertook a month-long American and Canadian tour from mid-September to mid-October. Though having a devoted fan base in many parts of the world, and having much admiration among their contemporaries, it seems to be in the United States where Stereolab are most appreciated. They have recorded many times in Chicago and even got a mention (appropriately in a record store) in the popular film High Fidelity (Stephen Frears, 2000). Their appreciation with the alternative music crowd in the States is reflected in the weighting towards American dates when they go on tour. Postings on social media from fans have underlined the excitement about their return to touring from fans old and new, particularly those who didn't have the chance to see them until now.
With the tour in the States finished, Stereolab come back to Europe for what looks like their final concert of 2019 when they headline the fifth Synästhesie Festival in Berlin this weekend 16th-17th November and they have also recently announced a date each in New Zealand and Australia for early March 2020.