The 66th Berlinale began on Thursday evening with the world premiere of the Coen Brothers new film Hail, Caesar!
More of that shortly but, looking at the program for this year, it is something of a "same festival, different year" feeling. There's nothing wrong with keeping a consistent formula but, for the regulars, all the recent Berlinales seem to be rolling into one. This writer is enjoying his seventh consecutive Berlinale and there's a slight case of déjà vu creeping in. As always, the press screenings at the CinemaxX fill up quickly so one is pointed in the direction of another screen and late-comers sometimes don't get into that one either. The places at the press conferences in the Hyatt Hotel are also limited, so everyone else is forced to watch on monitors in the hotel balcony. Such is the fate of an A-List festival, where no one wants to miss out on the premium allocations but many still do.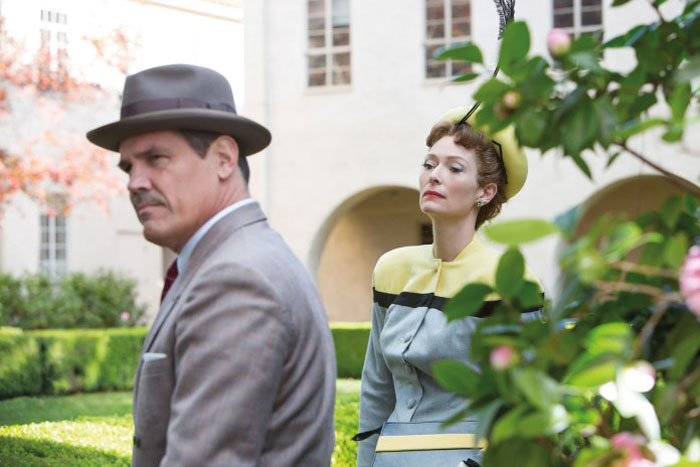 Looking at the program itself, in recent years there has been a trend towards quality documentaries outshining fictional features. Furthermore, there seems to have been a lauding of the same directors or the same countries. Eastern Europe, Iran and China come to mind. As much as he has his credentials as a talented director, it will be interesting to see if the latest film of Bosnian director Denis Tanovic, in competition with the political satire Hotel Europa this year, "doesn't" repeat the feat of An Episode in the Life of an Iron Picker in 2013, where it won the Silver Bear.
As for the Coen Brothers and the out of competition opening ceremony screening, it is also a small case of déjà vu as it now only seems like yesterday that they brought their re-make of the western True Grit to the 2011 Berlinale as the anticipated opening film. That one disappointed slightly, despite very strong lead performances from Jeff Bridges and newcomer Hailee Steinfeld. This time though, the Brothers have returned to form along with an all-star cast that draws allusions to their dark satire Barton Fink from 1991, a film which also looked at the Classical Hollywood film industry, meta-style.
Hail, Caesar! is set in Hollywood in the early fifties and is a comedy looking at the Dream Factory from the inside. Josh Brolin plays Eddie Mannix, who works at one of the big studios, absorbing all the daily internal politics, corruption and insanity. Sometimes, though, this is also too much for thick-skinned seen-it-all family man and when the star (George Clooney) of a monumental epic named Hail, Caesar! suddenly disappears, feared kidnapped, the film is in jeopardy and two sensation-seeking female journalists (two sisters, both played by Tilda Swinton) are ready to expose the scandal. With a supporting cast also including Scarlett Johansson (undoubtedly as Lana Turner), Ralph Fiennes as an effeminate director, and poking fun at the use of the star system and genres (with scenes from musicals, westerns and film noir), Hail, Caesar! also looks fantastic and is accurate in its depiction of the Hollywood mythology of this era, not least the Communist sympathizers that led to McCarthyism and blacklisting of stars.
In recent years, the Berlinale has shifted its weightings to popular films and that of big name stars coming to town, almost imitating Hollywood itself and following Cannes. George Clooney, who has already appeared in Coen Brothers' comedies such as O Brother, Where Art Thou? (2000) and Burn After Reading (2008), now has a status as actor-director with interesting oscillations when you perceive him as a star and sex symbol. In fact his role as a simpleton actor in an ancient Roman film within a film is so convincing despite its knowing side-swipes at his real self and the political agenda of his films, that it seems the in-jokes have unintentionally backfired on him to make him look (this time at least) unintentionally two-dimensional as an actor.
At the press conference following Hail, Caesar! there were also echoes of previous years in the questions from international journalists, the majority speaking in not native English. The questions were, again, repeatedly either sycophantic, George you were wonderful…I Love You! to unrelated contemporary world concerns and the pressures on stars to use their status in order to have an effect on the contemporary world situation, or even help in the country of a specific journalist. While the Coen Brothers' absorbed the accolades and awkward questions well, there seemed to be weariness from both Clooney and Josh Brolin in fielding such questions, the latter even swearing under his breath, which "mistakenly" got caught on the microphone.
I will end on something positive though. The tickets for the films are a lot more sumptuous looking this year.