Disgrace doesn't feel like literature, but like a slice of life itself, at once relentless and grandiose. When one reaches Coetzee's hand at the last line and takes a reverential minute to absorb the impact, the next minute one will have abandoned the desire to write, the desire to swell the number of superfluous pages that litter the bookshops. In a novel like this, the world is contained as in the golden number of the Jews. All is well. All around reigns a clean, simple balance. As if one listens to the Goldberg Variations in the car and the landscape on the windscreen settles, is ordered in an easy way. The beauty of masterpieces has that quality, they soothe the spirit, they reconcile one with the pain and chaos of participating in life and fighting day by day to make sense of this cruel joke. When one is still immersed in them, one has the sensation of being saved from death, one is confused with the work, one understands why a set of 240 printed pages is called immortal.
Disgrace is a novel about love or about the inability to love. There cannot be a good piece of literature without love, especially if it is a novel, a building that traces to the millimeter the strengths and weaknesses of the people who move through it. Freud said that mental health lies in the capacity to love and the capacity to work. The example of David Lurie, the protagonist, belies this second meaning and reduces it to the first because his inability to love makes him lose his job. Health would thus imply, according to J. M. Coetzee, the mere capacity to love.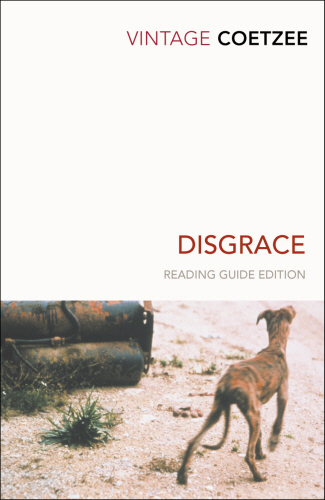 But Laurie only stumbles in the attempt. After losing his job as a literature professor because of an ill-fated affair with a college girl, he travels to deep South Africa to feel out the shelter he can get from the only woman in his life whom he hasn't devastated with his arrogance and sexual fierceness: his daughter Lucy.
Lucy, in her early twenties, has managed to settle on a farm where she lives growing flowers and fostering dogs. Despite the trials and tribulations of a life that does not seem easy behind her, she has found her place in the world and has forged a sweet, solid character, capable of offering much more love than she could have received from her father. She is light years ahead of him. Despite the long period in which they have not been in contact, she receives him naturally, she listens to him in a plain way, without lecturing him, without affectation either.
The turning point in the novel comes when Africans raid them on the farm and realize how helpless Lucy is, how arrogant her project is: a single white woman cannot stand alone in the heart of Africa, she defies the laws of the land, the rules that Africans gave themselves for centuries, before the white man broke in with his own and imposed them by force. Lucy looks like an exotic graft and will have to pay a fee for it. For the moment she has lost her dignity, later she may even lose her life.
It is very interesting to witness the father's reaction to the assumption that his daughter, as a woman, is exposed to male violence. Having forced many of them, the last of them all with the use and abuse of his authority, Coetzee treats David with his own medicine. Now it is he, through his daughter, who has been violated. A moral shock that should bring about a complete change in him, but will he succeed?
In a conventional novel, our protagonist would have taken a turn towards humility and forgiveness. Coetzee, like a skilled and ruthless ventriloquist behind his creatures, grants us a modest change: Lurie will humanize himself, volunteer at the animal shelter and go to apologize to the family of the outraged student. But this is not a conventional novel, just as life itself is not conventional. Coetzee will show us that redemption is never linear, that a word of forgiveness does not repair a shattered world, a broken innocence forever. And that the cause of so much pain ends up being the victim of himself and of the desire that reemerges in him like the metastases of an inner decomposition. Lurie goes to the play where the student she harassed is performing without knowing exactly what is driving her, but her boyfriend will be able to see her wolf fur in the dark and kick her out. Lurie will have to quell his excitement outside.
Coetzee will show us that redemption is never linear, that a word of forgiveness does not repair a shattered world.
This is the second turning point that opens the novel towards its denouement. Here, the reader has little hope that the protagonist will find his place in the world, but he is moved by the very human desire for life to be "something else", for the protagonist to accept defeat at last and to pity someone sincerely, someone flesh and blood, beyond Byron's lover Teresa, who mourns at the edges of his imagination and who is a transcript of himself, mourning the advent of old age and the final extinction of his sexual vigor.
His daughter could help him at this point, but she has identified with the rapists to contain her anger and will not condemn them, which infuriates her father. She thus puts her desire to be adopted by this land, to stop being a foreigner, she wants to be incorporated by this place rather than by her father. She will conceive their child as an act of communion, but David is far from accepting such a grievance. His pride prevents him from doing so. All he has left are the animals. Those dogs whom, on a step flush with inclemency, he can pity and save because, and here Coetzee places his last flag for the reader, they are already dead when he restores their dignity. We have something, the protagonist has become a better being than he was in the opening pages. Now he is finally able to show tenderness, but the requirement is that the object of his tenderness is a dead dog, unable to return a gratitude that would jeopardize his total detachment from the world. Dead dogs, people in tatters who take divergent paths, abused women who allow themselves to be immolated in order to be included, and men, like Lurie, who prefer to inhabit misfortune.