Those familiar with director Álex de la Iglesia should know what to expect by now from the one-time associate of Pedro Almodóvar, and whose directorial career to date has spanned some 24 years since he took the helm for Acción mutante (Mutant Action) in 1993 (which Almodovar produced). This enfant terrible of Spanish Cinema has been "entertaining" with his grisly comedy dramas ever since, save for a departure into documentary with Messi in 2014, about world famous footballer Lionel Messi, a subject who hit the peak of his career with legendary Spanish Catalan team Barcelona. However, one might wonder whether or why Spain's considerable tandem comparison to early Peter Jackson films, Sam Raimi, David Lynch or especially Quentin Tarantino, should be appropriated into the main competition at the Berlinale in 2017.
However, be all that as it may, the new film El Bar (The Bar) should keep his fans happy, regardless of the possible disapproval of connoisseurs. It begins in a typical central Madrid café bar and pretty much stays there before venturing further below. There is a very good reason for staying indoors, as two unlucky souls were to find out. Suddenly the remaining customers find themselves trapped in the bar for a film which oscillates between black comedy, gory thriller and political allegory. They wonder why the busy streets have suddenly emptied and it soon dawns on them that they are potential victims of perhaps a sniper, an internal killer or even the government. Involuntarily caught up in a game of survival, we progressively come to learn more about each of them, their perceived solidarity versus their selfishness.
In choosing to focus on a random collection of people caught in the most extreme of situations and, regardless of the manic implausibilities, Álex de la Iglesia's film does have a certain depth not just in that the narrative takes us as far down as the bar's basement rooms and from there into the Madrid sewers where the disparate and desperate group desperately seek an escape, all the while taking it in turns to wrestle some kind of control over the others. Comical slapstick presides over the paranoia and mistrust and therein creates catalysts for predictably unexpected plot twists and turns, as each character meets their alter ego in the face of terrifying un/certainties.
The central heroes in all this chaos are Nacho (Mario Casas) and Elena (Blanca Suárez). At a still-young 30 years, Mario Casas is already something of a star in Spanish Cinema and here he plays up to his boyish not-as-smart-as-he-thinks persona. Nacho's lame wooing of Elena provides some kind of romantic interjectory in the trajectory of chaos and despair as everyday folk from the beginning of the film turn into semi-Zombies while the outside world is unaware of their plight. Just outside the café where, at the beginning of the film, two individuals departing the café were to meet a ghastly end to the horror of those inside, a pile of tires were piled up then incongruously set alight by what appear to be security forces. Switching on the TV in the café, the helpless group watches news that there has been a fire in a busy shopping square in central Madrid and that a terrorist attack cannot be ruled out. Their desperate and confusing situation is complete.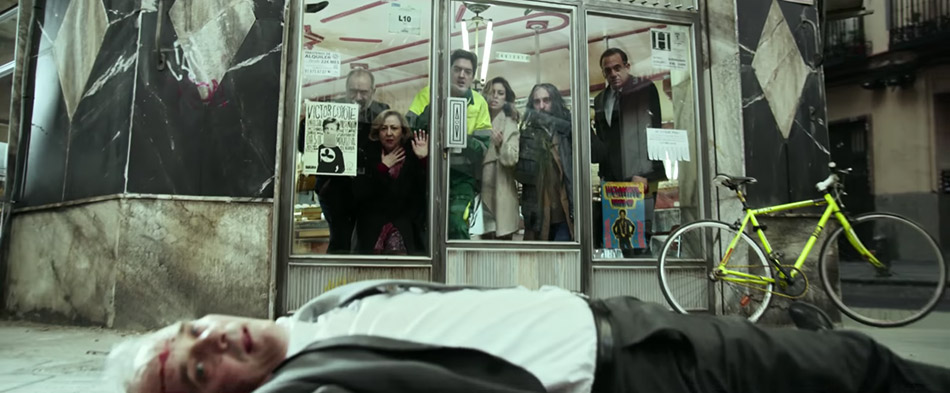 From a director who won six Goya's for his 1995 film El día de la Bestia (The Day Of The Beast), the Best Director award amongst them, would it be unfair to argue (the acknowledgement of Messi aside) if by now it is time for a change of direction? El Bar certainly does provide entertaining sublimity and a certain macabre tension so will not disappoint his aficionados but it would be welcome and interesting to see the dawn of a new light at the end of the sewer's tunnel and perhaps then the presence in the competition section of the Berlinale will be deemed more appropriate than bizarre.
Following its World Premiere at the Berlinale, El Bar plays at festivals such as Miami and Malaga before its general release in Spain on 24th March.